High five!
The recipe has been added to your shopping list.
Medallions with potatoes and beets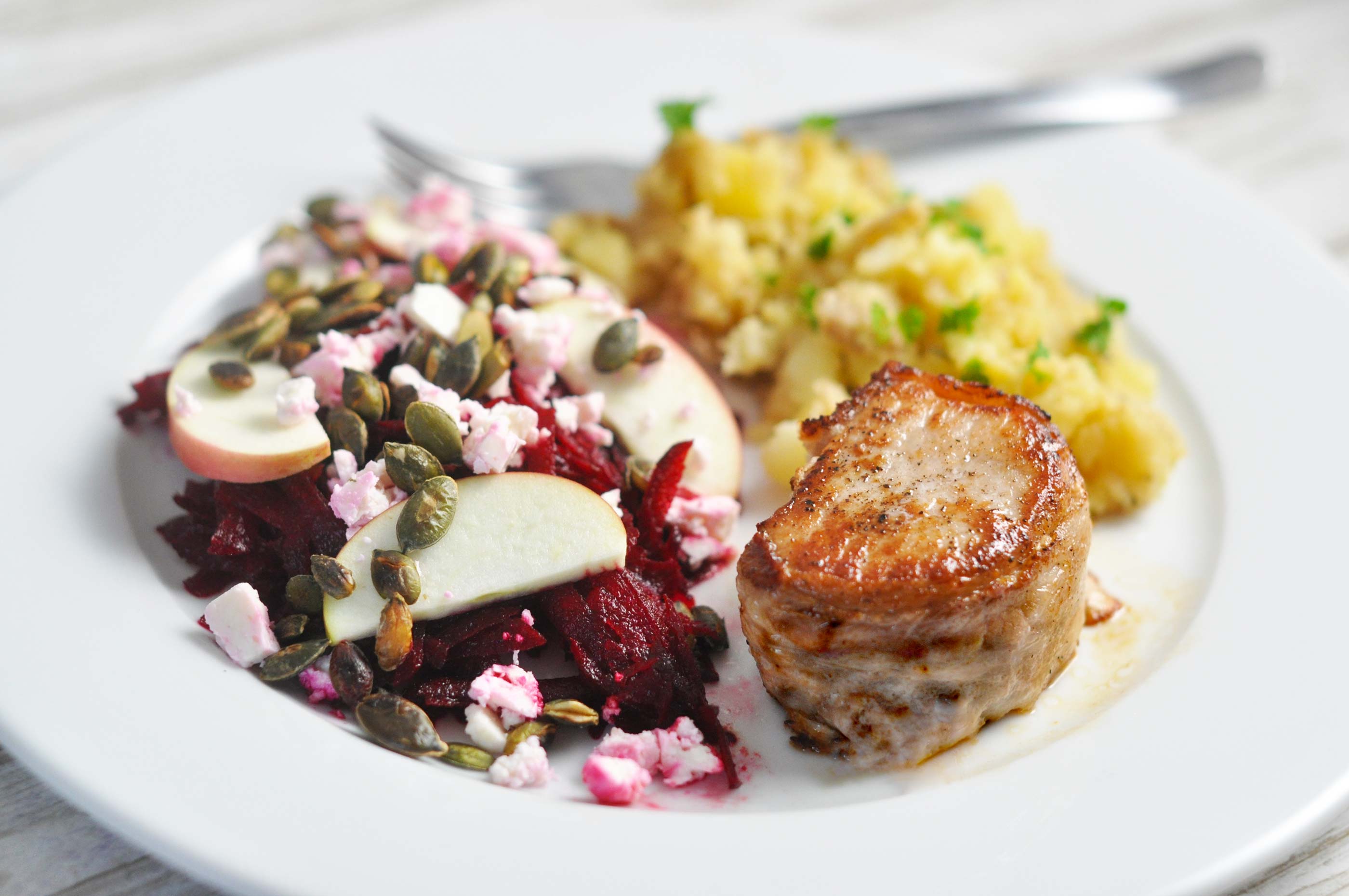 Ingredients
( 2 adults and 2 kids )
600 grams

baby potatoes

1

pork tenderloin

75 grams

bacon slices

50 grams

pumpkin seeds

400 grams

fresh beets

*

0.5

lemon

1 tbsp

acacia honey

*

75 grams

feta cubes

2

apples

25 grams

butter

fresh thyme

- or dried

olive oil

salt

pepper

meat pins or tooth sticks
ADD TO SHOPPING LIST
ADD TO MEAL PLAN
*
= Good to know - click the ingredient

= See the recipe - click the ingredient
This is a great weekend dish! Tasty tenderloin medallions wrapped with bacon and served with beet salad and truly delicious crushed potatoes with browned butter and thyme. Yum! You can swap the bacon for parma ham, if you prefer to go easy on the fat. Enjoy!
Directions
1. Preheat your oven to 185 degrees convection - or fire up the grill, if the weather permits. Cook the potatoes until tender in a pot of salted water. Drain the water and leave the potatoes in the pot.
2. As the potatoes cook, trim the tenderloin by removing the biggest tendons and fat deposits with a sharp knife. Be careful not to cut too far into the meat. Cut the tenderloin into steaks about 5 cms thick and season with salt and pepper. Wrap a slice of bacon around each medallion and pin with a meat pin or tooth pick.
3. Quickly sear the steaks on both sides at high heat on a pan in a bit of olive oil. Pop the steaks into a tray with half a centimetre of water in the bottom. Place the tray in the oven for 15-20 minutes, or until the steaks are cooked through or slightly pink. You can also just leave the steaks in the pan, if it's oven safe. But be careful: It'll be SUPER hot when it comes out of the oven! You can also cook the medallions on the grill if the weather permits.
4. Meanwhile, roast the pumpkin seeds on a dry pan and set aside. Peel the beets and grate on the rough side of a grater. We suggest using latex gloves - otherwise your hands will get VERY red! Mix the beets with a quick dressing of mixed from lemon juice, honey, and some olive oil, and seasoned with salt and pepper. Top the salad with crumbled feta, washed apple cut into thin wedges and roasted pumpkin seeds.
5. Melt the butter on a pan and leave it until it becomes a nutty brown. Quickly stir and drizzle the butter over the potatoes along with chopped fresh or dried thyme - whichever you prefer.
6. Now crush the potatoes with a whisk and mix well with thyme and butter. Season with salt and pepper and serve with the tasty medallions and beet salad.
7. Enjoy!
Share your tips and comments