High five!
The recipe has been added to your shopping list.
Meatloaf gratin - with plenty of veg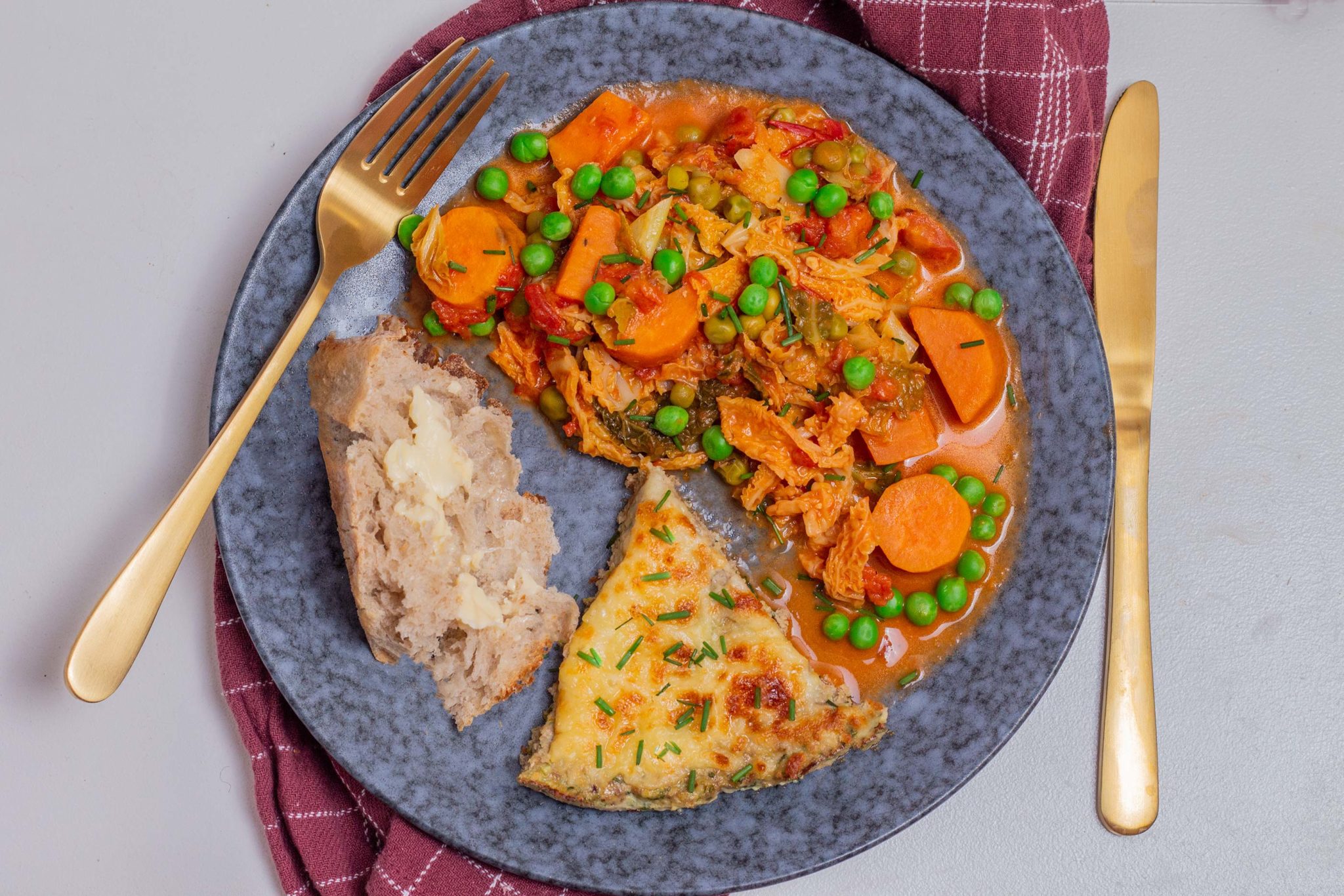 Ingredients
( 2 adults and 2 kids )
1

onion

1 clove

garlic

1 bunch

parsley

400 grams

pork mince

1

egg

50 ml

creme fraiche 18%

1.5 tbsp

plain flour

1 tsp

salt

75 grams

grated cheese

15

cherry tomatoes

0.5

cabbage of your choice

300 grams

carrots

*

200 grams

frozen peas

1 can

chopped tomatoes

1 tbsp

paprika

1 tbsp

curry

2 tbsp

sweet chilli sauce

1

wholewheat baguette

pepper

olive oil

butter
ADD TO SHOPPING LIST
ADD TO MEAL PLAN
*
= Good to know - click the ingredient

= See the recipe - click the ingredient
Have you ever made a giant meatball? Perhaps not, but you're about to. Sort of. As here's the recipe for the tastiest meatloaf gratin, which is really just meatball farce - but gratinated with cheese in the oven, it gets a whole new life compared to the classic. We're serving it with plenty of veg and a baguette with cold butter. Enjoy!
Directions
1. Preheat your oven to 200 degrees convection.
2. Finely chop onion, garlic, and rinsed parsley in a mini chopper or food processor. Mix into the pork mince, along with egg, creme fraiche, plain flour, salt and pepper.
3. Mix everything well, until you have a firm farce. You can add a bit more flour, if the farce is too moist.
4. Spread the farce into a small ovensafe tray, and press it out to the sides. Sprinkle cheese on top and bake this beauty for 20-25 minutes. You can warm up the baguette at the same time, if you like.
5. Rinse the cherry tomatoes and cut in halves. Rinse the cabbage and cut into thin strips. Peel and cut the carrots into bite-sized chunks. Sautée the cabbage and carrots over high heat on a pan with olive oil - the cabbage is allowed to go a bit brown around the edges.
6. Add peas, chopped tomatoes, paprika, curry, sweet chilli sauce and let it simmer until the meat is done. Season to taste with salt and pepper.
7. Serve the meatloaf gratin with veggies, and some lovely bread and butter.
8. Enjoy!
Tip
Tasks for kids in the kitchen: Let your kids help cut the cabbage, and taste the sauce.
Share your tips and comments