High five!
The recipe has been added to your shopping list.
Meatball curry with ninja-broccoli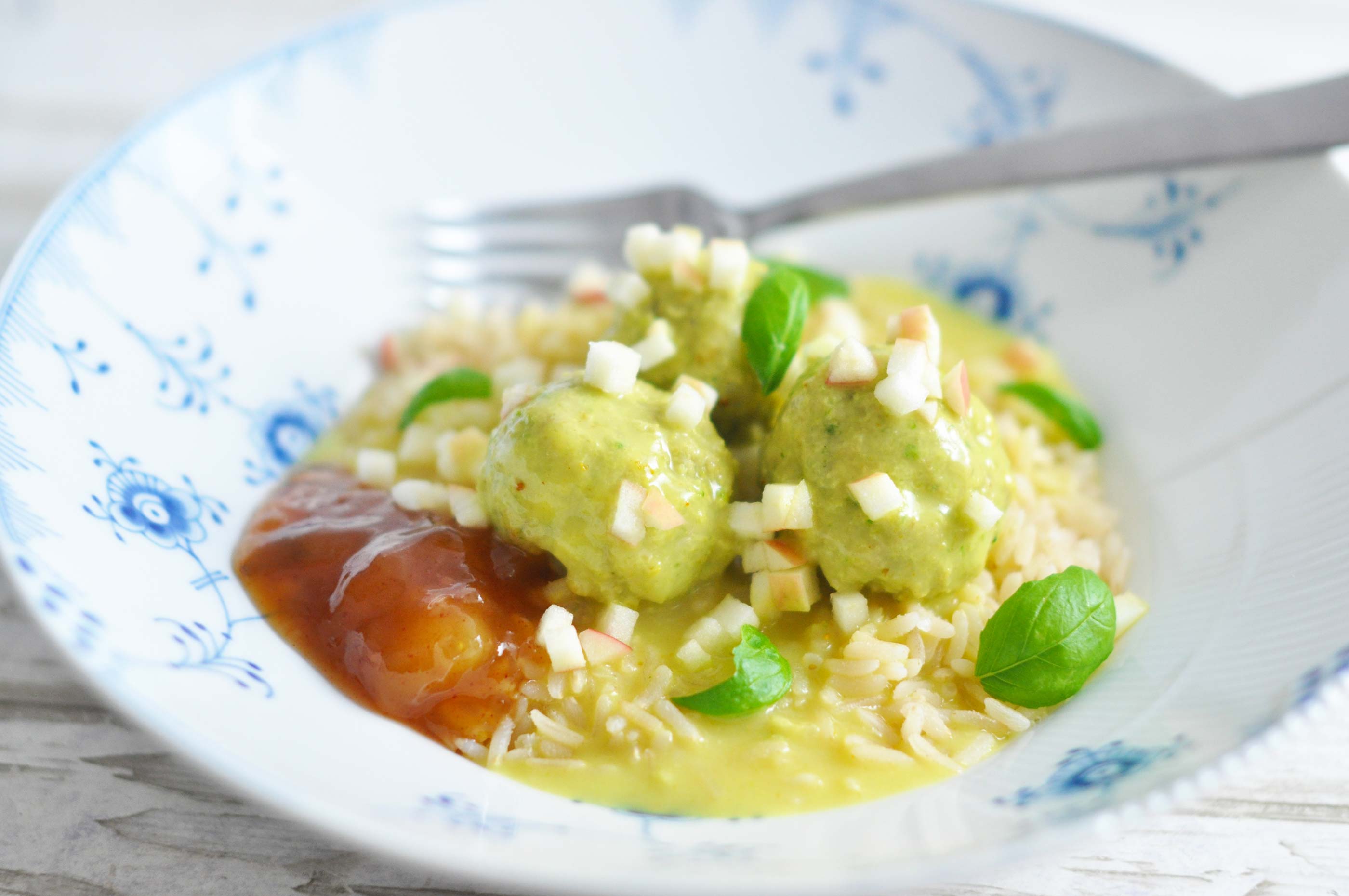 Ingredients
Freezer friendly
( 2 adults and 2 kids )
Meatballs

wholegrain rice

2 litres

water

2 cube

chicken stock

1

onion

0.25

broccoli

500 grams

pork mince

25 grams

breadcrumbs

25 grams

oats

2

egg

100 ml

milk

2 tsp

salt

pepper

Curry sauce

50 grams

butter

50 grams

plain flour

1 liter

boiling water

100 ml

single cream

curry

mango chutney

1

apple
ADD TO SHOPPING LIST
ADD TO MEAL PLAN
*
= Good to know - click the ingredient

= See the recipe - click the ingredient
Meatball curry is a Danish classic, beloved by most kids - and adults! In this recipe, we've ninja-style snuck some broccoli into the meatballs. It gives them a lovely colour, that our kids find super fun. And with this gorgeous sauce, the broccoli goes down without a fuss!
Directions
1. Boil the rice following directions on the packet, and bring water and stock cubes to the boil in a separate large pot.
2. Quarter the onion. Rinse the broccoli and remove the stem. Now blend the broccoli florets and onion very finely in a food processor or in batches in a mini chopper. Mix with mince, breadcrumbs, oats, eggs, milk, salt and a bit of pepper. Cook a little test-ball to see if you got the seasoning how you like it, and season the farce to taste if needed.
3. Shape small balls from the farce using a spoon and the palm of your hand. Carefully place in the stock water and let simmer for approx. 10 minutes depending on size. When they begin to float to the top is when they're just about done. Remove the meatballs with a slotted spoon or similar, and place them in a bowl. Place the cooking water into a separate bowl.
4. Melt the butter, add the flour and whisk the best you know! Whisk for a minute or two to get rid of the taste of flour. You don't want it to brown. Now add the cooking water little by little while whisking away! You want to get rid of all lumps before adding more liquid. Keep going until you feel like you have enough sauce.
5. Add cream. Stir the curry out in some water in a cup and add it bit by bit, while you continuously taste to make sure it won't set the youngest palates on fire! Add more salt and pepper to taste if needed. Carefully place the meatballs back into the sauce. If you want a thicker sauce, simply thicken it with some cornflour stirred out in water or add a bit more cream.
6. Serve with piping hot rice, mango chutney and some diced apple and a sprinkle of herbs. Enjoy!
Tip
We've used fresh broccoli, but you can just as well use frozen. Just thaw and squeeze out the water before use. Remember to save the leftovers for dinner tomorrow.
Share your tips and comments