High five!
The recipe has been added to your shopping list.
Meatball curry with apple and coconut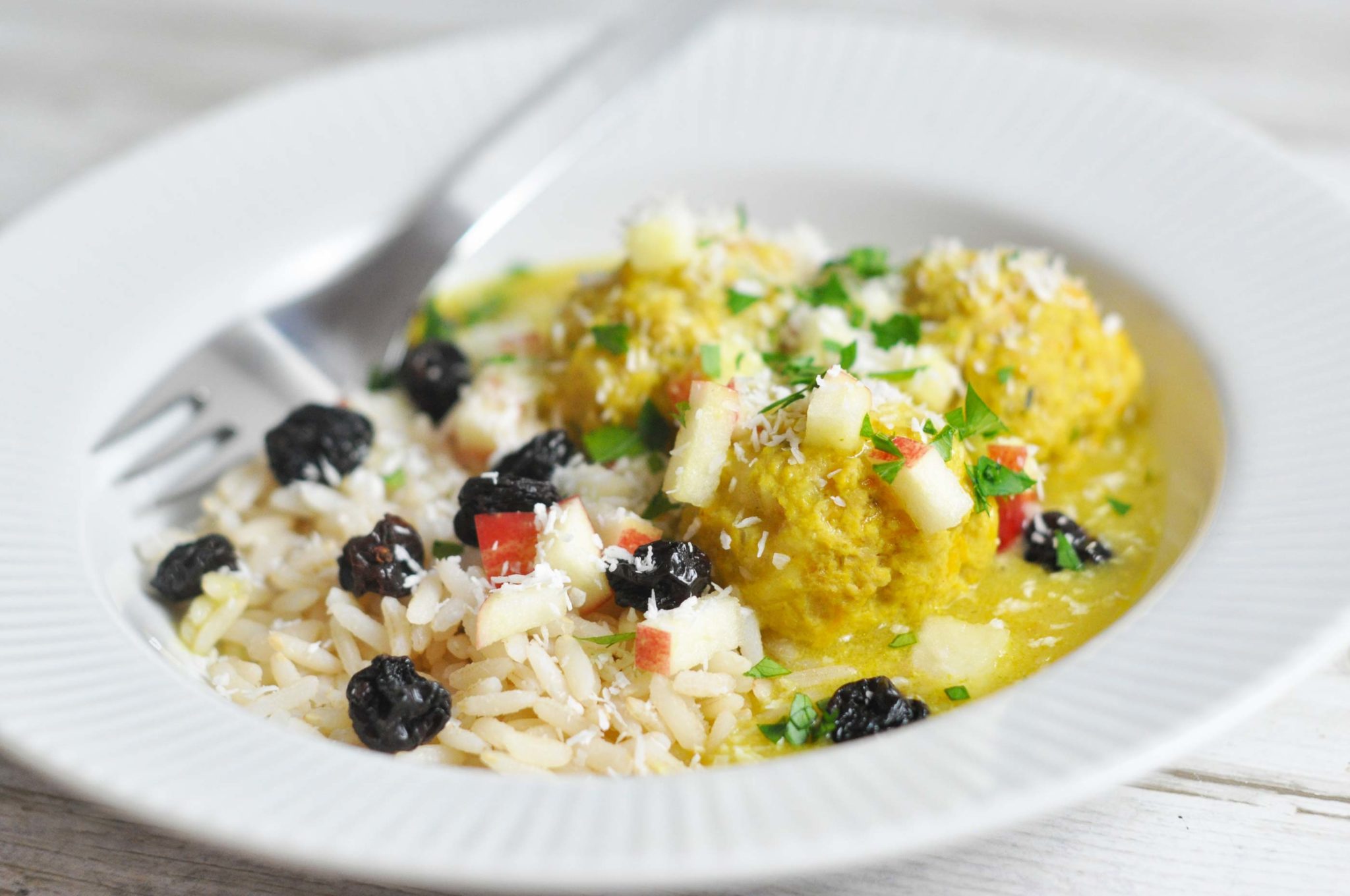 Ingredients
Freezer friendly
( 2 adults and 2 kids )
Meatballs

2 litre

water

2 cube

chicken stock

2

onion

200 grams

carrots

*

800 grams

pork mince

2 tsp

salt

2

egg

4 tbsp

plain flour

2 tsp

dried thyme

200 ml

coconut milk

wholegrain rice

pepper

Curry sauce

50 grams

butter

6 tbsp

plain flour

cooking water

200 ml

coconut milk

curry

2

apples

coconut flour
ADD TO SHOPPING LIST
ADD TO MEAL PLAN
*
= Good to know - click the ingredient

= See the recipe - click the ingredient
Meatball curry is proper Danish comfort classic - and we hope you'll love it, too! This is a slight twist on the classic recipe, as we've used coconut milk and curry, and garnished with raisins, apples and coconut flour. The dish is designed for two days. Enjoy!
Directions
Meatballs
1. Bring the water to the boil in a large pot along with stock cubes. Finely chop the onion, peel the carrots and grate on the fine side of a grater.
2. Mix mince, salt, egg, flour, onion, carrots, thyme, coconut milk, and some freshly cracked pepper in a bowl. Once the water's boiling, shape little meatballs from the farce with a spoon and the palm of your hand. Gently place the meatballs in the water and let simmer, until the meatballs float to the top and are cooked through. Skim any impurities off the top with a spoon as you go. We suggest cooking a little tester ball first, to make sure the seasoning is how you want it.
3. Remove the meatballs from the water - we suggest a slotted spoon or the like - and place gently in a bowl, so as not to break them. Pour the cooking water into a separate bowl, and start cooking the rice according to the packet.
Curry sauce
4. Now melt the butter in the pot used to cook the meatballs, then add the flour and whisk the best you know! Add some cooking water, and whisk again. Carry on until you're out of cooking water, or when you think the sauce has the consistency you like. Remember to whisk out all lumps before adding more liquid. Add coconut milk and stir well. Stir a bit of curry into a cup of water and add little by little, tasting as you go, so the curry is as hot - or mild - as you like it.
5. Season the sauce with salt and pepper - and more stock, if needed. Place the meatballs back into the pot and warm them back up. Rinse and finely dice the apples, and use to garnish along with raisins and coconut flour, and serve the lot with piping hot rice.
6. Enjoy!
Share your tips and comments