High five!
The recipe has been added to your shopping list.
Mashed potatoes au gratin with bolognese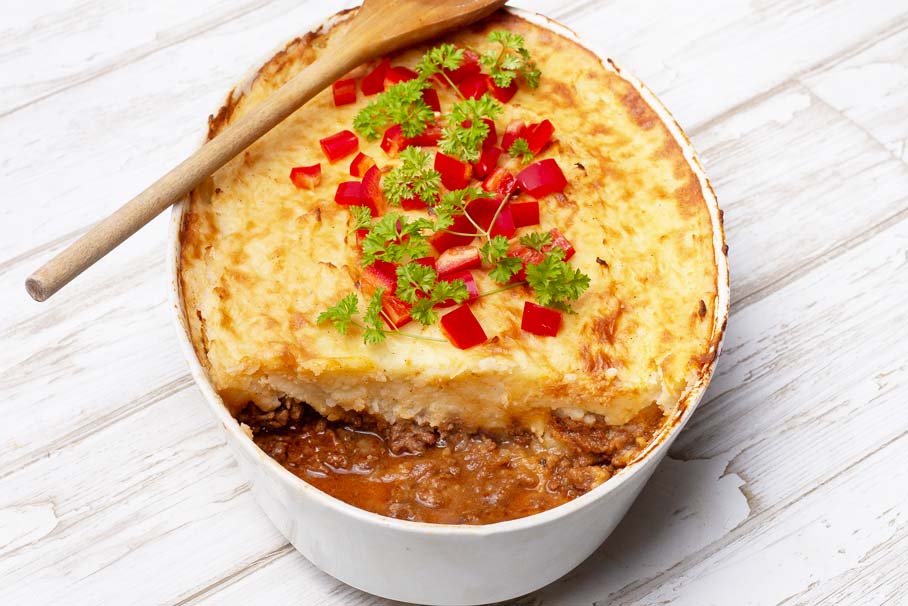 Ingredients
( 2 adults and 2 kids )
4

baking potatoes

1

onion

500 grams

beef mince

1 tbsp

paprika

0.5 tbsp

dried oregano

100 ml

ketchup

40 grams

butter

1 tsp

salt

150 ml

milk

1

egg

1

red bell pepper

olive oil

pepper
ADD TO SHOPPING LIST
ADD TO MEAL PLAN
*
= Good to know - click the ingredient

= See the recipe - click the ingredient
Do your kids love mash and bolognese - and perhaps sculpting volcanoes out of it too? In our childhood home we were often served a dish we named "mash volcano surprise". No one remembers why, but it was a huge hit. It's a true 80's classic, as well as being sort of a poor man's shepherds pie. Try it for yourself with our updated version below. Enjoy!
Directions
1. Preheat your oven to 22 degrees convection.
2. Peel the potatoes and cut into smaller pieces. Cook them completely tender in a pot of unsalted water. While the potatoes are cooking, start the bolognese.
3. Peel and finely chop the onion. Cook the onion for a few minutes with a dash of olive oil on a pan or in a pot. Add beef, oregano and paprika and cook for another few minutes. Then add ketchup and stir well.
4. Let the bolognese simmer for 10 minutes and season with salt and pepper.
5. Drain the water from the spuds and mash 'em up well with a masher or hand mixer. Add butter, salt and pepper and add the milk little by little. Add the egg and mix everything well.
6. Place the bolognese in a casserole tin and spread the mash on top. Pop into the oven for approx. 30 minutes, until the mash begins to turn golden.
7. Rinse, clean and dice the bell pepper. Use as topping for the mash gratin - and dinner is served. Enjoy!
Share your tips and comments