High five!
The recipe has been added to your shopping list.
Marzipan and rhubarb compote rolls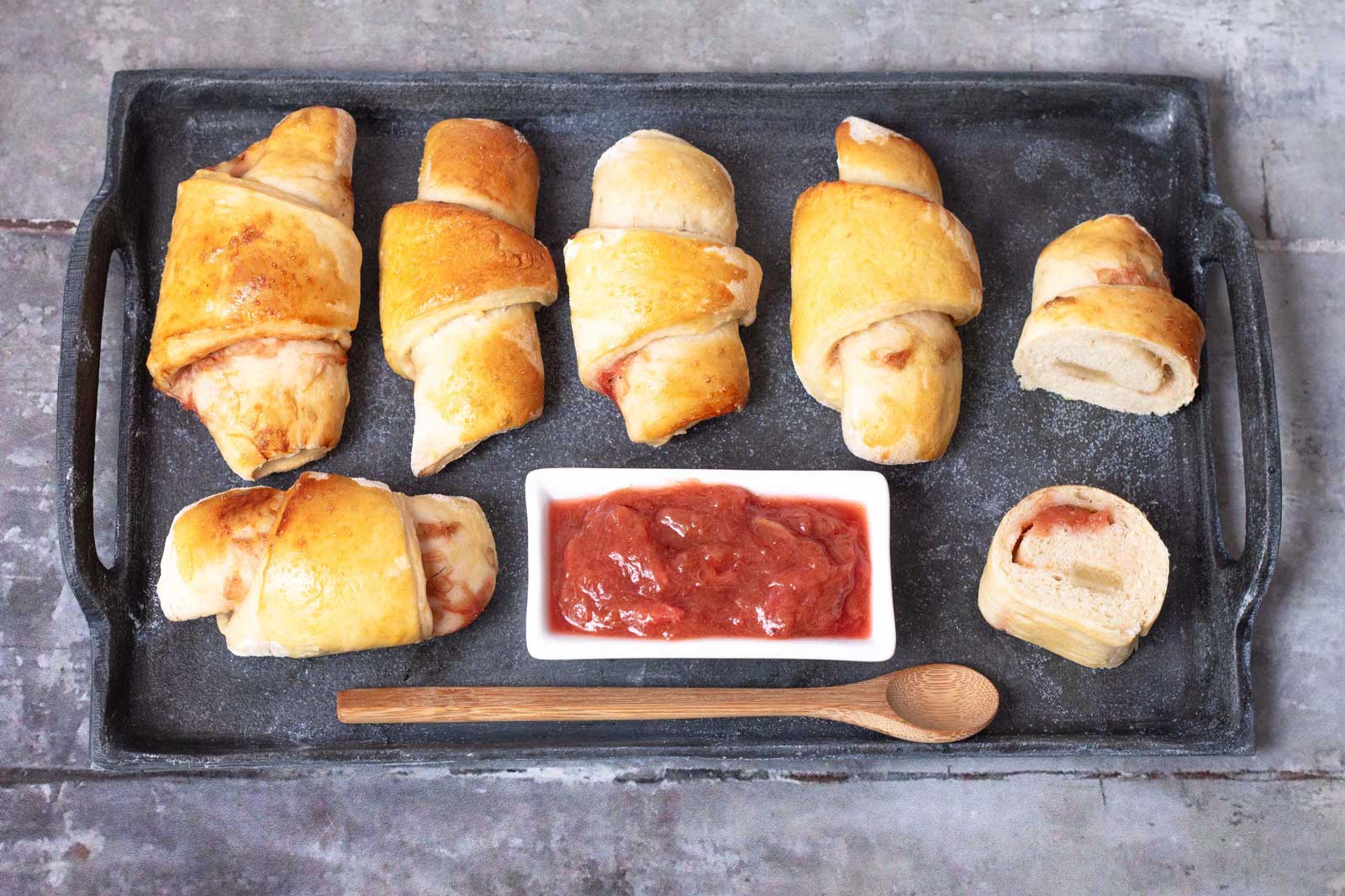 Ingredients
( 32 )
100 grams

butter

400 ml

milk

50 grams

brown sugar

50 grams

yeast

700 grams

plain flour

1 tsp

salt

rhubarb compote

200 grams

marzipan

egg
ADD TO SHOPPING LIST
*
= Good to know - click the ingredient

= See the recipe - click the ingredient
These rolls are just so delicious! They're filled with the yummiest rhubarb compote and marzipan, and are handy on the go. Like for car trips or group meals at school or play centre. Enjoy!
Directions
1. Preheat the oven to 185 degrees convection.
2. Melt the butter. Warm the milk, so it's just hot enough to stick a fingertip into. Mix sugar, yeast and milk in a bowl. Add flour, salt and melted butter.
3. Knead the dough until supple. Let it rest under a dishcloth for approx. 15 minutes. Split the dough into four sections, and roll each section out into a circle, about 1 cm thick. Cut each circles into 8 triangular slices.
4. Lather a teaspoon of compote on each slice. Cut the marzipan into sticks, about 1 cm thick, and as long as the widest part of the slice. Place a piece of marzipan on top of the rhubarb compote and roll up. Remember, you want the tip facing down, so the rolls don't come undone as they bake.
5. Let the rolls rest under a cloth for 15 minutes, then brush with eggwash.
6. Bake the rolls for 10-15 minutes, until golden and beautifully fragrant.
7. Enjoy!
Tip
Tasks for kids in the kitchen: Let your kids help knead the dough. They can also lather compote on the slices and top with marzipan.
Share your tips and comments