High five!
The recipe has been added to your shopping list.
Marinated chicken skewers with roast potatoes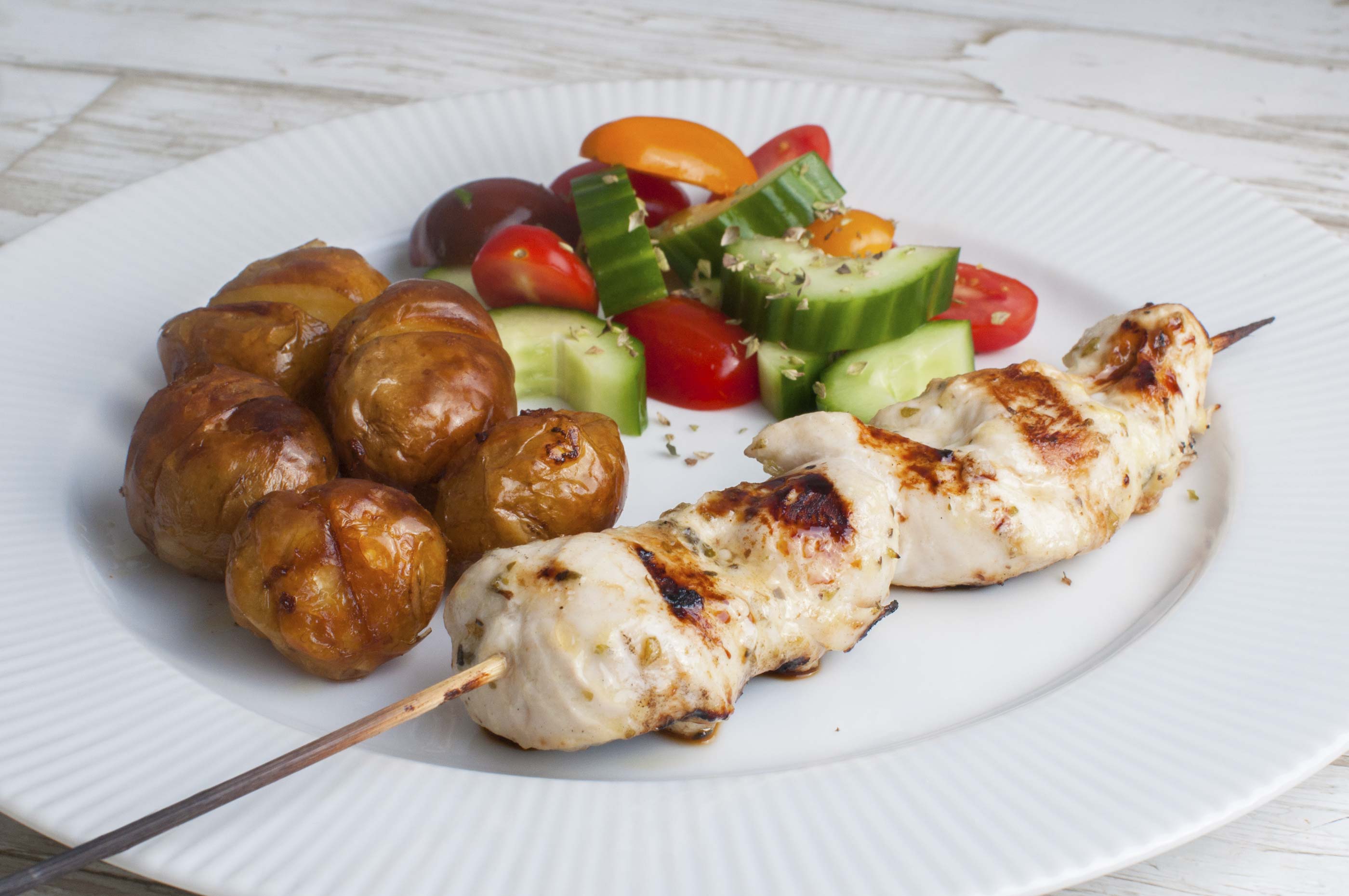 Ingredients
Roast potatoes

600 grams

baby potatoes

1 tbsp

dried oregano

salt

olive oil

baking parchment

Chicken skewers and salad

1

lemon

1 tbsp

dried oregano

1 tbsp

acacia honey

*

1 clove

garlic

50 ml

olive oil

500 grams

chicken fillet

0.5

cucumber

4

tomato

freezer bags

wooden skewers

aluminium foil

salt

pepper
ADD TO SHOPPING LIST
ADD TO MEAL PLAN
*
= Good to know - click the ingredient

= See the recipe - click the ingredient
Chicken skewers are a definite kid favourite - at least in our house! Here we've quickly marinated the chicken in a yummy marinade of garlic, lemon and honey, and served the skewers with the most gorgeous roast potatoes and a quick tomato and cucumber salad. Enjoy!
Directions
1. Preheat your oven to 225 degrees convection.
2. Wash the potatoes and make incisions halfway through each one - mind your fingers! Pop the potatoes on a baking tray with baking parchment, and roll them with a good dash of olive oil, oregano and salt. If your family likes garlic, squeeze a clove in with the seasoning - which makes your spuds even tastier. Bake for approx. 30 minutes, or until golden and crispy. Remember to turn them once while cooking.
3. Mix lemon juice, oregano, honey, pressed or chopped garlic, olive oil, and a bit of salt and pepper in a bowl to make your marinade.
4. Prick each fillet a few times with a fork, and pound them slightly flat with your hand. Pop them in a freezer bag or bowl along with the marinade and mix well. Let the chicken marinate while you make the salad and fire up the grill (if weather permits). Remember to wash your hands and utensils when you're done.
5. Rinse the cucumber, remove the seeds with a knife or spoon and chop into bite-sized chunks. Wash and roughly dice the tomato. Mix both with a bit of olive oil and lemon juice - and optionally a bit of balsamic vinegar if you have some in the cupboard.
6. Pop the fillets onto skewers and wrap a bit of tin foil around the end so they don't catch fire, if you're grilling. Don't forget to wash your hands and utensils.
7. If you're grilling, give the skewers 3-5 minutes on each side until cooked all the way through. If you're baking them in the oven, pop them on a baking tray with baking parchment and roast the skewers with the potatoes for 10-15 minutes, until cooked all the way through.
8. Serve the skewers with the roast potatoes and your quick cucumber and tomato salad topped with oregano. Enjoy!
Share your tips and comments