High five!
The recipe has been added to your shopping list.
Mambenos rice pot with chicken, curry and spinach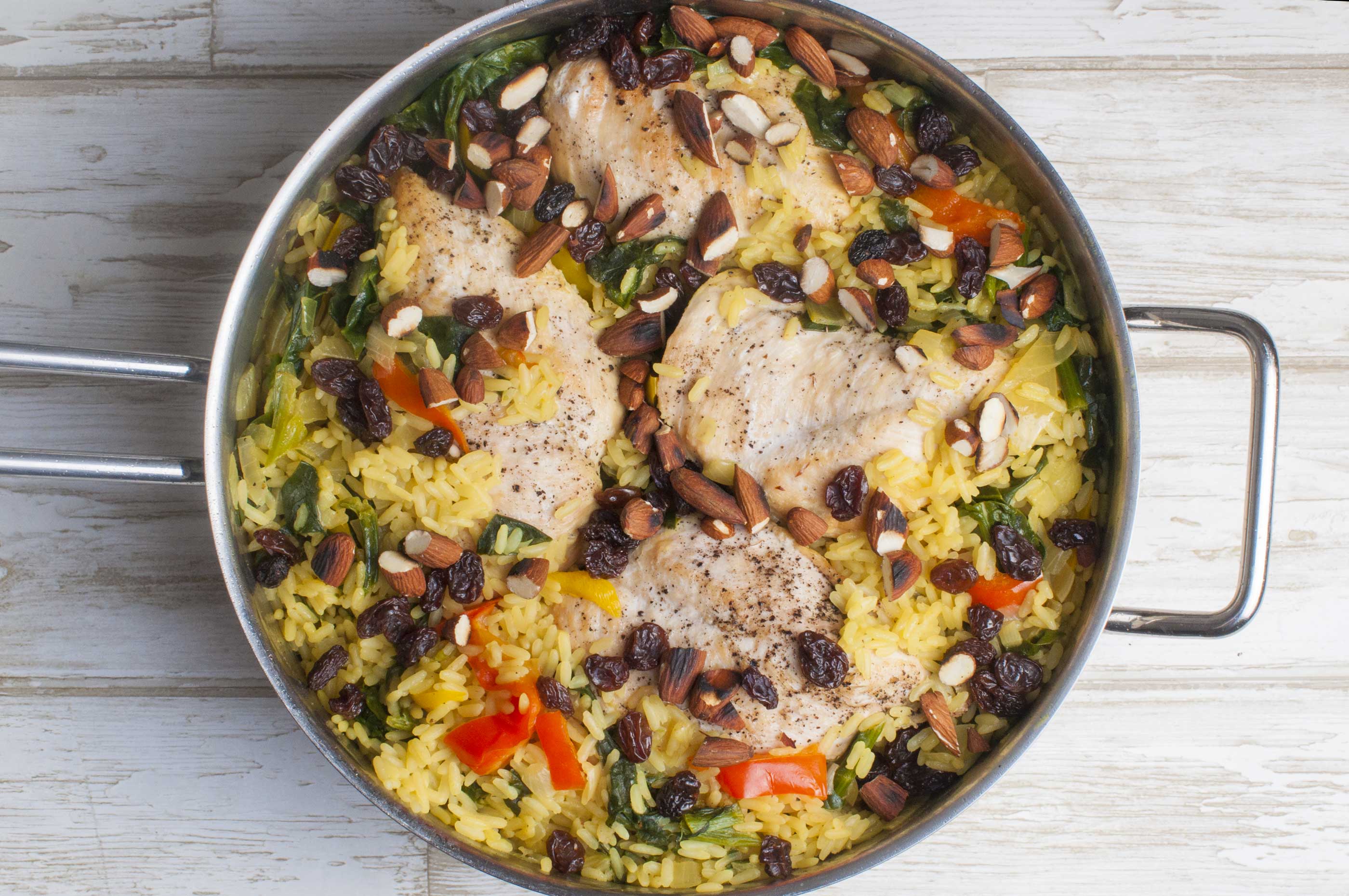 Ingredients
( 2 adults and 2 kids )
1

onion

1

red bell pepper

1

yellow bell pepper

200 grams

fresh spinach

*

800 grams

chicken fillet

500 ml

wholegrain rice

2 tsp

curry

800 ml

water

1 cube

chicken stock

100 grams

almonds

*

75 grams

raisins

*

salt

pepper

olive oil
ADD TO SHOPPING LIST
ADD TO MEAL PLAN
*
= Good to know - click the ingredient

= See the recipe - click the ingredient
This scrumptious chicken dish is so easy to make! You prep the veggies, sear the chicken and pop all the ingredients in a deep pan. And then you can put your feet up, while the stove does the rest. And the best part: The recipe is intended for two days, and becomes fried rice on day two. Enjoy!
Directions
1. Begin by prepping all your veg. Finely dice the onion. Clean and rinse the bell peppers, and cut into strips. Rinse the spinach well and roughly chop it.
2. Season the chicken fillets with salt and pepper, and sear in a bit of olive oil in a deep pan or big pot. Remove and set aside on a plate - don't clean the pan.
3. Now sautée onion, rice and curry in the pot for a few minutes while stirring. Add a bit more olive oil if you need to. Coat the rice with water, add bell peppers, spinach and crumbled stock cube. Stir until the spinach has wilted a bit and place the chicken fillets on top.
4. Let the lot simmer with the lid on for 15-30 minutes, depending on what type of rice you're using, until the chicken is cooked through and the rice is tender and ready. Meanwhile, roast the almonds on a pan and roughly chop them.
5. Just before serving, top with almonds and raisins.
6. Enjoy!
Tip
You can use regular rice or wholegrain. If using regular rice, the dish only needs to simmer for 10-15 minutes - do remember to make sure the chicken is cooked through. If using wholegrain rice, it will need to simmer for about 30 minutes. You can choose to remove the chicken breasts after about 15 minutes, so they don't dry out. Remember to save the leftover rice and chicken for yummy fried rice on day two.
Share your tips and comments