High five!
The recipe has been added to your shopping list.
Lentil stew with naan and creme fraiche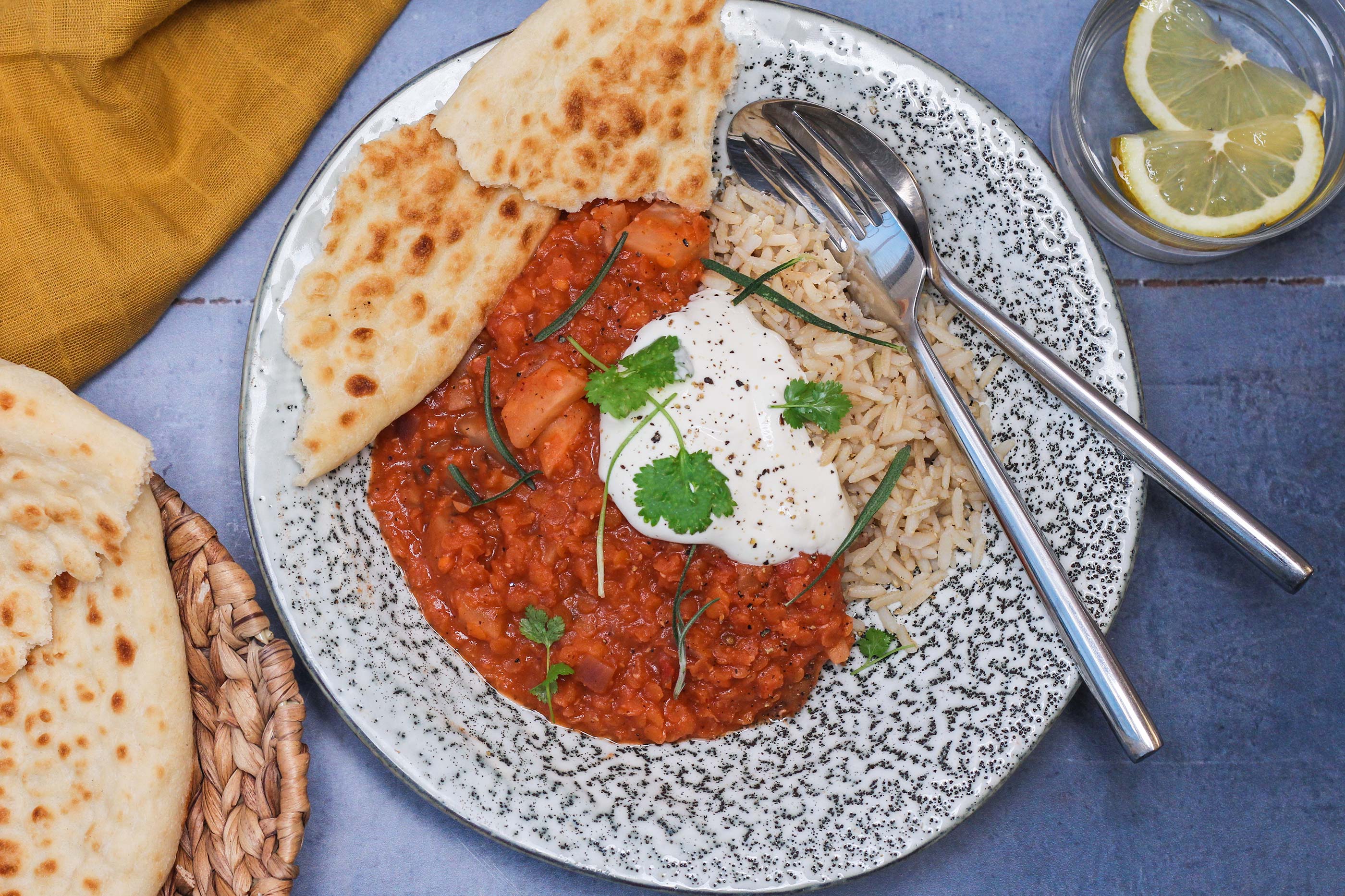 Ingredients
Freezer friendly
( 2 adults and 2 kids )
wholegrain rice

1

onion

1 clove

garlic

1

fennel

200 grams

carrots

*

200 grams

red lentils

2 tsp

red curry paste

2 tsp

cumin

1 can

chopped tomatoes

600 ml

water

1 cube

chicken stock

400 ml

coconut milk

2

naan bread

salt

pepper

olive oil

200 ml

creme fraiche 9%
ADD TO SHOPPING LIST
ADD TO MEAL PLAN
*
= Good to know - click the ingredient

= See the recipe - click the ingredient
It might sound frightening to the less lentil-versed, but our meat-loving kids are pretty into this vegetarian dish. It's a bit akin to an Indian daal, but made slightly different with fennel and creme fraiche on top. It's super tasty - and we hope your family will agree. Enjoy!
Directions
1. Preheat your oven to 185 degrees convection, and cook the rice according to the packet.
2. Finely chop onion and garlic. Rinse and cut fennel into strips. Peel and slice the carrots.
3. Sautée onion and garlic in a dash of olive oil in a pot. Meanwhile, rinse the lentils well in a sieve, to get rid of any impurities. Add curry paste, cumin and lentils to the onion in the pot. Cook for another few minutes while stirring.
4. Add chopped tomatoes, water, stock and coconut milk.
5. Let the dish simmer with the lid on for 20-25 minutes. Season to taste with salt and pepper.
6. Warm the naans in the oven and serve the yummy lentil stew with rice, creme fraiche and the warm naans.
7. Enjoy!
Tip
Tasks for kids in the kitchen: Let your kids help cut up the fennel. They can also help rinse the lentils. It's also a good idea to have the kids help season and taste - especially when the dish is a bit out of their comfort zone.
Share your tips and comments