High five!
The recipe has been added to your shopping list.
Leek and potato quiche with ham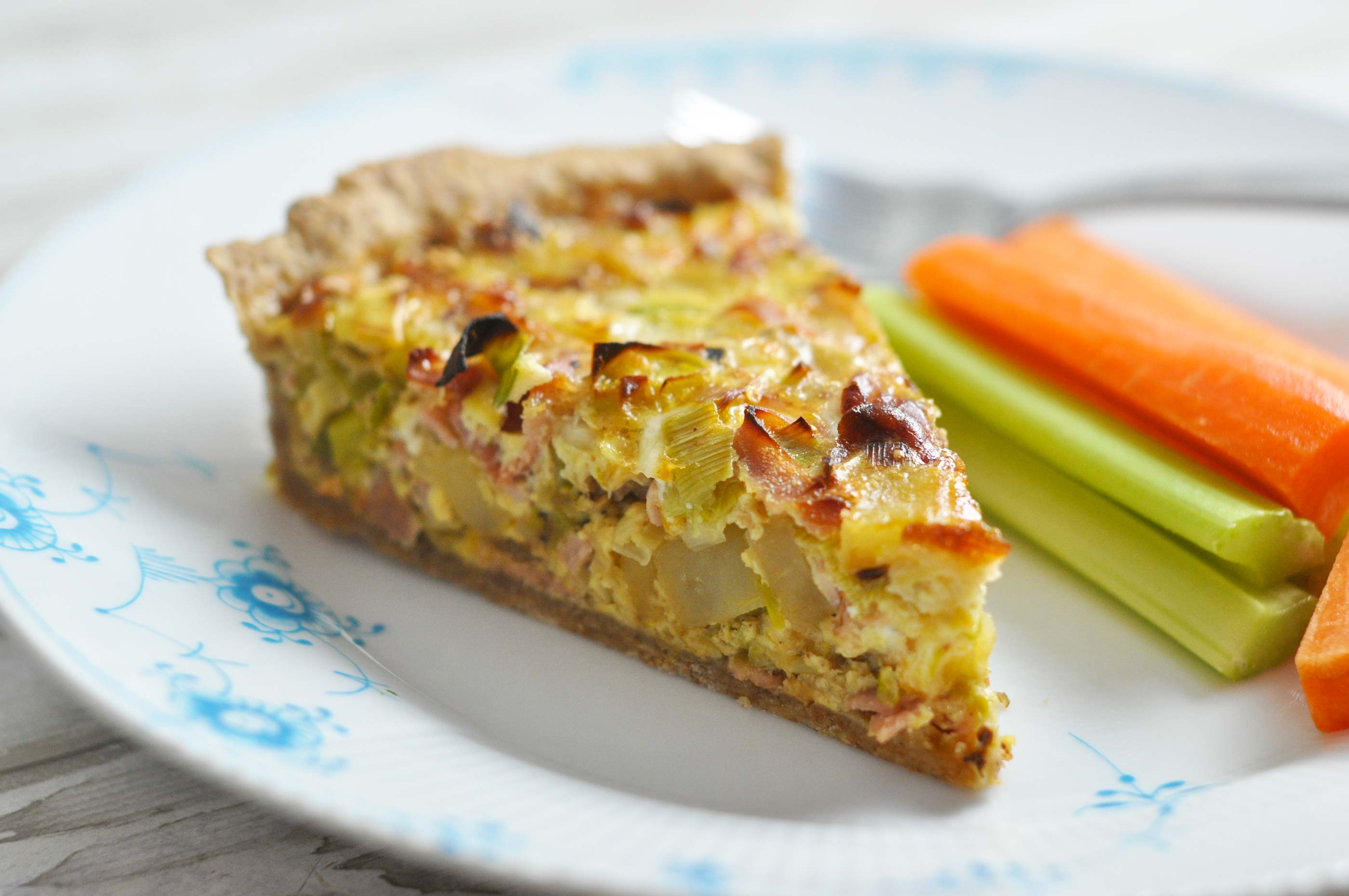 Ingredients
( 2 adults and 2 kids )
Quiche and filling

100 grams

plain flour

75 grams

graham flour

25 grams

oats

1 tsp

salt

50 ml

olive oil

75 ml

cold water

baking parchment

3

leek

150 grams

carrots

*

300 grams

potatoes

150 grams

cooked ham

100 grams

sliced bacon

4

egg

100 ml

milk

200 grams

cottage cheese

50 grams

grated cheese

1 tsp

salt

1 tsp

curry

olive oil

pepper

Snack veggies

0.5

cucumber

300 grams

carrots

*
ADD TO SHOPPING LIST
ADD TO MEAL PLAN
*
= Good to know - click the ingredient

= See the recipe - click the ingredient
Quiche is easy and delicious dinner with endless variations. Here we've filled a wholewheat quiche crust with leeks, potatoes, ham and bacon - and a tasty egg filling with cottage cheese. But if you don't have everything in, you can swap for whatever you have and like. Enjoy!
Directions
Quiche pastry
1. Preheat the oven to 200 degrees convection. Mix all the ingredients for the pastry in a bowl and knead well, until you have a firm and pliable dough. Roll the pastry out between two sheets of baking parchment, or on a floured tabletop, until big enough to cover the quiche tin.
2. Place the pastry in a buttered quiche tin - you want it hanging over the edges slightly. Poke the fork sporadically with a fork, to stop it from bubbling up. Bake the quiche crust for 10 minutes and remove from the oven.
Filling
3. Remove the tops and bottoms and thoroughly clean the leeks for dirt. Slice into thin slices, peel the carrots and potatoes. Roughly grate the carrots and dice the potatoes. Cut the ham into strips.
4. Place the bacon slices on a cold pan and switch on the hob. Let the bacon cook for a few minutes, until slightly seared but not fully crispy. Remove the bacon from the pan and pop it onto some kitchen roll to let it drip off. Cut the bacon into smaller pieces. Drain some of the fat off the pan and cook leeks, carrots and curry on high heat until everything cooks down a bit. Season with salt and pepper.
5. Mix egg, milk, cottage cheese, grated cheese and salt in a bowl. Squeeze the liquid from the leeks and carrots and spread both onto the quiche crust along with potatoes, ham and bacon. Pour over the egg mixture and pop the quiche into the oven.
6. Bake for approx. 30 minutes - or until the egg has stiffened and the quiche has a nice, golden top. Wash the cucumber, peel the carrots and cut both into sticks for snack veggies and serve with the warm quiche. Enjoy!
Share your tips and comments