High five!
The recipe has been added to your shopping list.
Lasagne with beef and butternut squash - for two days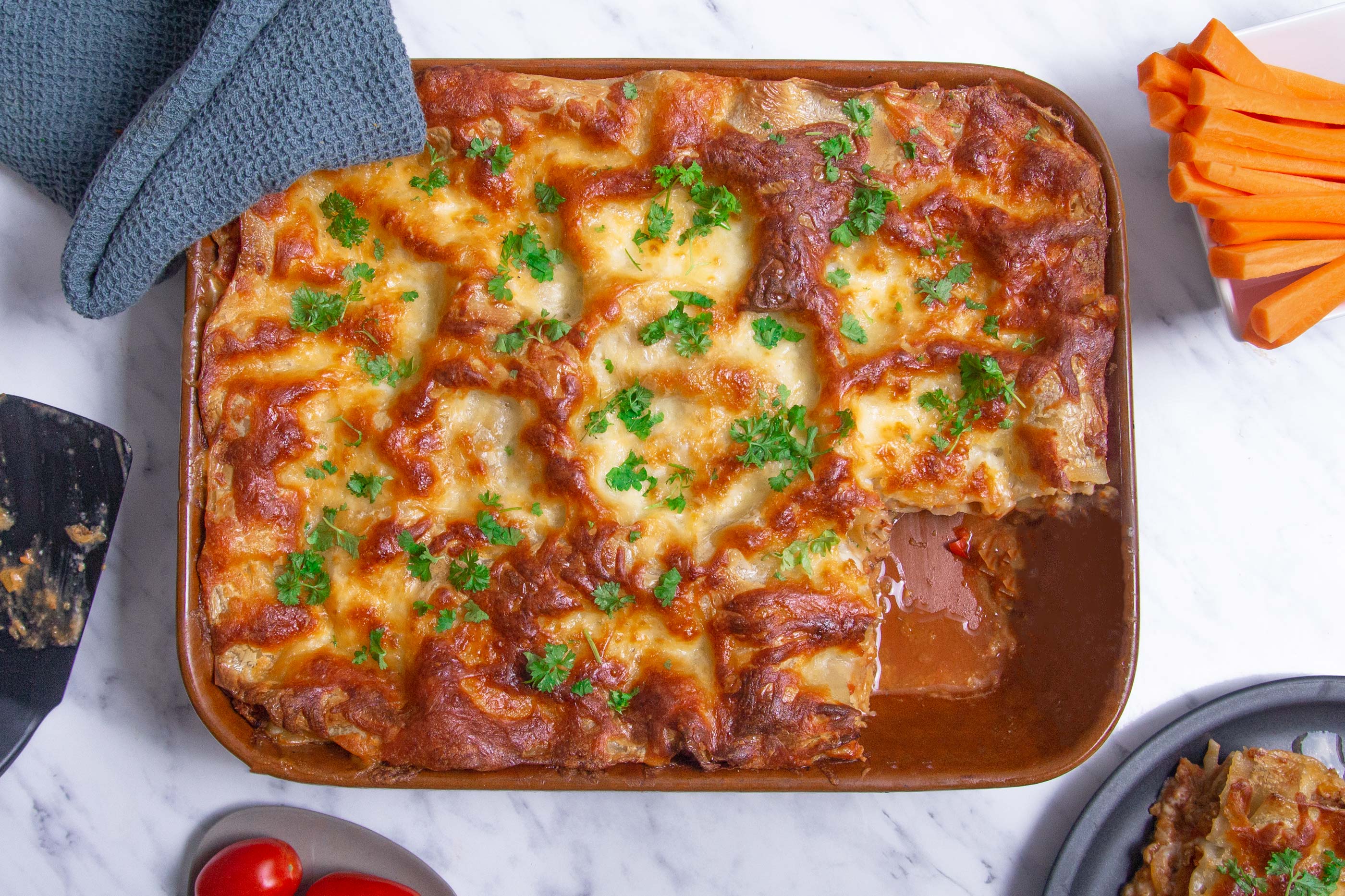 Ingredients
Freezer friendly
( 2 adults and 2 kids )
Lasagne

1

onion

1 clove

garlic

1

red bell pepper

1

butternut squash

0.5

pointed cabbage

700 grams

beef mince

1 tbsp

paprika

1 tbsp

dried oregano

2 can

chopped tomatoes

100 grams

red pesto

500 ml

mornay sauce

wholewheat lasagne sheets

1 ball

mozzarella

sea salt

pepper

olive oil

snack veggies

8

cherry tomatoes

300 grams

carrots

*
ADD TO SHOPPING LIST
ADD TO MEAL PLAN
*
= Good to know - click the ingredient

= See the recipe - click the ingredient
This is the recipe for a proper winter lasagne with butternut squash, which adds a light sweetness to the lasagne. We've used beef, but you can use other types of mince if you prefer - such as chicken, if you'd prefer a leaner rendition. The recipe is designed for two days, so remember to save the leftovers for tomorrow. Enjoy!
Directions
1. Preheat your oven to 200 degrees convection.
2. Finely chop onion and garlic. Rinse and finely dice the bell pepper. Peel the butternut squash and remove the seeds. Rinse the pointed cabbage and cut into thin strips - if it's a very large head of cabbage, we suggest using some of it for a crispy salad. Grate the squash on the coarse side of a grater - or pop all the veggies in a mini chopper and give them a thorough spin, if you really want to camouflage them.
3. Now sautée the veggies with some olive oil for a couple of minutes in a deep pan or pot, until lightly browned. Add the mince and let cook until it's seared well on all sides. Add paprika and oregano.
4. Add chopped tomatoes and pesto and let the lot simmer for about 10 minutes. Season with salt and pepper.
5. Layer the meat sauce and mornay sauce in a casserole dish. Do at least three layers, with lasagne sheets in between each one. Start and finish with a layer of sauce. Spread the mozzarella on top and bake for about 30 minutes, until the cheese is golden.
6. Sprinkle the lasagne with some herbs, if you have some to hand, and serve with rinsed cherry tomatoes and carrots cut into sticks for snack veggies.
7. Enjoy!
Tip
Tasks for kids in the kitchen: Let your kids help peel carrots and cut snack veggies. They can also help taste the meat sauce, and place the lasagne sheets in the dish.
Share your tips and comments