High five!
The recipe has been added to your shopping list.
Lamb stew with bulgur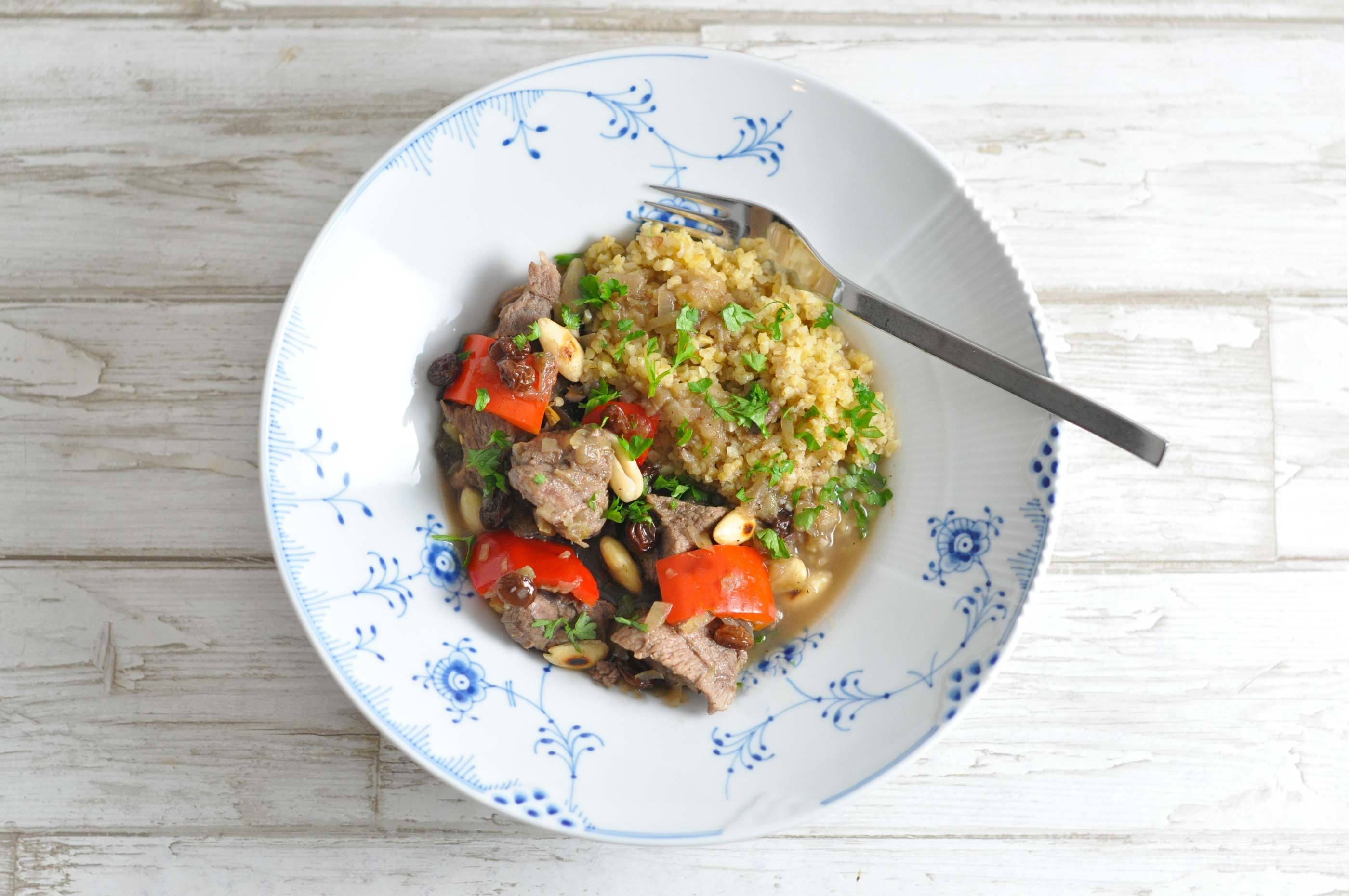 Ingredients
Freezer friendly
( 2 adults and 2 kids )
1

aubergine

1

onion

1

garlic

1

red bell pepper

500 grams

diced lamb

50 grams

almonds

*

2 tsp

cumin

2 tsp

cinnamon

50 grams

raisins

*

400 ml

water

2 tbsp

fish sauce

1 tbsp

acacia honey

*

500 grams

bulgur wheat

salt

pepper

olive oil
ADD TO SHOPPING LIST
ADD TO MEAL PLAN
*
= Good to know - click the ingredient

= See the recipe - click the ingredient
Whether it's Easter, summer or a Thursday in November, this Morroccan-inspired lamb stew is absolutely delicious. With almonds, raisins, and all kinds of wordly good stuff. Here served with bulgur - and we have cooked some extra for use in tomorrows bulgur meat balls. Enjoy!
Directions
1. Wash and roughly dice the aubergine. Pop the cubes in a sieve and cover with sea salt. Leave to sit for 15-20 minutes while you prep the rest. This draws out some of the liquid from the aubergines and makes them soft and delicious when cooked.
2. Finely chop onion and garlic. Wash the bell pepper, remove the seeds and roughly dice. If the meat isn't already diced, trim off the biggest tendons and fat chunks and dice. Remember to wash hands and utensils after.
3. If you have time, peel the almonds, or have the kids do it - in this once instance, child labour is alright! It's mostly for presentations sake, as peeled almonds look the best in the finished dish. Otherwise, just use them as is. Roast the almonds on a dry pan.
4. Cook onion and garlic with some olive oil in a deep pan or pot, until slightly browned. Add meat, cumin and cinnamon, season with salt and pepper and continue to cook on high heat, until the meat is nicely seared. Rinse the salt off the aubergine, and add along with raisins, water, fish sauce and honey and let the dish simmer for 10-15 minutes.
5. Cook the cous cous following the directions on the packet. Finally add the bell pepper and the roast almonds. If you want a thicker sauce, you can thicken it with some cornflour stirred out with water. Serve the lamb stew with the piping hot cous cous, and garnish with some herbs if you have some. Enjoy!
Tip
Most supermarkets have plenty of lamb in the coolers - but if you can't find any or prefer beef or chicken, use that instead. If you're using beef, go for a finer type such a stewing beef, as some beef needs to simmer for hours before it's tender. Remember to save leftover bulgur for tomorrows bulgur meat balls. Check the recipe to see how much you need for your family.
Share your tips and comments