High five!
The recipe has been added to your shopping list.
Lamb meatballs with tzatziki and salad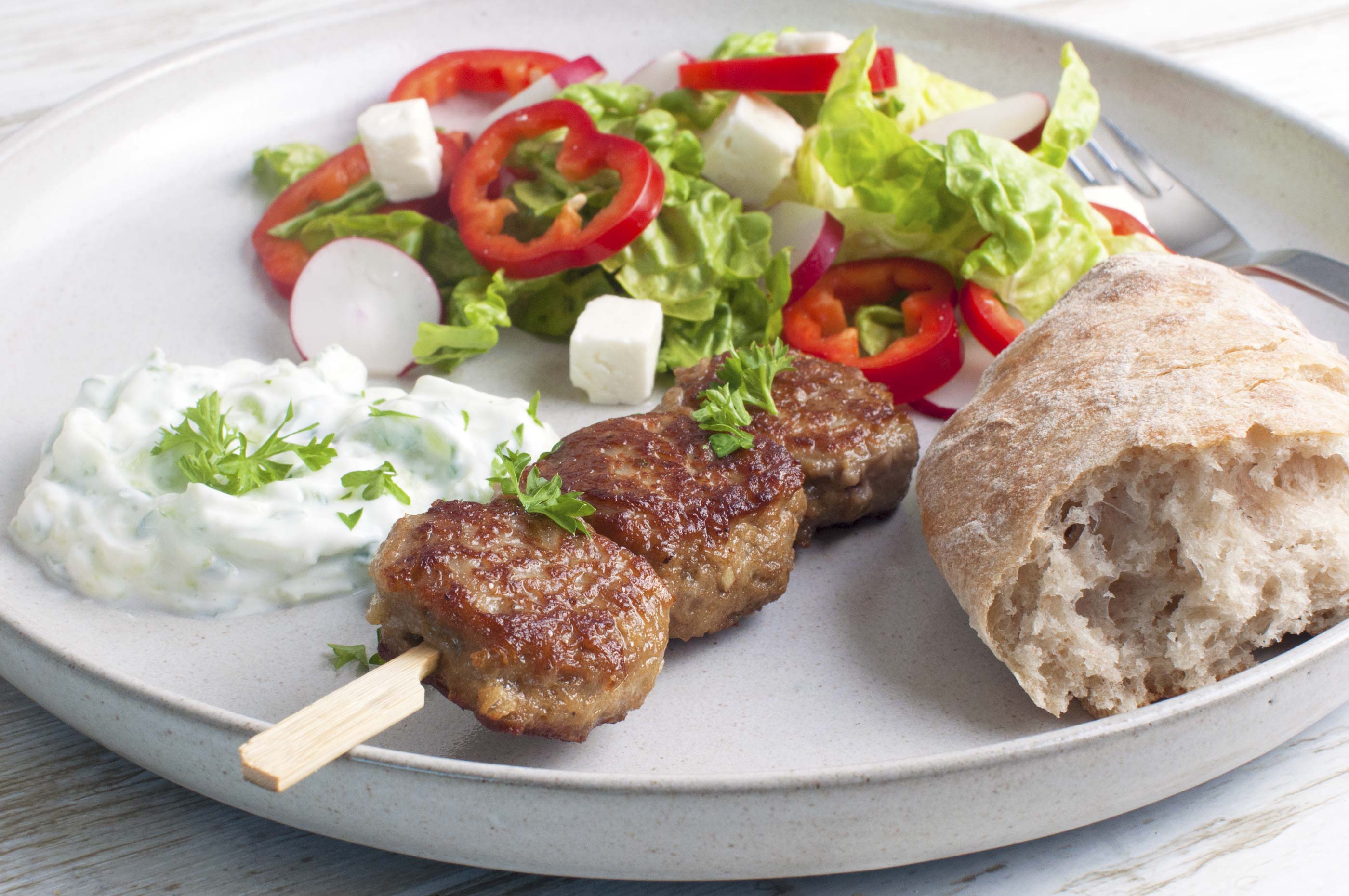 Ingredients
( 2 adults and 2 kids )
Lammedeller

1

onion

400 grams

lamb mince

1

egg

1 tsp

salt

100 ml

milk

2 tbsp

plain flour

baking parchment

1

wholewheat baguette

Tzatziki

0.5

cucumber

200 ml

skyr

*

1 clove

garlic

olive oil

Salad

lettuce of your choice

- eller spinatblade

1

red bell pepper

5

radishes

50 grams

feta cubes

dressing of your choice

salt

pepper
ADD TO SHOPPING LIST
ADD TO MEAL PLAN
*
= Good to know - click the ingredient

= See the recipe - click the ingredient
Lamb meatballs are a great alternative to the classic Italian meatballs, or the Scandinavian frikadelle. They're perfect for Easter, but just as delicious the rest of the year round! Lamb can be found in the frozen section at most supermarkets, but you can just as easily use pork, beef or chicken mince instead. Here we've served our meatballs with yummy tzatziki and a quick salad. Enjoy!
Directions
1. Preheat your oven to 200 degrees convection.
2. Finely chop the onion and mix with mince, egg, salt, milk and flour. Form small meatballs and pop them onto a baking tray covered with baking parchment. Bake the meatballs for about 15 minutes, or until cooked through. While the meatballs are cooking, whip up the tzatziki.
3. Grate the cucumber on the rough side of a grater. Pop it onto a clean dishtowel and roll it up. Wring the dishtowel to get rid of most of the water in the cucumber - and maybe let your best dishtowel sit this one out.
4. Stir the cucumber in with skyr and pressed or grated garlic and add salt and pepper to taste.
5. When the meatballs are done, quickly chuck them on a pan, just long enough to give them a nice sear.
6. Warm the baguette and make a quick salad of rinsed lettuce or spinach, washed bell pepper, sliced radishes and feta cubes. Serve with the lamb meatballs, your yummy tzatziki and your favourite dressing on the salad.
7. Enjoy!
Tip
If you have a bit of leftover feta, you can crumble some into your meatball mix - it's delicious! If the little ones aren't big on filling up on salad, cook a handful of wholegrain rice or wholewheat pasta on the side.
Share your tips and comments