High five!
The recipe has been added to your shopping list.
Kid friendly fish lasagne with plenty of veg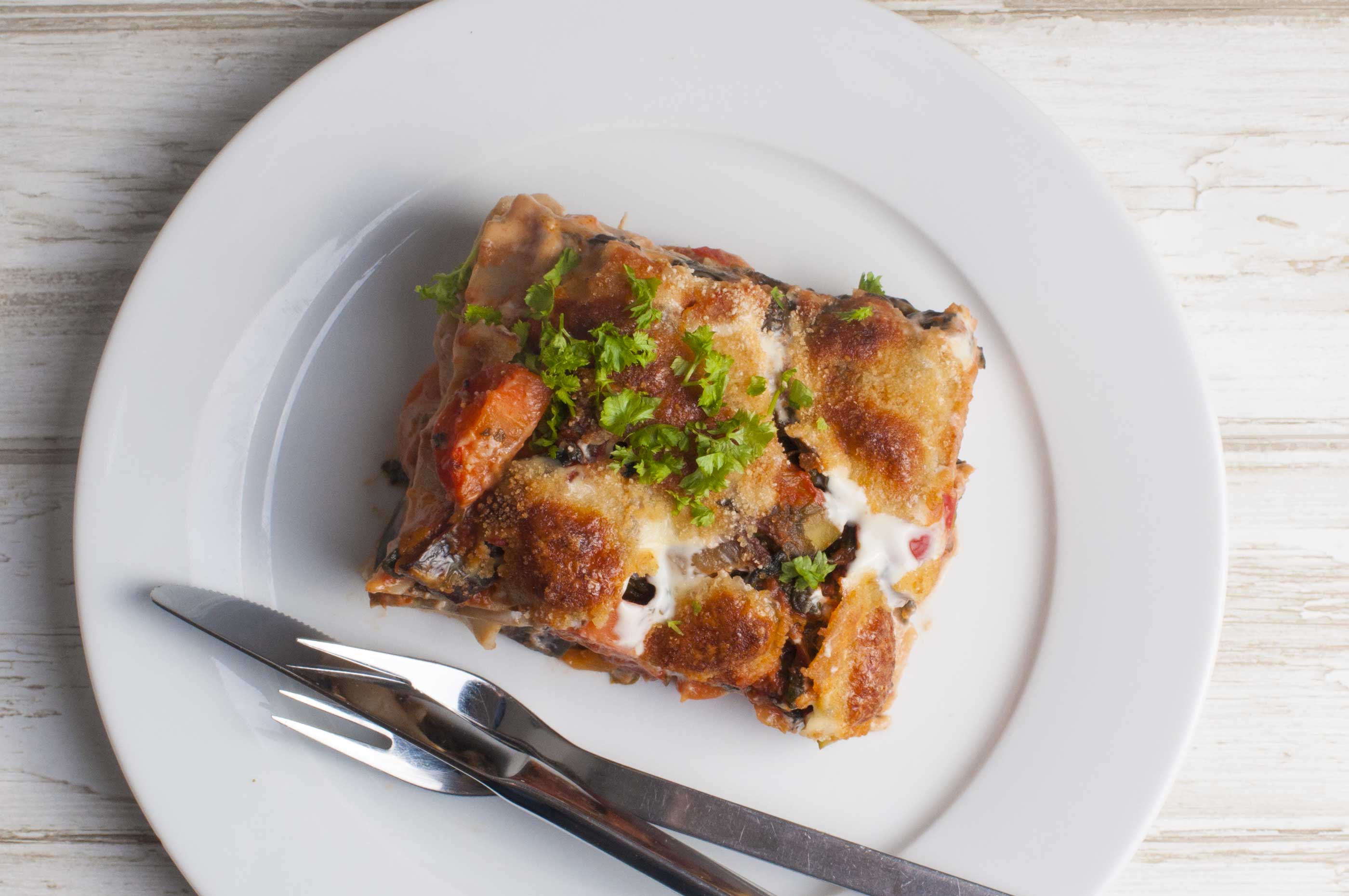 Ingredients
( 2 adults and 2 kids )
1

aubergine

1

onion

1

courgette

250 grams

fresh spinach

*

1

red bell pepper

300 grams

carrots

*

2 can

chopped tomatoes

1 cube

vegetable stock

400 grams

white fish

300 ml

mornay sauce

- or white sauce

1 ball

mozzarella

wholewheat lasagne sheets

sea salt

breadcrumbs

salt

pepper

olive oil
ADD TO SHOPPING LIST
ADD TO MEAL PLAN
*
= Good to know - click the ingredient

= See the recipe - click the ingredient
Lasagne is a favourite in most families - and this version is a great way of getting both fish, spinach, and a load of other veggies into the kids. Use a large tray, as the recipe is intended for two days. Enjoy!
Directions
1. Preheat your oven to 200 degrees convection.
2. Start by prepping the veggies. Rinse the aubergine, roughly dice it, and pop it in a colander. Sprinkle with a good dash of sea salt. And don't worry - we'll rinse it off in a bit, but it makes the aubergine soft and yummy.
3. Finely chop the onion. Rinse the courgette and roughly dice that, too. Sautée both in some olive oil in a large, deep pan or deep pot. Meanwhile, rinse the spinach well and let it cook little by little, until wilted.
4. While you wait for the spinach, clean and rinse the bell pepper, peel and slice the carrots, and rinse the salt off the aubergine. Add the lot to the other veggies, along with chopped tomatoes and crumbled stock cube. Stir well and let it simmer for 5-10 minutes. Season with salt and pepper.
5. Dice the dish and season with salt and pepper. Now layer your tomato and veggie sauce, mornay sauce, and fish with lasagne sheets. Start and finish with a layer of each sauce.
6. Top with mozzarella, picked into small chunks, and a sprinkle of breadcrumbs. Bake for about 30 minutes, until beautifully golden on top, the fish is cooked through and the lasagne sheets tender.
7. Enjoy!
Tip
If you have leftover mornay sauce, you can freeze it in a sealed container. Then you have it for next time, and we're reducing food waste. Remember to save the leftovers for tomorrow. As the lasagne contains spinach, it's important that you quickly cool it in the fridge. Also be aware of how much spinach you give to children younger than 3.
Share your tips and comments