High five!
The recipe has been added to your shopping list.
Italian meatballs with cheese and fresh pasta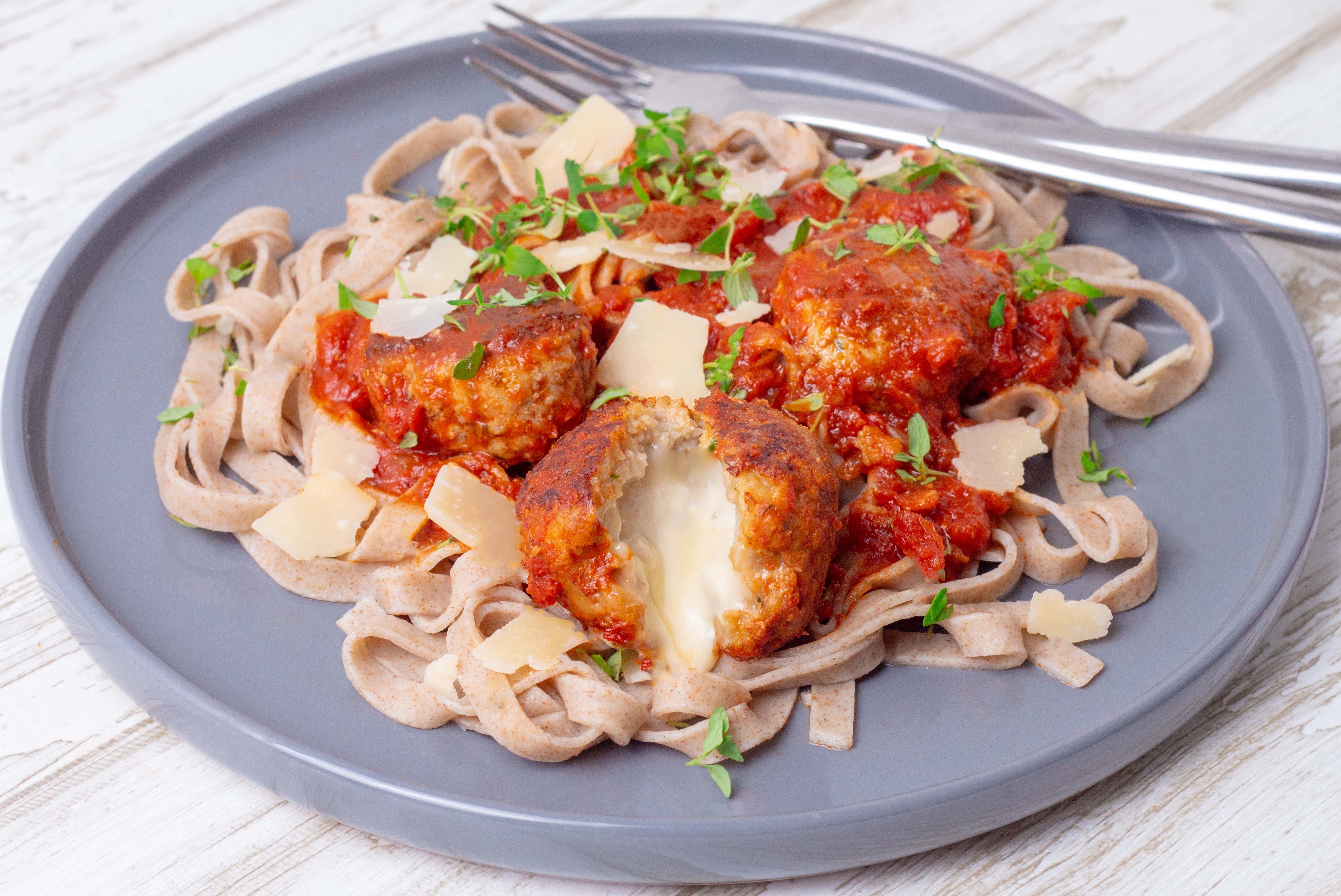 Ingredients
( 2 adults and 2 kids )
1

onion

1 clove

garlic

0.5 bunch

parsley

1 ball

mozzarella

500 grams

pork mince

1

egg

25 grams

breadcrumbs

2 tsp

salt

100 ml

milk

2 tsp

paprika

70 grams

tomato purée

1 can

chopped tomatoes

1 tsp

dried oregano

- or thyme

100 ml

water

fresh pasta

pepper

olive oil
ADD TO SHOPPING LIST
ADD TO MEAL PLAN
*
= Good to know - click the ingredient

= See the recipe - click the ingredient
We've challenged the classic meatball and hidden a little cheese treasure in the centre! They're surprisingly easy to make, and mega tasty. After all, who has ever had even the slightest issue with melted cheese? We've served the meatballs with tomato sauce and fresh pasta. Enjoy!
Directions
1. Chop onion and garlic and separate into two piles. Rinse and finely chop the parsley, and cut the mozzarella into roughly 1/2 inch by 1/2 inch cubes.
2. Mix the mince with half of the onion and garlic along with parsley, egg, breadcrumbs, salt and milk. You can use your hands for this, it's usually easier. You want the farce to have the consistency of thick porridge.
3. Wet your hands with water and shape a little meatball the size of a golfball. Press it flat and place a piece of mozzarella in the middle. Fold the farce around the cheese, so you can't see it (the hidden treasure!) and shape it so it's round and lovely again. Keep going until you have no more farce and cheese. Do remember to always wash your hands and utensils after handling raw meat.
4. Cook the meatballs in a deep pan in some olive oil. You don't want to cook them all the way through, just get a nice sear on them. Remove from the pan and set aside.
5. Cook the remaining half of onion and garlic in a dash of olive oil along with paprika on the pan. Add tomato purée, chopped tomatoes, dried oregano or thyme and water and stir well. Now carefully place the meatballs into the tomato sauce and bring to the boil. Remember to pop a lid on, as tomato sauce tends to sputter in a not very fun way - especially when you're wearing a white shirt you like!
6. Let meatballs and sauce simmer for about 10 minutes, or until the meatballs are cooked through. Meanwhile, cook the pasta according to the packet.
7. Season the sauce to taste with salt and pepper, and serve the yummy meatballs with fresh pasta, and optionally a sprinkle of grated cheese and herbs on top. Enjoy!
Share your tips and comments