High five!
The recipe has been added to your shopping list.
"Instant" pizzas with ham and bell pepper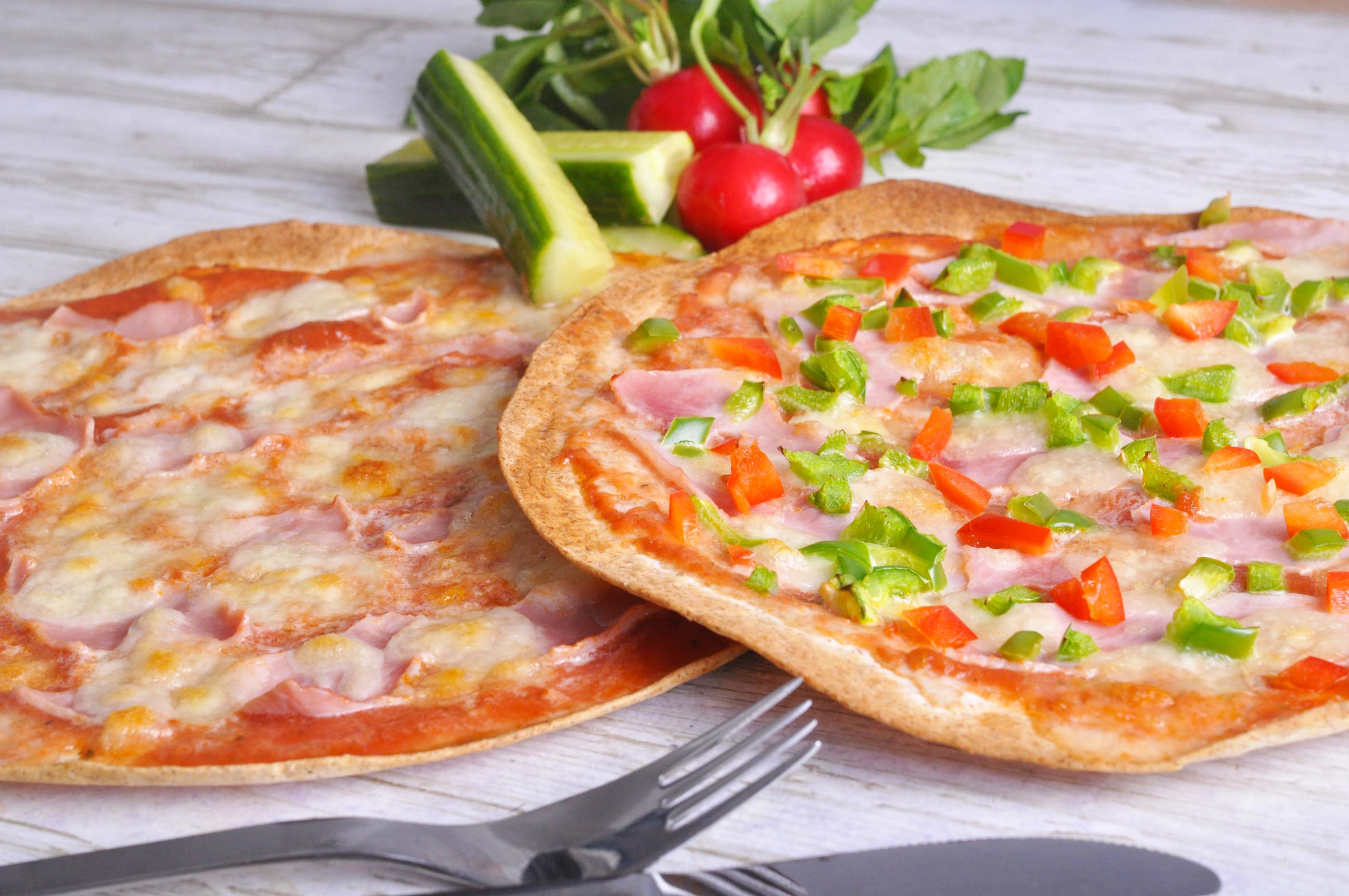 Ingredients
Freezer friendly
( 2 adults and 2 kids )
1

green bell pepper

1

red bell pepper

1 can

chopped tomatoes

1 tbsp

dried oregano

8

wholewheat tortillas

150 grams

cooked ham

2 ball

mozzarella

8

radishes

300 grams

carrots

*

0.5

cucumber

salt

pepper

baking parchment
ADD TO SHOPPING LIST
ADD TO MEAL PLAN
*
= Good to know - click the ingredient

= See the recipe - click the ingredient
Sure, it's quick and easy to call the pizza place when you're short on time - we're speaking from experience. But these pizzas are even quicker to make yourself than waiting for the delivery driver to show up. Enjoy!
Directions
1. Preheat your oven to 250 degrees with a baking tray on the bottom shelf - or turn your oven on to its pizza programme, if it has one of those. Wash and finely dice the bell pepper.
2. Pour the chopped tomatoes and dried oregano in a measuring cup or small bowl. Season with salt and pepper and give it a whiz with the handblender, until most of the lumps are gone. If you don't have a handblender, you can give the tomatoes a good squishing with a whisk until the tomato sauce is even.
3. Pop the tortillas each on their own sheet of baking parchment - we suggest just making two at a time and reusing the baking parchment. Spread a thin layer of tomato sauce onto the tortillas, remembering to leave the outermost centimetre free of sauce. And be careful not to use too much, as your pizzas will go soggy.
4. Rip the ham into pieces and spread across the tortillas. Top with bell peppers and mozzarella picked to small pieces. Again, remember not to go overboard with the toppings, as these tortilla pizzas easily get a bit sad and soggy if overloaded.
5. Slide a cutting board under the baking parchment holding the pizzas, and move them to the baking tray. Bake the pizzas for 10-15 minutes, until the cheese is golden and the crust is crispy.
6. Wash the radishes. Peel the carrots, wash the cucumber and cut both into sticks for snack veg. Serve with your delicious pizzas.
7. Enjoy!
Tip
If you have small children, grate a small bit of carrots and radishes, so the wee things don't get them caught in their throat. Otherwise you can just stick to good old harmless cucumber for snack veggies.
Share your tips and comments