High five!
The recipe has been added to your shopping list.
Indonesian chicken with whipped cream and banana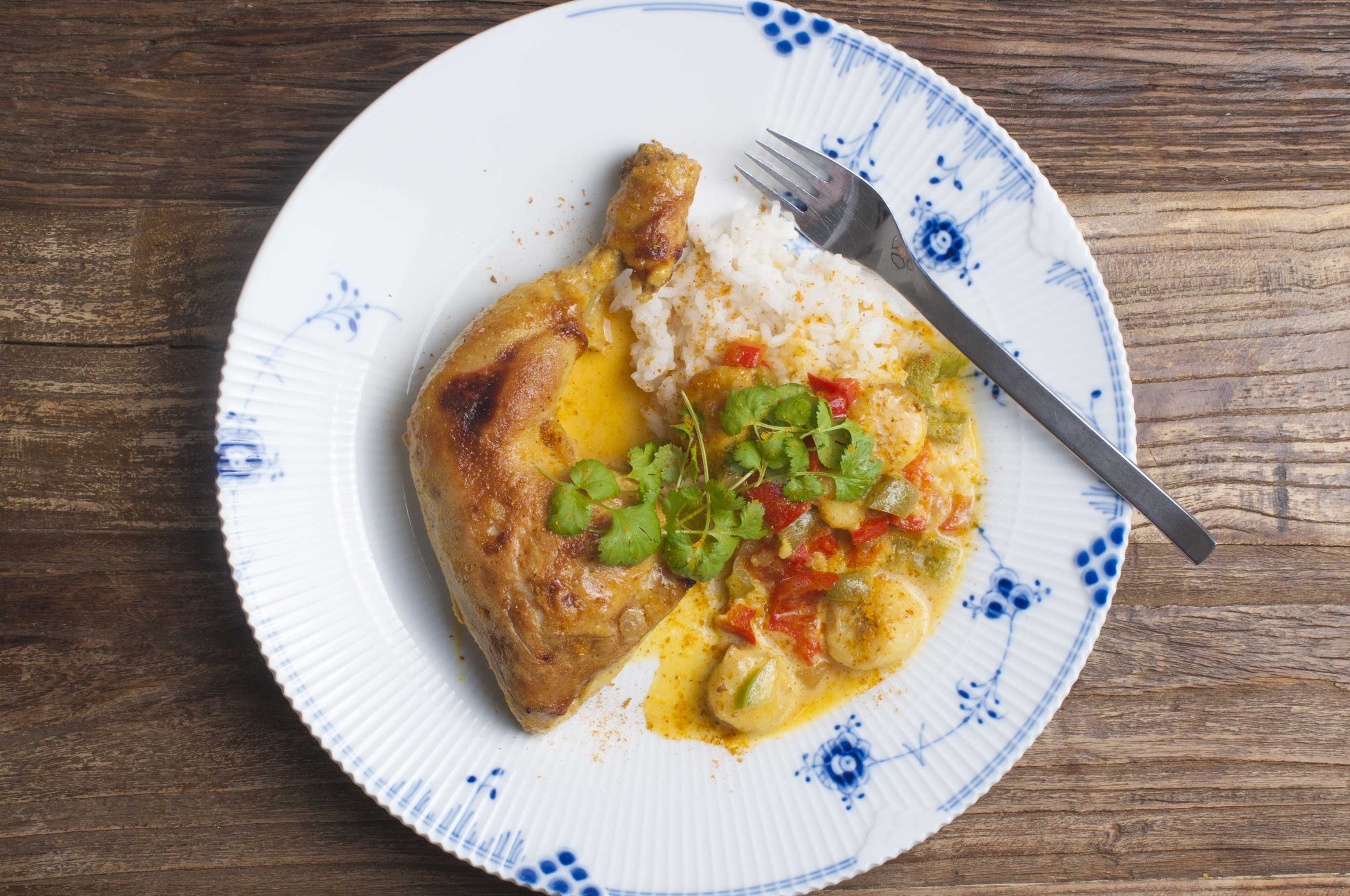 Ingredients
( 2 adults and 2 kids )
8

chicken thighs

- or whole chicken

1

green bell pepper

1

red bell pepper

2

banana

250 ml

whipping cream

2 clove

garlic

2 tsp

curry

1 tsp

sambal oelek

- can be left out

100 ml

mango chutney

- sweet

wholegrain rice

salt

pepper
ADD TO SHOPPING LIST
ADD TO MEAL PLAN
*
= Good to know - click the ingredient

= See the recipe - click the ingredient
This recipe was submitted to us by Marie, mother to Lily and Norma. And we'll admit - when we saw the combination of seasoned whipped cream, chicken and banana, we thought, as you might, that it sounded rather strange. But it tastes absolutely divine! Try it and see for yourself.
Directions
1. Preheat your oven to 220 degrees convection. Boil the chicken pieces in a big pot of water until cooked through. This should take 20-30 minutes. Check by pricking the chicken with a meat pin or similar. If the juices run clear, the chicken is cooked.
2. Clean and rinse the peppers and dice them, and slice the bananas. Place both in the bottom of a casserole tin, place the chicken pieces on top and season with salt and pepper.
3. Whisk the cream into whipping cream and fold in pressed garlic, curry, sambal oelek, and mango chutney. Add salt to taste and optionally more curry, chilli or chutney if you like.
4. And now for the slightly odd bit - but not to worry, just like a Disney film, it all ends well, we promise! Spread the seasoned whipped cream over the chicken. It will melt a bit during this, but it's going to get turned into a beautiful creamy sauce in the oven anyway.
5. Cook the chicken in the oven until it's beautifully golden on top - about 20-30 minutes. While it cooks, boil the rice following the instructions on the packet. Remove the chicken from the oven and serve with piping hot rice, and munch away. YUM and thanks to Marie for the amazing recipe. Enjoy!
Tip
Marie has used a whole chicken, which really is delicious, but has a longer cooking time. If you have the time, and you're using a whole chicken, you can split it into smaller pieces before boiling, or part it before you add the whipped cream. Marie also used more sambal oelek in her original recipe - if you want to nail her version, just add a bit more fire to the whipped cream. Sambal Oelek is a chilli paste, that you can find in little jars on the shelf with Asian specialities in most supermarkets. You can also use chilli sauce - just remember to taste!
Share your tips and comments