High five!
The recipe has been added to your shopping list.
Huevos Rancheros with fried eggs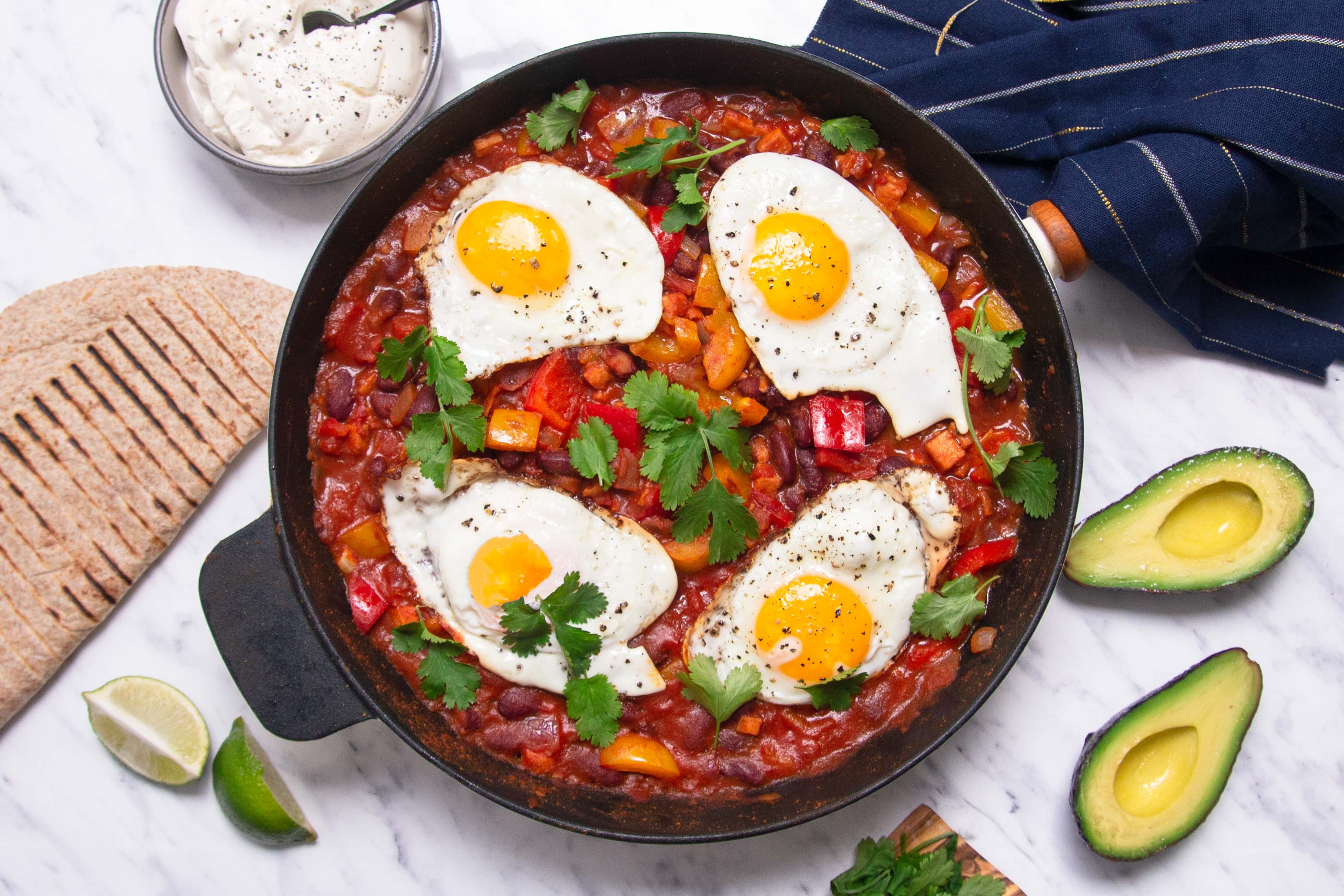 Ingredients
( 2 adults and 2 kids )
1

onion

1 clove

garlic

1

green bell pepper

1

red bell pepper

1 tbsp

paprika

0.5 tbsp

cumin

0.5 tbsp

dried coriander

1 can

chopped tomatoes

2 tbsp

tomato purée

100 ml

water

1 tin

kidney beans

4

egg

wholewheat tortillas

2

avocado

200 ml

creme fraiche 18%

1

lime

salt

pepper

olive oil
ADD TO SHOPPING LIST
ADD TO MEAL PLAN
*
= Good to know - click the ingredient

= See the recipe - click the ingredient
Hu.. Ho.. He.. Awhatnow? Huevos Rancheros is originally a Mexican breakfast dish, but we're taking the liberty of serving it a bit later in the day. Because this dish is a perfect vegetarian and family-friendly dinner: Warm tortillas topped with yummy filling and fried eggs. Enjoy!
Directions
1. Dice onion and garlic. Clean and dice the bell pepper. Sautée the lot on a pan in a bit of olive oil. Add paprika, cumin and coriander and let it all cook for a couple of minutes.
2. Add chopped tomatoes, tomato purée, water and kidney beans, and let simmer for 5 minutes.
3. Crack the eggs on a warm pan with some olive oil. Season with salt and pepper, fry the eggs, and move them to a plate.
4. Warm the tortillas on a pan or in the oven. Slice the avocado and drizzle with some lime juice, so it doesn't go brown. Pour creme fraiche in a small bowl and cut lime into wedges.
5. Set everything on the table, and now assemble your favourite Huevos Rancheros by placing a tortilla on your plate and topping with your favourite filling. They can be eaten open-faced with a knife and fork (this way you can compete over whose plate looks nicest), or they can be rolled up into a wrap.
6. Buen provecho... or just: Enjoy!
Tip
Tasks for kids in the kitchen: Let your kids help slice the bell pepper. They can also crack the eggs onto the pan and cut the avocado.
Share your tips and comments