High five!
The recipe has been added to your shopping list.
Hot wings with ratatouille and pasta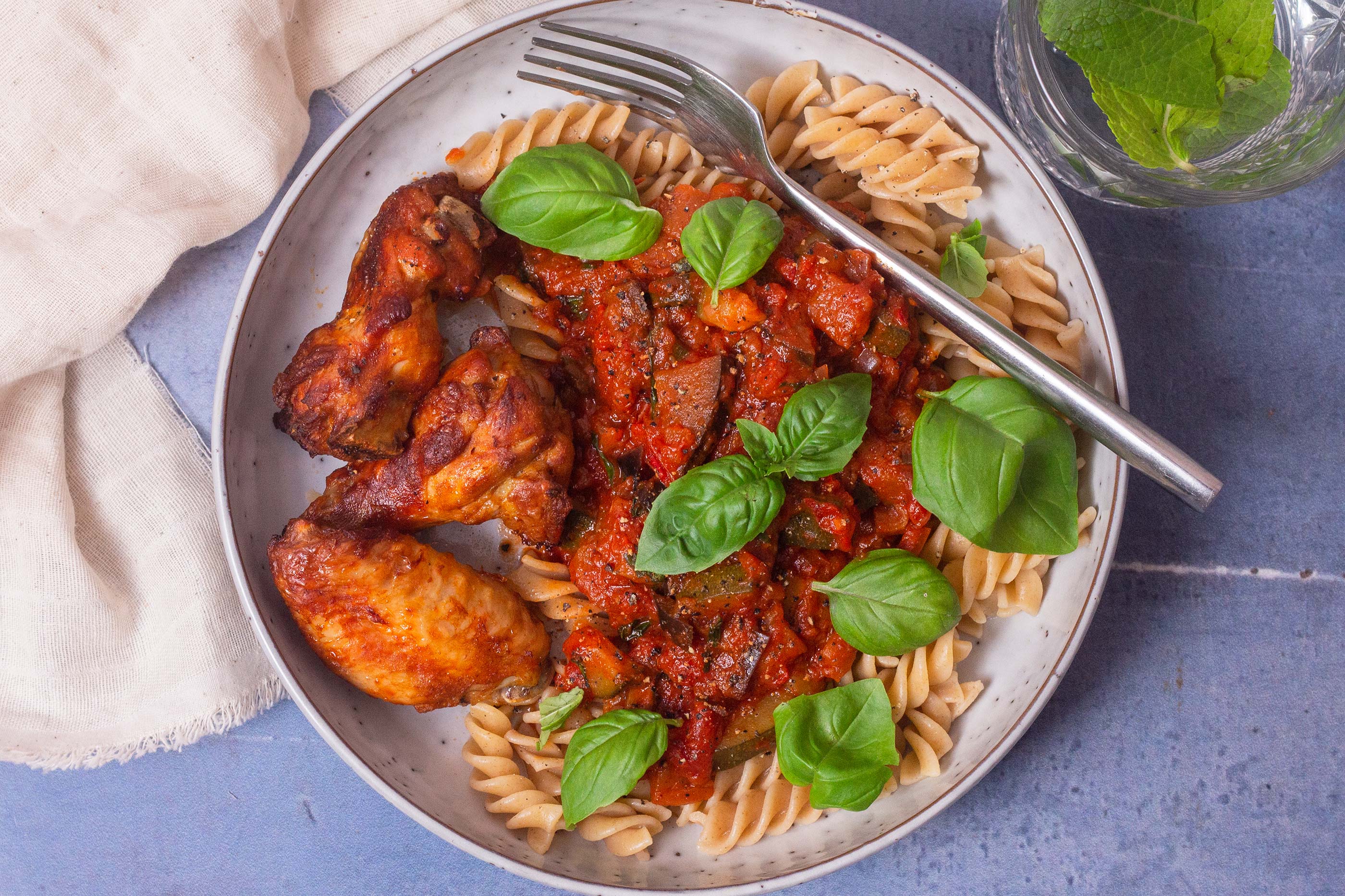 Ingredients
Freezer friendly
wholewheat pasta

700 grams

chicken wings

Marinade

1 clove

garlic

50 ml

ketchup

1 tbsp

acacia honey

*

1 tbsp

balsamic vinegar

Ratatouille

1

aubergine

1

red bell pepper

1

courgette

1

onion

1 clove

garlic

1 can

chopped tomatoes

1 tbsp

paprika

1 tbsp

dried oregano

olive oil

pepper

salt
ADD TO SHOPPING LIST
ADD TO MEAL PLAN
*
= Good to know - click the ingredient

= See the recipe - click the ingredient
Chicken wings are a certain hit in most families - and we promise that your kids will LOVE our yummy ratatouille too, which we've served on the side. This recipe is with our home-marinated chicken wings, but if you're in a rush, or unable to find fresh chicken wings, you can of course just pick up a frozen packet from the supermarket.
Directions
1. Preheat your oven to 225 degrees convection, or fire up the grill if weather permits.
2. Cook the pasta according to the packet.
3. Press or finely chop the garlic and mix well with ketchup, honey and balsamico in a bowl. Give the chicken wings a good coating of the marinade and cook them on the grill, or give them about 15 minutes in the oven, until cooked through.
4. Rinse aubergine, bell pepper and courgette, and roughly dice all. Finely chop onion and garlic.
5. Now cook onion and garlic with a dash of olive oil in a pot for a few minutes. Add courgette, aubergine and bell pepper, and cook until everything has wilted down a bit. Add chopped tomatoes, paprika and oregano and stir well. Pop a lid on the pot and lower the heat.
6. Let the ratatouille simmer for about 10 minutes, while the yummy chicken wings finish cooking. The longer you let the ratatouille simmer, the softer the veggies will get. Season to taste with salt and pepper.
7. Serve the warm chicken wings with pasta and the yummy ratatouille.
8. Enjoy!
Tip
Tasks for kids in the family: Let your kids help dice courgette and aubergine. If you like, you can help them along a bit by slicing or cutting the veggies lengthways first.
Share your tips and comments