High five!
The recipe has been added to your shopping list.
Homemade cornflake nuggets with potatoes and corn cobs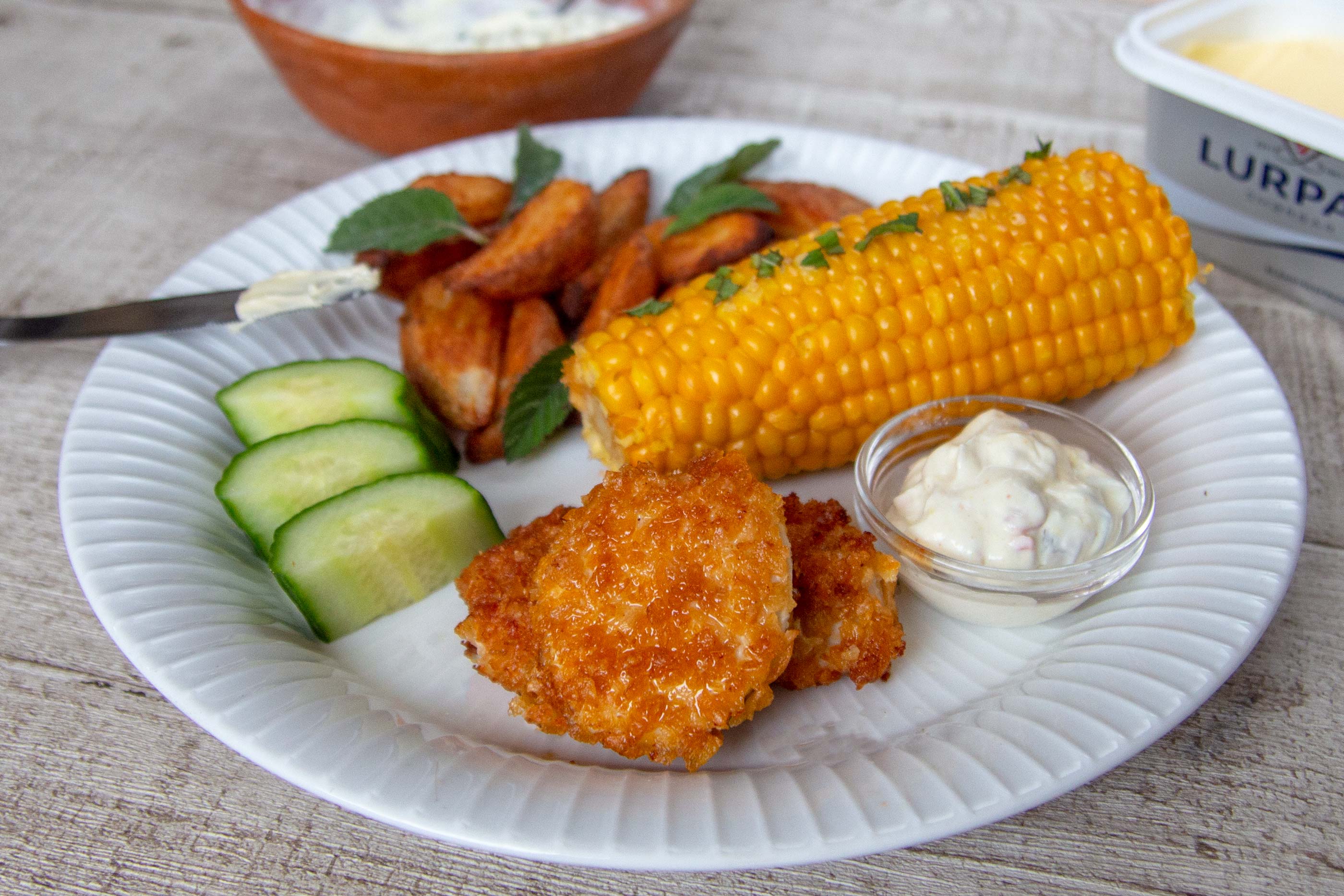 Ingredients
( 2 adults and 2 kids )
600 grams

frozen potato wedges

200 grams

cornflakes

1

egg

400 grams

chicken mini fillets

4

corn cob

0.5

cucumber

150 ml

creme fraiche

- or skyr

100 grams

pickles

baking parchment

olive oil

salt

pepper
ADD TO SHOPPING LIST
ADD TO MEAL PLAN
*
= Good to know - click the ingredient

= See the recipe - click the ingredient
Yum! The crispiest homemade nuggets with cornflake coating, served with potato wedges, corn cobs and cucumber sticks. This recipe is extra simple, so the kids can have their vwery own cooking day. Enjoy!
Directions
1. Preheat your oven to 220 degrees fan assisted.
2. Place the potato wedges on a baking tray lined with baking parchment, coat with a dash of olive oil and bake for about 30 minutes, until crispy and golden. Remember to turn the wedges about halfway through.
3. Pop cornflakes into a bag, and have the kids let loose a flurry of karate chops (Or let them use a rolling pin and smash away) - they'll have great fun. Now mix the crushed cornflakes with salt and pepper and pour onto a flat plate. Cut the mini fillets into bite-sized (or rather, nugget sized) chunks, and first coat each nugget in an even layer of egg. Then coat in the crushed cornflakes.
4. Place your nuggets on a baking tray lined with baking parchment and bake for 15 minutes - until cooked through. You can also fry them in oil on a pan or in a deep fryer, if you want your nuggets extra naughty.
5. Remove leaves and those pain in the neck hairs from the corn cobs, and cook in lightly salted water for 8-10 minutes. The cobs, that is - not the hairs!
6. Rinse the cucumber and cut it into sticks for snack veggies.
7. Mix creme fraiche or skyr with pickles and season to taste with salt and pepper.
8. Serve the baked potato wedges with nuggets, corn cobs, cucumber sticks and dressing.
9. Enjoy!
Tip
Tasks for younger kids in the kitchen: Let your kids crush the cornflakes - it's great fun! They can also cut the cucumber into sticks.
Also remember to save a nugget or two for the kids' packed lunches - if there's any left over, that is!
Share your tips and comments