High five!
The recipe has been added to your shopping list.
Holm's quick ratatouille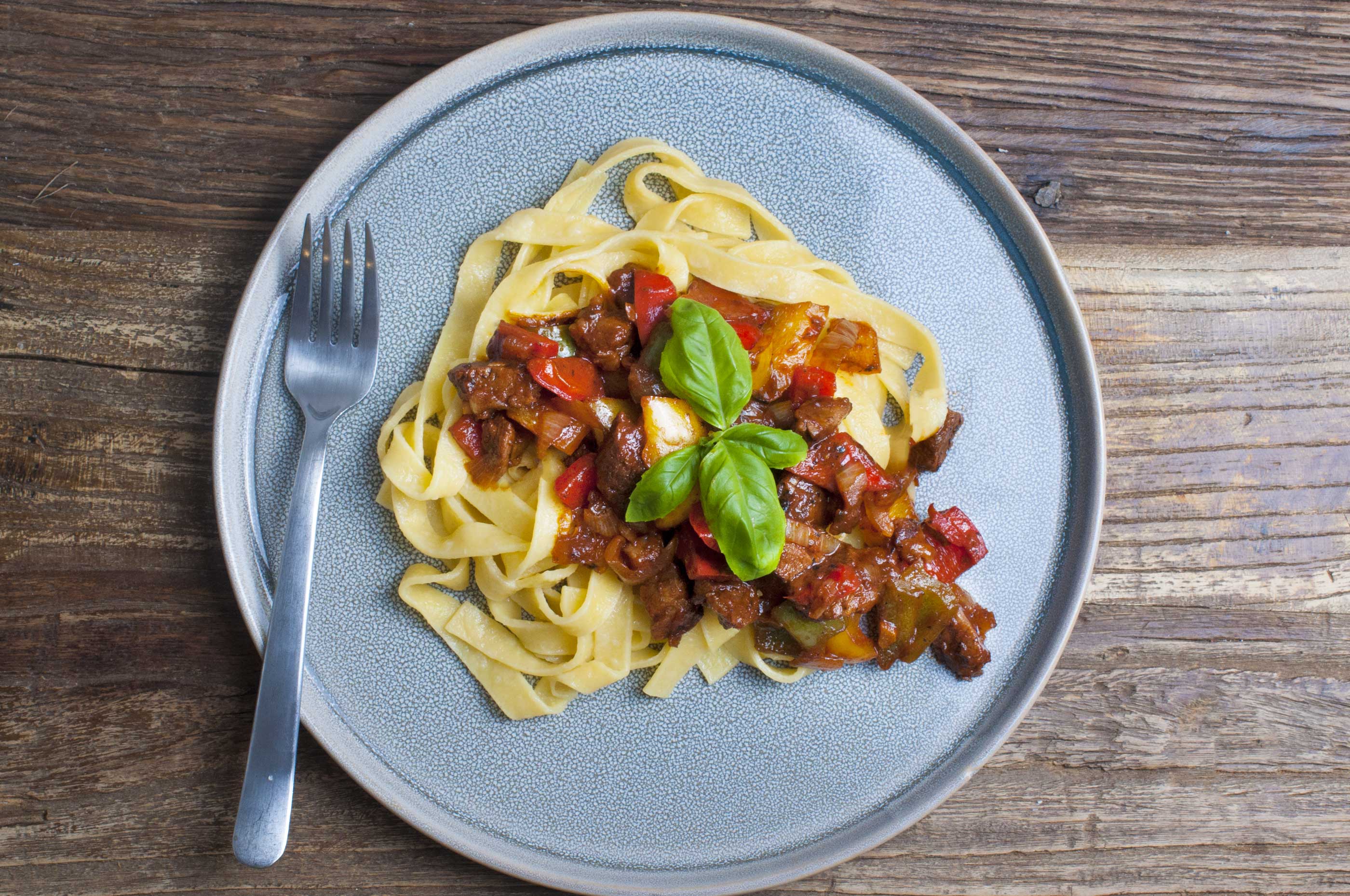 Ingredients
( 2 adults and 2 kids )
1

onion

1 clove

garlic

1

yellow bell pepper

1

red bell pepper

1

green bell pepper

1

steak

wholewheat pasta

70 grams

tomato purée

100 ml

water

0.5

lemon

salt

pepper

olive oil
ADD TO SHOPPING LIST
ADD TO MEAL PLAN
*
= Good to know - click the ingredient

= See the recipe - click the ingredient
This pasta dish is super easy and delicious - and inspired by our good friend, Danish chef Claus Holm. Claus often cooks this for our kids, and despite him always being nervous as to whether they like his food, they absolutely love it! We've tried to pass on as much of Claus' loving hand as we can in our version of this recipe, and we hope you'll love it as much as our kids do!
Directions
1. Bring a pot with salted water to the boil and start sorting out the veggies.
2. Finely chop onion and garlic. Clean and rinse the bell peppers and dice them up. Dice the steak to the same size as the peppers - remembering to wash your hands and utensils afterwards.
3. Sautée onion and garlic in a bit of olive oil, until it's happily sizzling, fragrant, and slightly brown. Add the peppers, let cook for another few minutes and put the pasta on.
4. Add the meat, season with salt and pepper and cook while stirring, until the meat is how you like it.
5. Lastly add the tomato purée and water and let reduce slightly. Add salt, pepper and a bit of lemon juice to taste.
6. Serve on top of the piping hot pasta. Enjoy, and "bam", as Claus would say!
Share your tips and comments