High five!
The recipe has been added to your shopping list.
Hokkaido soup with crispy chickpeas and baguette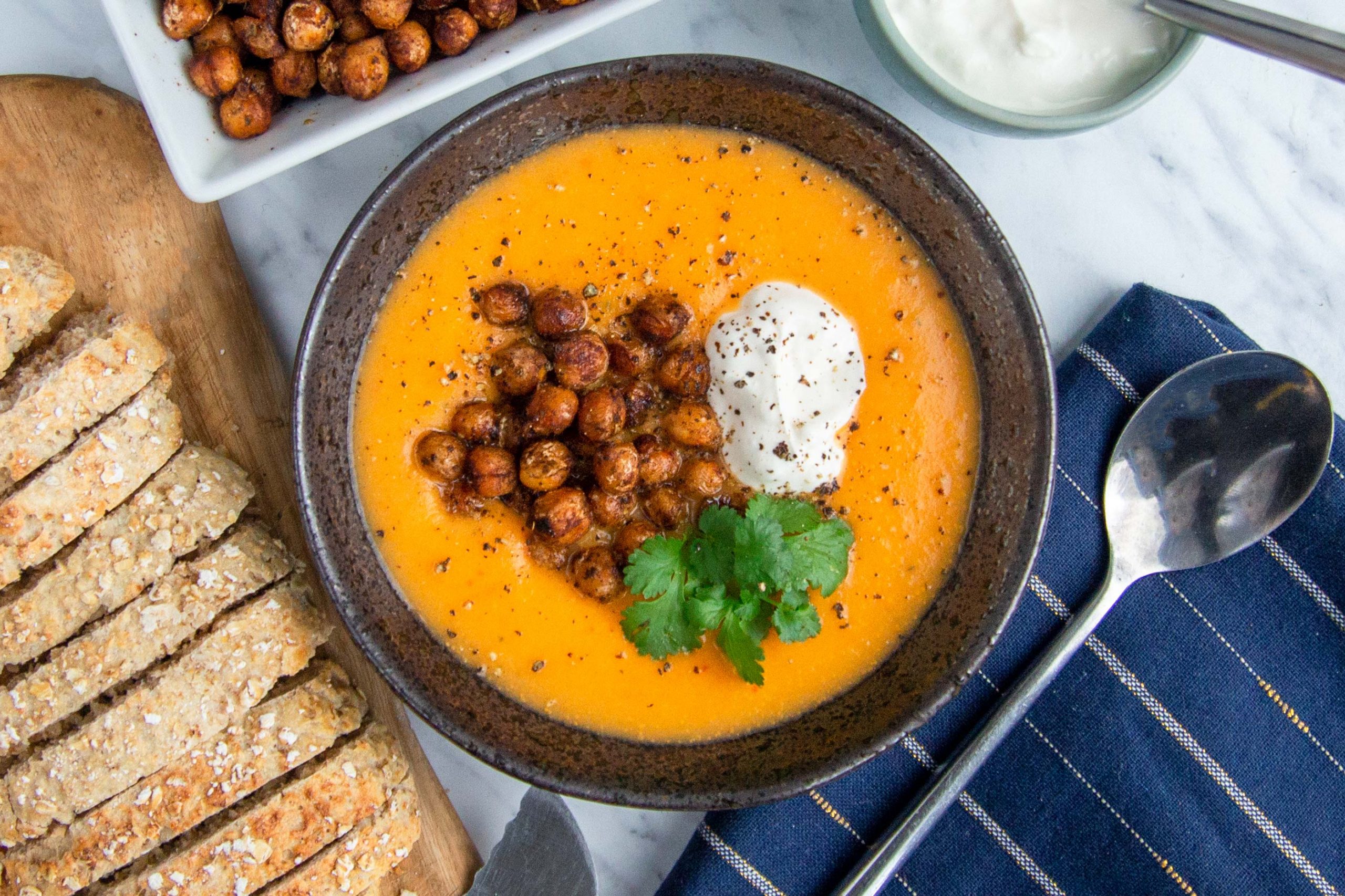 Ingredients
Freezer friendly
( 2 adults and 2 kids )
1 tin

chickpeas

0.5 tbsp

paprika

1

onion

1 clove

garlic

2

snack pepper

300 grams

potatoes

1

hokkaido pumpkin

0.5 tbsp

dried oregano

150 ml

single cream 8%

700 ml

water

1 cube

vegetable stock

1

wholewheat baguette

200 ml

creme fraiche

– or skyr

salt

pepper

olive oil

baking parchment
ADD TO SHOPPING LIST
ADD TO MEAL PLAN
*
= Good to know - click the ingredient

= See the recipe - click the ingredient
Once the leaves begin to fall from the trees, it's finally pumpkin season. And thank heaven for that! Because pumpkins are amazing for cooking with – like in soups, for instance. Here's one with hokkaido pumpkin, potatoes and bell pepper, served topped with crispy chickpeas and brown baguette on the side. Enjoy!
Directions
1. Preheat your oven to 230 degrees fan assisted. Thoroughly rinse chickpeas and dry in a dishcloth. If the skins come loose, just pick them off with your fingers and chuck them in the compost.
2. Pop the chickpeas onto a sheet pan lined with baking parchment and coat with a bit of olive oil, paprika, salt and pepper. You can use all purpose seasoning as well. Bake the chickpeas for about 30 minutes until golden and crispy. Remember to turn them about halfway through.
3. Roughly dice onion and garlic. Rinse, clean and roughly dice the bell peppers. Peel and roughly dice the potatoes. Peel the pumpkin, remove the seeds and then (you guessed it!) roughly dice the pumpkin as well.
4. Sautée onion and garlic in some olive oil for a few minutes. Add bell pepper, potatoes and oregano. Sweat for another couple of minutes while stirring.
5. Add diced pumpkin, single cream, water and vegetable stock. Bring the soup to the boil and let simmer with the lid on for about 20 minutes, or until pumpkin and potatoes are tender.
6. Blend the soup until smooth with a hand blender, or in a regular blender. Do remember to never fill the blender more than halfway when blending hot liquids, as they can 'explode' when blended. We suggest covering the blender with a dishcloth rather than the lid.
7. Add the soup back to the pot and season with salt, pepper and more stock cube if needed. Warm the baguette and serve the soup with a dollop of creme fraiche or skyr, and crispy chickpeas on top. Enjoy!
Tip
Tasks for younger kids in the kitchen: Let your kids help dice the veggies. They can also help taste the soup.
Share your tips and comments