High five!
The recipe has been added to your shopping list.
Halloween biscuits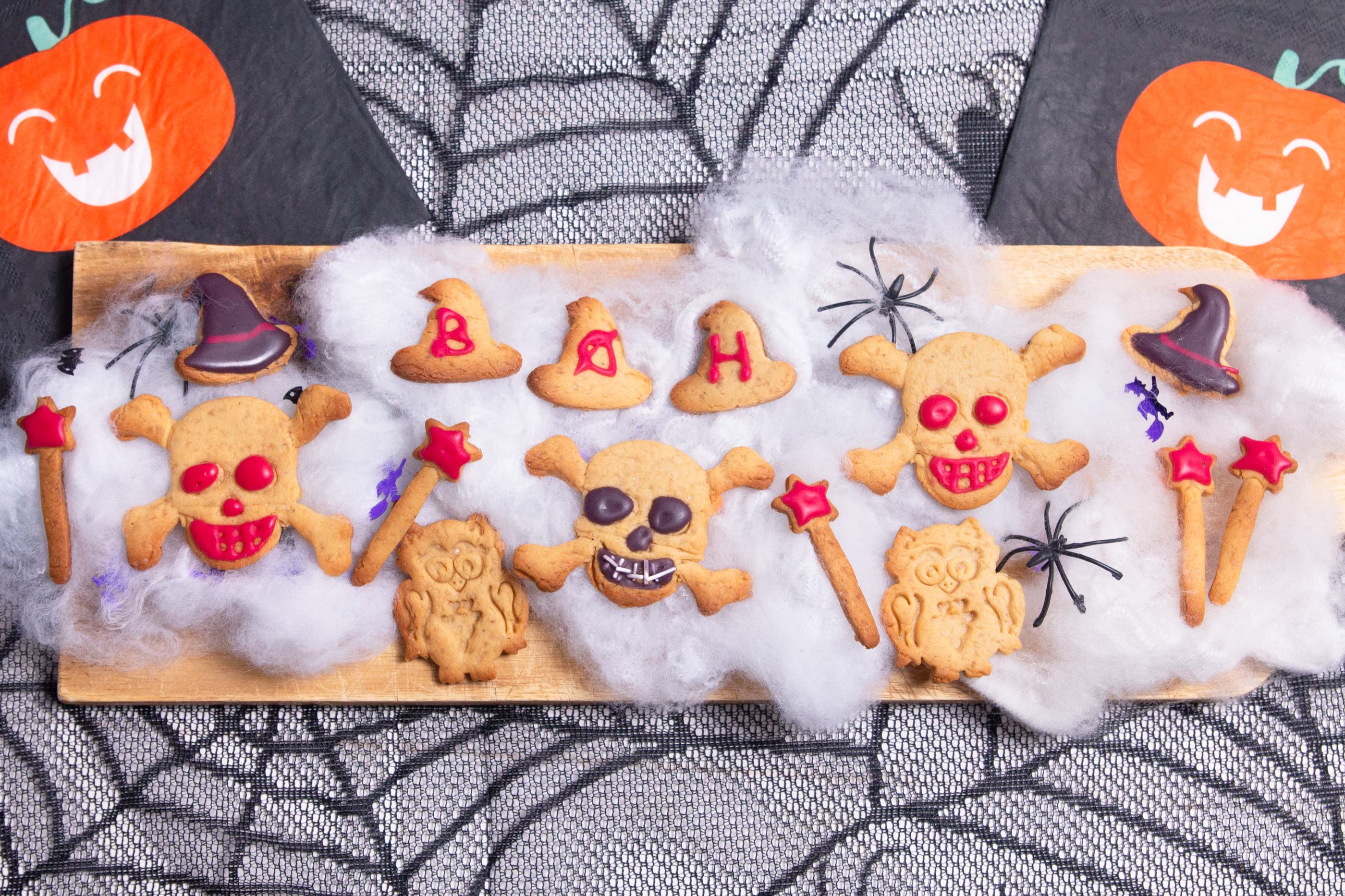 Ingredients
( 60 )
150 grams

butter

150 grams

brown sugar

150 grams

syrup

1

egg

1 tsp

ground cardamom

1 tsp

ground ginger

1 tsp

baking powder

550 grams

plain flour

baking parchment

cookie cutters

powdered sugar

cold water
ADD TO SHOPPING LIST
*
= Good to know - click the ingredient

= See the recipe - click the ingredient
Homemade biscuits aren't just for Christmas - they're perfect for Halloween, too! Here we've made a simple version, with wonderful notes of ginger and cardamom. We've used the cutest Halloween cookie cutters and decorated the biscuits with icing. Enjoy!
Directions
1. Preheat your oven to 200 degrees convection.
2. Melt the butter in a pot with brown sugar and syrup. You don't want it to get too hot - just enough to melt the butter.
3. Stir well, and let the mass cool for about 10 minutes. Then whisk together with the egg.
4. Add cardamom and ginger and stir well. Mix baking powder and flour, and add to the buttery mixture. Knead everything well.
5. Roll out the dough with a rolling pin, to about 4 mm thickness. Cut out some lovely biscuits with your favourite cookie cutters, or cut them to your desired shape with a knife. Knead the remaining dough, and roll it out for more biscuits. The remaining dough can be rolled into cute little 'peppernuts' - a traditional Danish Christmas treat!
6. Pop the biscuits onto a baking tray with baking parchment, and bake for 5-6 minutes, until golden on top. But keep an eye on them, so they don't get too dark around the edges. Remove from the oven and let cool.
7. Once your biscuits are cool, it's time to decorate them with icing. Mix powdered sugar with a dash of boiling water, according to the packet. You can put the icing in a freezer bag and cut a little hole in the corner, and use that as your piping bag. Or you can just apply it with a spoon!
8. Let the icing dry - and munch away!
9. Enjoy!
Tip
Tasks for kids in the kitchen: Let your kids help mix and knead the dough. They can also help cut and decorate - and of course help eat them!
Share your tips and comments