High five!
The recipe has been added to your shopping list.
Beef patties with soft onions and gravy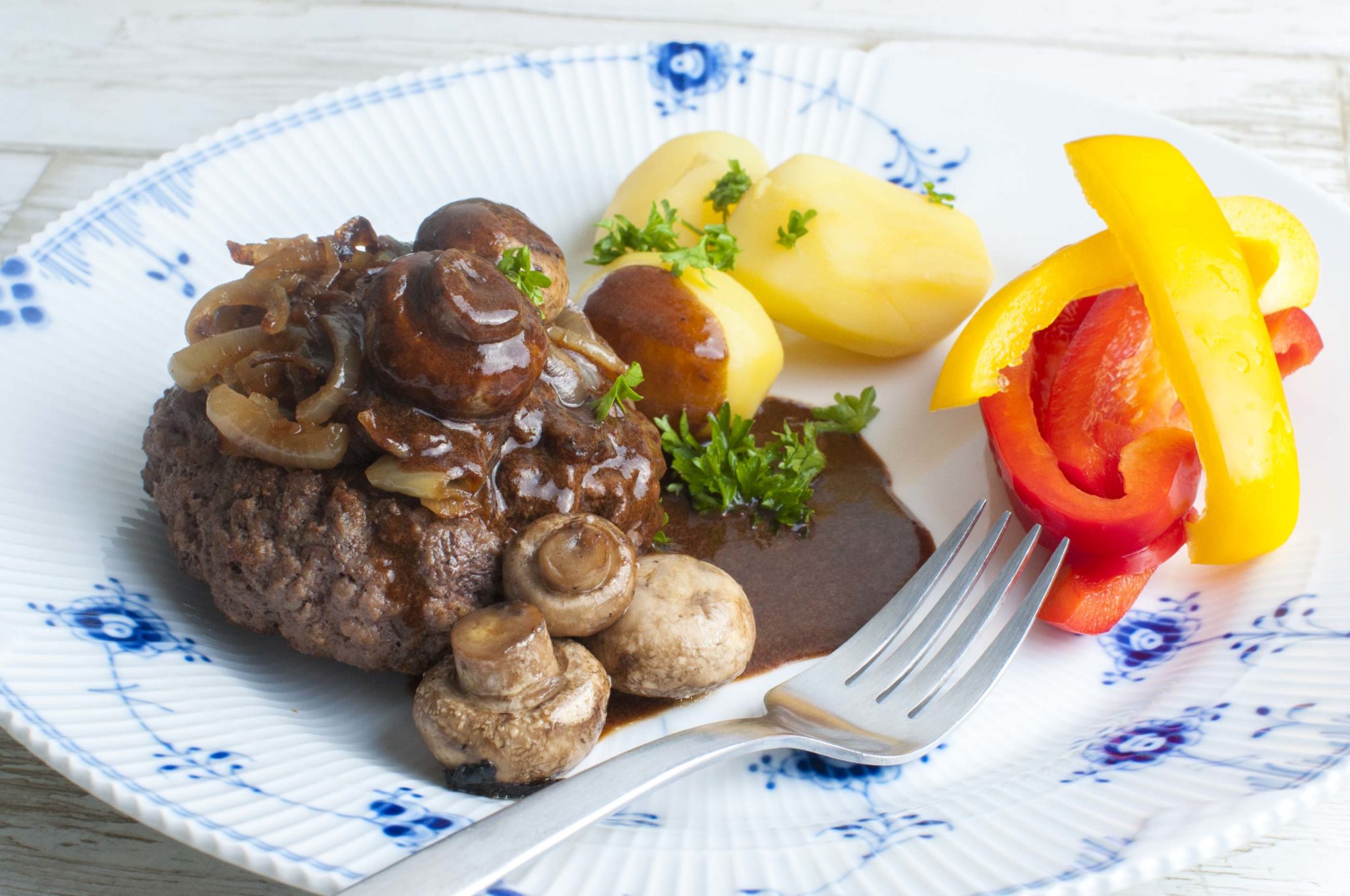 Ingredients
( 2 adults and 2 kids )
2

onion

200 grams

mushrooms

600 grams

potatoes

500 grams

beef mince

200 ml

single cream 8%

- or milk

300 ml

potato water

1 cube

beef stock

2 tbsp

corn flour

1

red bell pepper

1

yellow bell pepper

gravy browning

salt

pepper

olive oil

butter
ADD TO SHOPPING LIST
ADD TO MEAL PLAN
*
= Good to know - click the ingredient

= See the recipe - click the ingredient
It's time for another true Danish classic! Juicy beef patties with soft onions, spuds and gravy - see, we're not so different after all! Easy to make, and absolutely delicious. We've added some sautéed mushrooms and snack veggies to the traditional version, but we hardly imagine you'll hold that against us. Enjoy!
Directions
1. Slice the onions. Cook in some oil on the pan over medium heat. They need a while to start browning and go soft - so put them on first. Season with salt and pepper, and an optional dash of honey.
2. Clean and wash the mushrooms and halve them. Wash or peel the potatoes and cook in a pot of salted water. Depending on the size of the spuds, they'll need 10-20 minutes. Give one a poke with a fork - when they feel just about tender and let go of the fork, they're ready. Save the water from the spuds - you'll need it for the gravy!
3. Shape the mince into patties and season with salt and pepper. Sear on a pan in some butter and oil, until cooked to your liking. Once the patties are cooked, remove from the pan - no cleaning the pan - and cover. Now roast washed mushrooms for a couple of minutes on the pan and if needed, add more fats to keep them from burning.
4. Once the mushrooms are done, pour single cream or milk and potato water onto the pan along with a crumbled stock cube, and bring to the boil over low heat while stirring continuously. Stir some corn flour into a cup of water and pour the mix onto the pan little by little, until the gravy has the consistency you prefer. Add gravy browning until it's the exact shade of brown you remember from your Nan's house. Season with salt and pepper, and optionally some honey and lemon juice.
5. Serve the beef patties with soft onions and mushrooms on top, spuds, plenty of gravy (we're not talking about 'sauce' here, this is proper gravy, and there's plenty of it!) and rinsed, cleaned bell peppers cut into sticks. If you have some herbs in the kitchen, and want to look a bit fancy, chop some up and sprinkle on top. Enjoy!
Tip
Some stock cubes can be quite hard pressed. In that case, it's a good idea to crumble them and dissolve with some boiling water before pouring it into the sauce.
Share your tips and comments