High five!
The recipe has been added to your shopping list.
Grilled whitefish with fennel and baby potatoes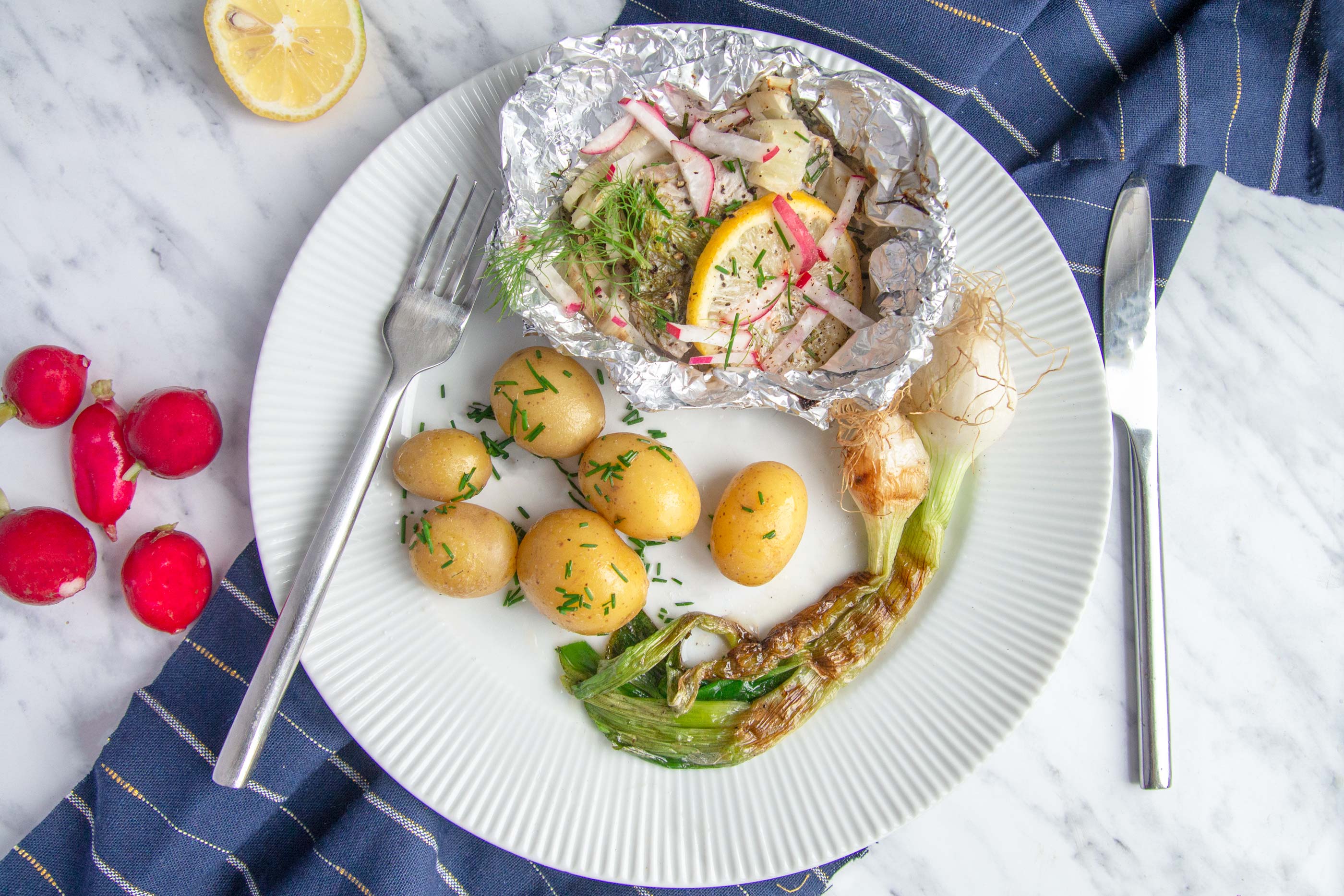 Ingredients
( 2 adults and 2 kids )
1

fennel

1

organic lemon

400 grams

white fish

100 ml

single cream 8%

600 grams

baby potatoes

6

spring onions

10

radish

salt

pepper

tin foil

olive oil
ADD TO SHOPPING LIST
ADD TO MEAL PLAN
*
= Good to know - click the ingredient

= See the recipe - click the ingredient
We've whipped up the yummiest fish parcels with grilled whitefish on a bed of fennel, lemon and cream sauce. We're serving this treat with baby potatoes and grilled spring onion. Enjoy!
Directions
1. Preheat your oven to 185 degrees fan-assisted or fire up the grill, if weather permits.
2. Remove the top of the fennel, rinse and cut into strips. Slice the lemon.
3. Spread four pieces of tin foil onto your kitchen table, and place fennel pieces, lemon and whitefish onto each. Season with some salt and pepper and add three tablespoons of single cream to each parcel. Close up the parcels – you may need some extra tin foil, as the parcels need to sealed tight on the bottom.
4. Bake the parcels in the oven, or on the grill over indirect heat, for 15-20 minutes – until the fish splits into flakes when pressed with a fork.
5. Clean the potatoes and boil in salted water.
6. Clean the spring onions and cut a bit off the tops. Brush with oil and give them a quick go on the grill or fry on a pan.
7. Serve the fish parcels with baby potatoes, rinsed radishes and grilled/fried spring onions.
8. Enjoy!
Tip
Tasks for younger kids in the kitchen: Let your kids help scrub the potatoes. They can also slice fennel and lemon.
Share your tips and comments