High five!
The recipe has been added to your shopping list.
Grilled stuffed chicken fillets with bacon asparagus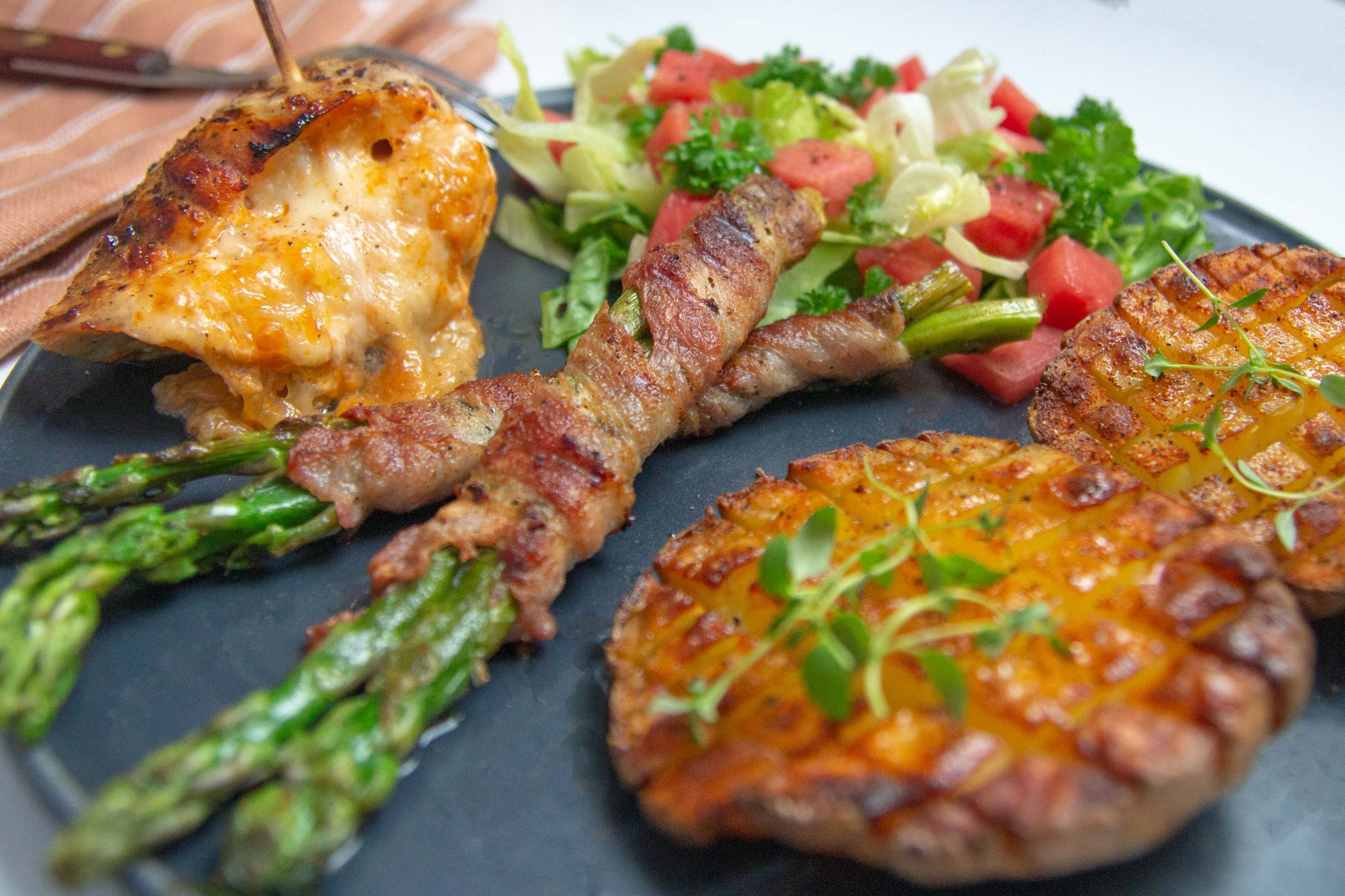 Ingredients
( 2 adults and 2 kids )
600 grams

potatoes

paprika

450 grams

chicken fillet

2 tbsp

red pesto

1 ball

mozzarella

250 grams

green asparagus

150 grams

bacon slices

lettuce of your choice

1

melon

0.5 bunch

parsley

dressing of your choice

olive oil

salt

pepper
ADD TO SHOPPING LIST
ADD TO MEAL PLAN
*
= Good to know - click the ingredient

= See the recipe - click the ingredient
We've put together the perfect grill menu with baked potatoes, grilled stuffed chicken fillets, bacon wrapped asparagus and a juicy melon salad. Enjoy!
Directions
1. Preheat your oven to 220 degrees fan assisted or fire up the grill if weather permits. Wash and halve the potatoes. Score the surfaces in a grid pattern and drizzle with olive oil. Then sprinkle with salt, pepper and paprika (or your preferred seasoning). Bake the potatoes in the oven for about 30 minutes, until golden.
2. Cut a lengthways pocket into each chicken fillet, and add pesto and mozzarella to each pocket. Squeeze the pockets closed a bit, and pin with a toothpick if necessary. Season with salt and pepper and (gently!) chuck them on the grill, or bake in the oven for about 30 minutes, until cooked through. Remember to wash any hands and utensils that touched the raw chicken.
3. Rinse the asparagus and snap off the stringy bottom thirds. The handy thing about asparagus is that they naturally snap right where they're supposed to! Wrap a slice of bacon around two asparagus at a time.
4. Grill or fry on a pan, until the bacon is well and evenly cooked.
5. Rinse the lettuce and dice half of the melon. Cut the other half into wedges for snack veggies. Mix lettuce and melon cubes with chopped parsley and dressing of your choice.
6. Optionally slice the chicken, serve with the yummy baked potatoes, asparagus, melon salad and melon wedges.
7. Enjoy!
Tip
Tasks for younger kids in the kitchen: Let your kids help season the potatoes. They can also wrap the asparagus in bacon and dice the melon.
Share your tips and comments