High five!
The recipe has been added to your shopping list.
Grilled sausages with warm potato salad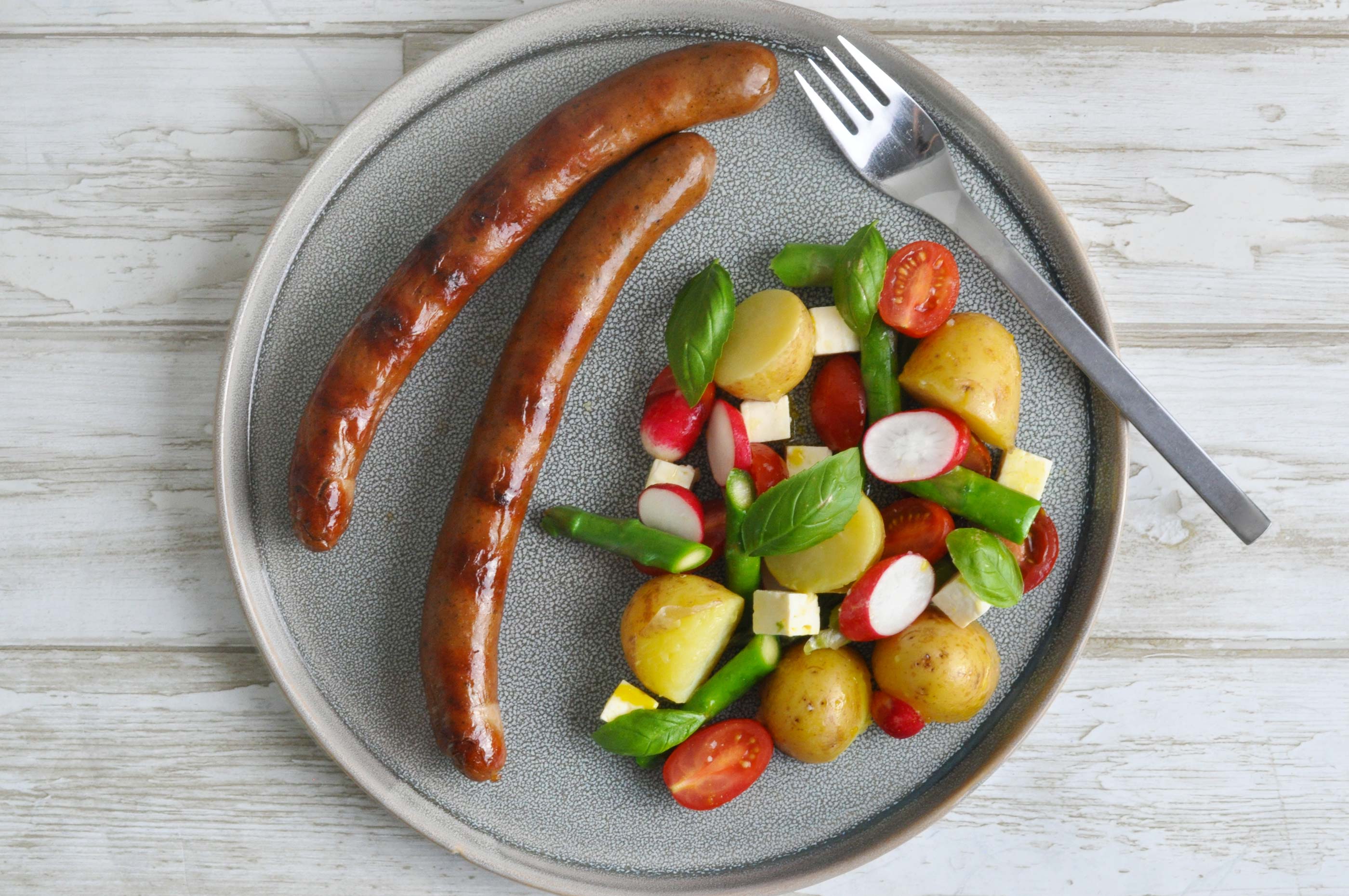 Ingredients
( 2 adults and 2 kids )
Grillpølser og kartoffelsalat

600 grams

baby potatoes

10

radishes

20

cherry tomatoes

1 bunch

green asparagus

75 grams

feta cubes

8

hot dog sausages

Dressing

0.5

lemon

25 ml

olive oil

1 tbsp

sweet mustard

0.5 tbsp

acacia honey

*

salt

pepper
ADD TO SHOPPING LIST
ADD TO MEAL PLAN
*
= Good to know - click the ingredient

= See the recipe - click the ingredient
Hot dog sausages make a super easy and delicious dinner, which is a hit with just about any kid! Here we've served them with a delicious warm potato salad and lots of summer veg. If the kids like something to dip in, remember ketchup and mustard. Enjoy!
Directions
1. Boil the potatoes in salted water until tender - this is when they give when you poke them with a fork. This should take 15-20 minutes, depending on the size of the spuds. Rinse with cold water and cut into halves.
2. Rinse the radishes, remove tops and bottoms and slice. Rinse and halve the cherry tomatoes.
3. Snap off the bottom third of the asparagus - they'll snap exactly where you want them to all on their own. Blanch the asparagus in rolling boiling water for 20-30 seconds. Be careful not to overcook them, as they'll go soft.
4. Immediately rinse the asparagus with cold water and cut them into bite-sized diagonal chunks. Whip up a quick dressing of lemon, olive oil, sweet mustard and acacia honey, and add salt and pepper to taste. Toss the veggies with your tasty dressing and feta cubes.
5. Grill the sausages if weather permits - if not, just chuck them on a pan. Serve with the warm potato salad, and you've got quick, tasty and cheap summer food.
6. Enjoy!
Tip
You'll find a slew of different sausages at the supermarket - of course, just find your family's favourite. But try to look for the ones with the highest meat content. They taste the best, and usually contain a bit less trouble and fewer E-numbers.
Share your tips and comments