High five!
The recipe has been added to your shopping list.
Grilled sausages with easy chick pea salad and corn cobs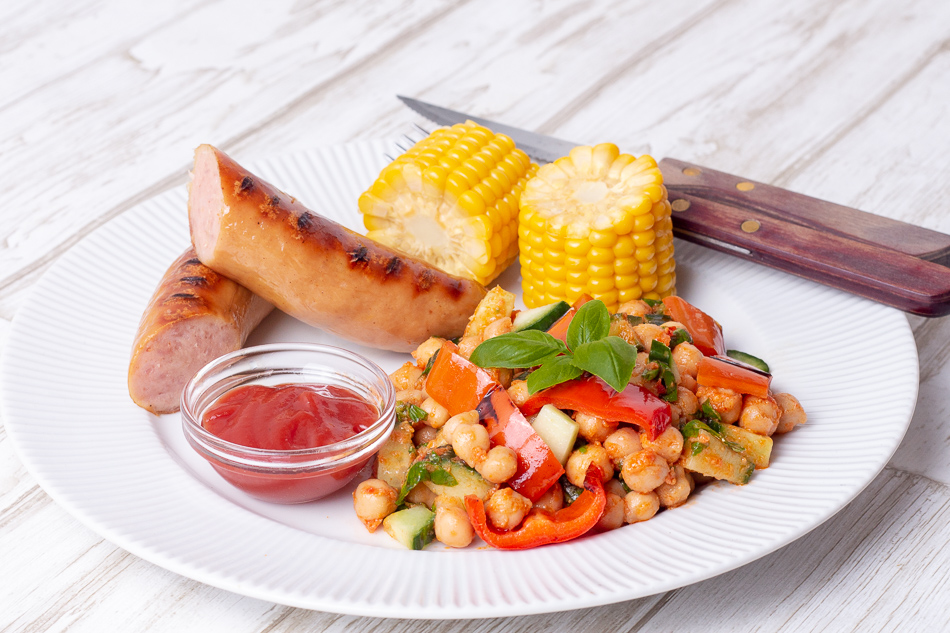 Ingredients
( 2 adults and 2 kids )
2

red bell pepper

2

corn cob

8

grill sausage

30 grams

sunflower seeds

*

400 grams

chickpeas

0.5

cucumber

75 grams

red pesto

0.5 bunch

fresh basil

salt

pepper

ketchup

butter
ADD TO SHOPPING LIST
ADD TO MEAL PLAN
*
= Good to know - click the ingredient

= See the recipe - click the ingredient
Yay, dinner on the grill (or the pan, if the weather isn't on our side..)! Grill sausages served with warm corn cobs and a tasty chickpea salad with grilled bell peppers, cucumber, basil and sunflower seeds mixed with red pesto. And if the kids aren't yet veteran salad eaters, then serve everything in small bowls rather than mixing everything together. Enjoy!
Directions
1. Clean and rinse the peppers and cut them into quarters. Brush with a bit of oil on all sides and pop them on the grill, until they're soft and have gotten a nice bit of colour. Or you can bake them in the oven at 220 degrees fan-assisted, for about 10-15 minutes. Let cool on a plate and set aside.
2. Cut off the ends of the corn cobs and remove the leaves and those pain in the neck hairs (who came up with those anyway??) Cut the cobs into smaller pieces and boil for 5-10 minutes in a pot of salted water. If you like, you can chuck them on the grill quickly before serving, to give them a bit of colour and a lovely sear.
3. Throw the sausages on the grill or on a pan with a bit of oil, until browned on both sides. If you like, you can prick them with a fork to avoid them bursting while grilling. But hey! Grill sausages are allowed to be a bit rustic around the edges!
4. Roast sunflower seeds on a fry pan and let them cool off on a plate. Drain the water from the chickpeas and pop them into a bowl. Cut the grilled peppers into smaller pieces. Rinse and dice the cucumber. Finely chop the basil. Mix everything with the chickpeas and red pesto in the bowl. Season to taste with salt and pepper.
5. Serve the sausages with ketchup and whatever other dips the family likes - and of course cold butter for the corn cobs.
6. Enjoy!
Share your tips and comments