High five!
The recipe has been added to your shopping list.
Grilled parma sandwich with aioli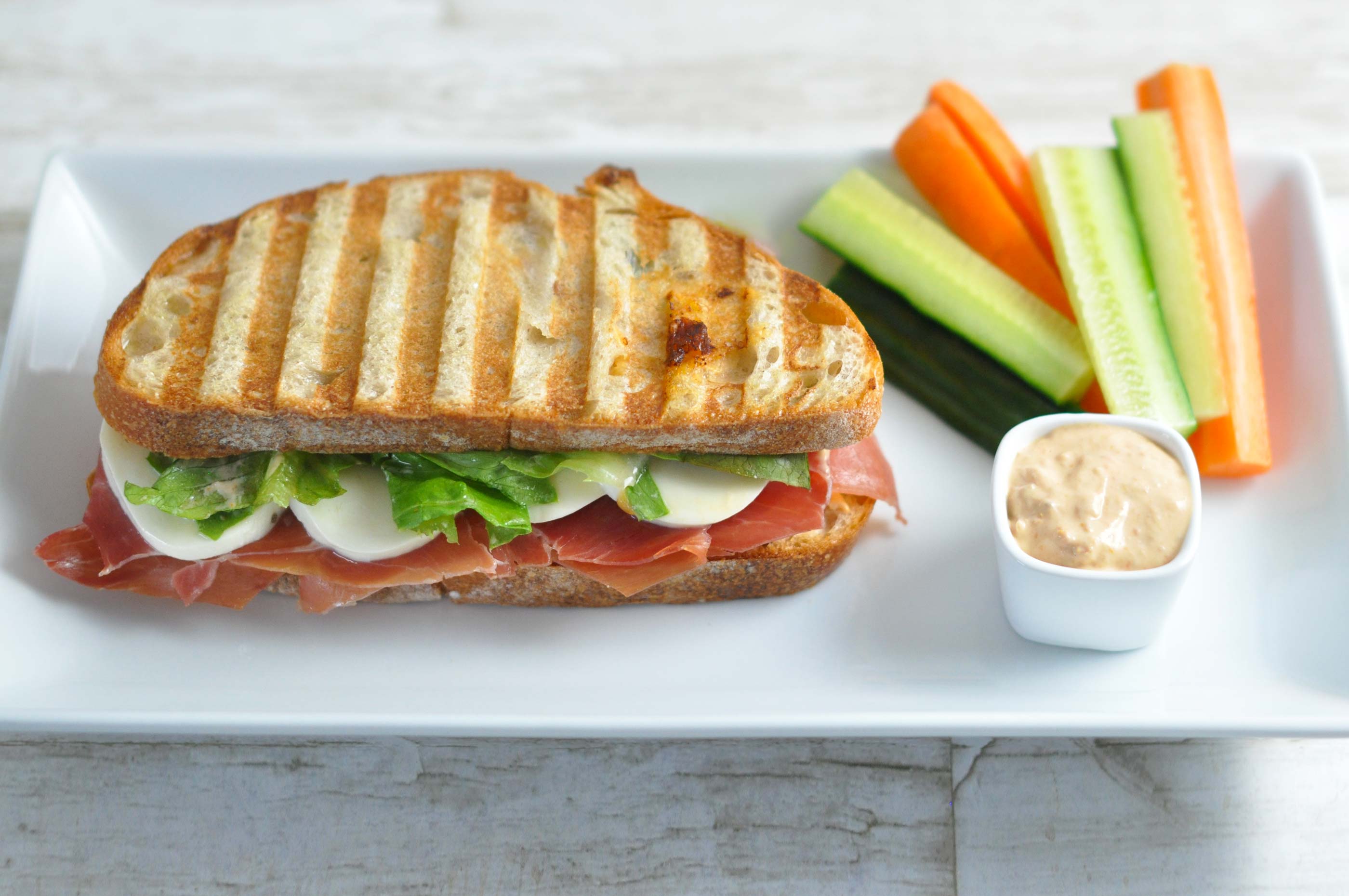 Ingredients
( 2 adults and 2 kids )
1

wholewheat sandwich bread

aioli

4

tomato

140 grams

parma ham

- or serrano

2 ball

mozzarella

lettuce of your choice

300 grams

carrots

*

0.5

cucumber

olive oil
ADD TO SHOPPING LIST
ADD TO MEAL PLAN
*
= Good to know - click the ingredient

= See the recipe - click the ingredient
These grilled sandwiches are SO good! Filled with parma ham, mozzarella and veg - and our delicious aioli. You can make the sandwiches on a sandwich press, in the oven or on the grill. Enjoy!
Directions
1. Slice the bread. Brush with a bit of olive oil on one side, and smear with aoili on the other. Now layer rinsed sliced tomatoes, parma ham, sliced mozzarella and rinsed lettuce. Finish with another slice of bread - aoili side down and olive oil side up.
2. Brush the sandwich press with a bit of olive oil on both plates and toast the sandwiches until golden and crisp on top, and the cheese is melted in the middle.
3. If you don't have a sandwich press, simply preheat your oven to 225 degrees convection and give the sandwiches a squeeze before popping them in the oven, on a baking tray with baking parchment. Bake for 10-15 minutes, until crispy on top and the cheese is melty in the middle. Remember to flip them halfway through.
4. If the weather permits, you can also grill the sandwiches under lid. Again, just remember to flip them halfway through. But keep an eye out, and be careful the bread doesn't char. It happens in a flash if the grill is proper hot.
5. Serve the tasty sandwiches with peeled carrots and cucumber cut into sticks for snack veggies, and a bit of extra aoili as dip.
6. Enjoy!
Tip
You can also make a few extra sandwiches to use in the kids' packed lunches.
Share your tips and comments