High five!
The recipe has been added to your shopping list.
Grilled fish with baby potatoes and fennel salad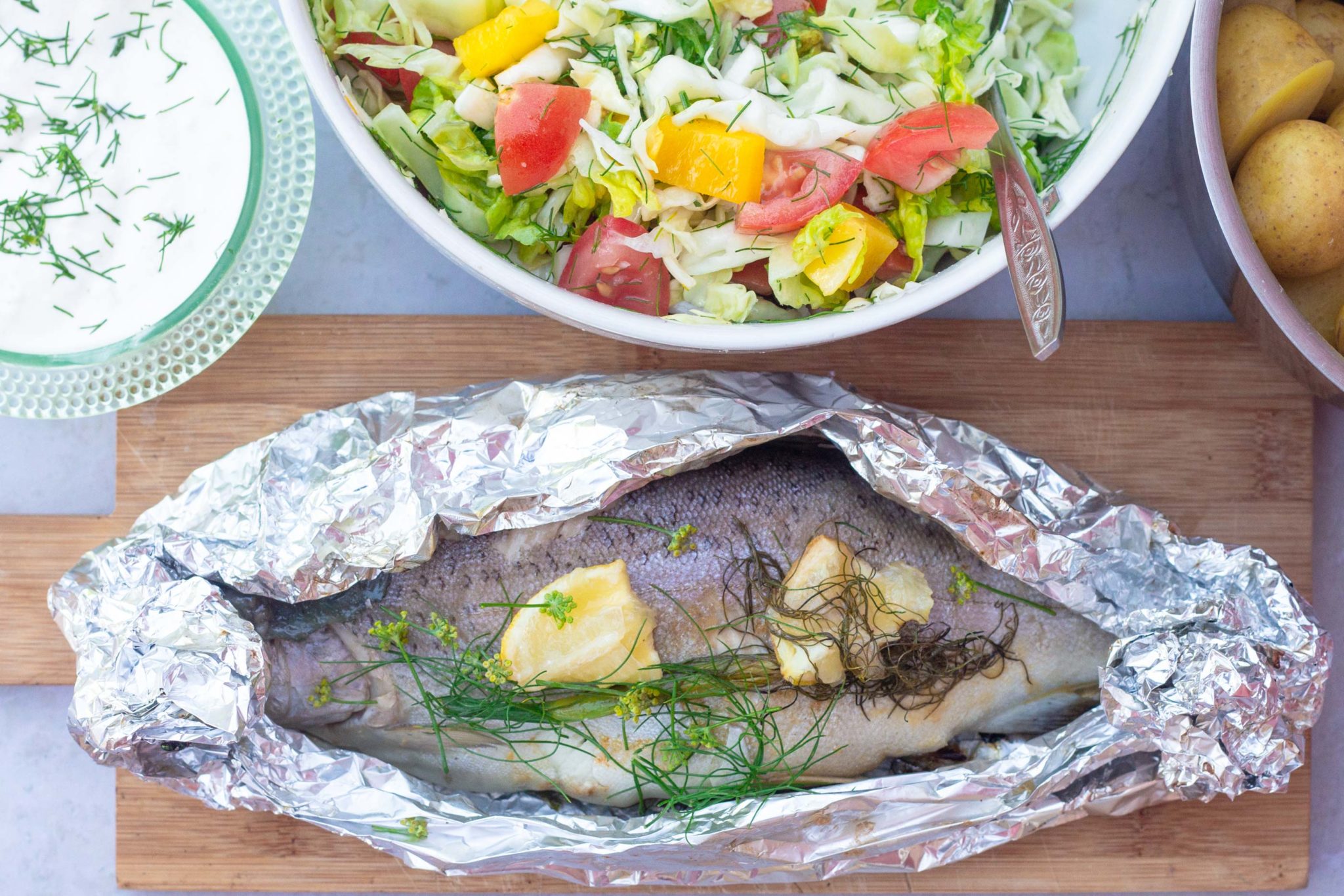 Ingredients
( 2 adults and 2 kids )
1

fennel

1

organic lemon

400 grams

white fish

25 grams

butter

600 grams

potatoes

1

yellow bell pepper

3

tomato

200 ml

skyr

*

0.5 bunch

chives

salt

pepper

tin foil
ADD TO SHOPPING LIST
ADD TO MEAL PLAN
*
= Good to know - click the ingredient

= See the recipe - click the ingredient
Grilled fish parcels are super yummy - and just as yummy if cooked in the oven. If you can, try to get a whole fish - trout, for instance. If not, just use bits of fish - like cod, salmon, plaice, trout or pollock. We're serving the fish with baby potatoes, fennel salad and chive dressing. Enjoy!
Directions
1. Preheat your oven to 185 degrees convection or fire up the grill, if the weather agrees.
2. Cut the top off the fennel, rinse it and split it into two or three pieces - save the rest for the salad. Slice the lemon.
3. Lay a piece of tin foil on the kitchen counter and pop the fish in the centre. Put fennel tops and lemon on top, season with some salt and pepper and pop a small knob of butter onto each piece. Close the parcels with folds or as a little baggy - you might need some more tin foil. You want the parcels to be totally sealed on the bottoms.
4. Bake the parcels in the oven, or on the grill over indirect heat, for 15-20 minutes, until the fish splits into flakes when pressed with a fork. If using a whole fish, the fish is ready when you can easily take off the skin with a fork.
5. Clean the potatoes and cook in salted water.
6. Rinse fennel, bell pepper and tomatoes, and cut everything into bite-sized pieces. Mix all of the veggies with a squeeze of lemon juice.
7. Now mix skyr or creme fraiche with rinsed and chopped chives, and season to taste with salt and pepper.
8. Serve the fish parcels with baby potatoes, salad and chive dressing.
Tip
Tasks for kids in the kitchen: Let your kids help cut up bell peppers and tomatoes. They can also cut the chives with scissors, and help seal the fish parcels.
Share your tips and comments