High five!
The recipe has been added to your shopping list.
Grilled cuvette with baby potatoes, courgette and asparagus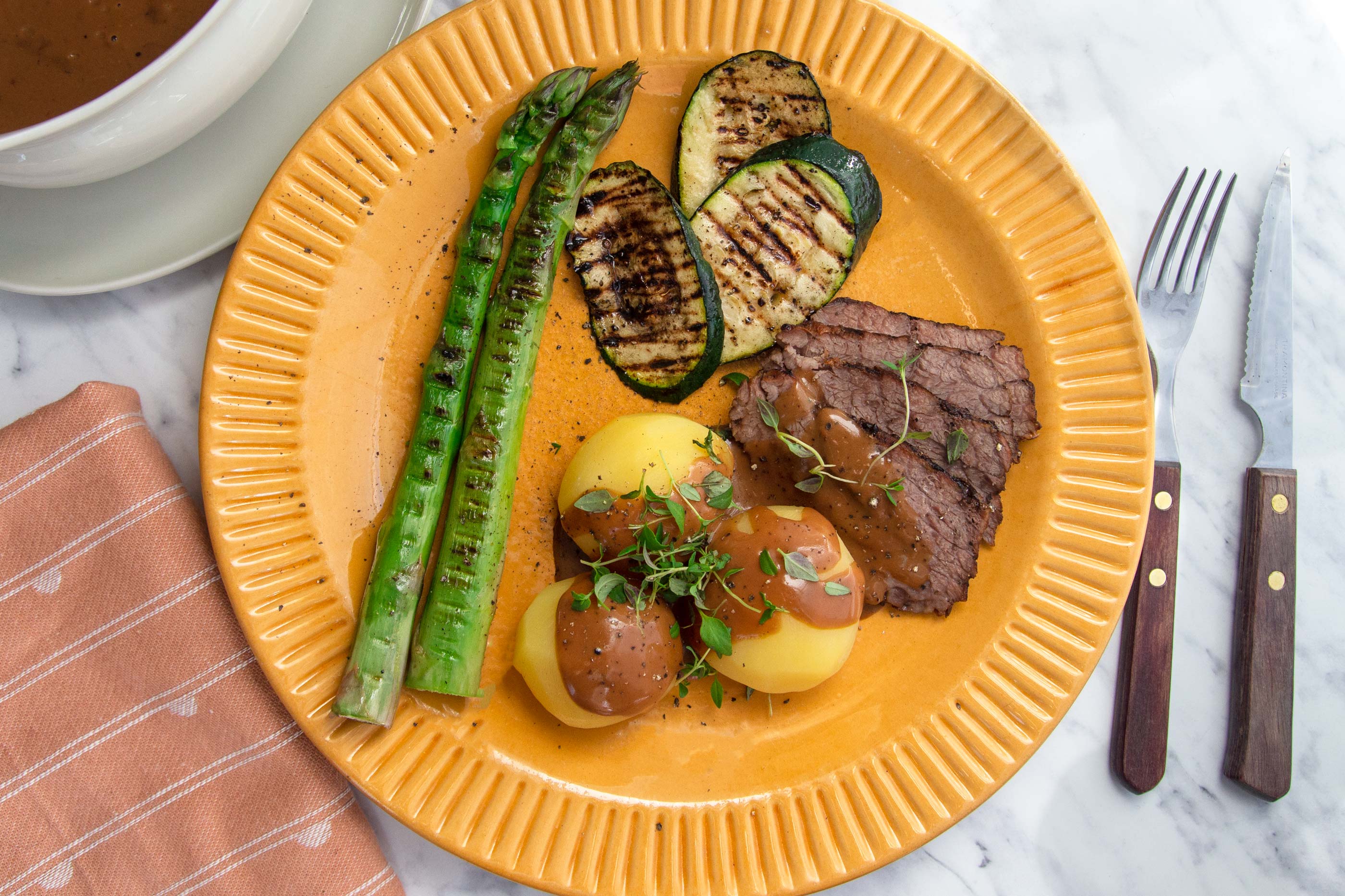 Ingredients
( 2 adults and 2 kids )
600 grams

veal culotte

200 ml

water

650 grams

baby potatoes

1

courgette

1 bunch

green asparagus

1 cube

beef stock

1 tsp

thyme

200 ml

single cream 8%

corn flour

olive oil

salt

pepper
ADD TO SHOPPING LIST
ADD TO MEAL PLAN
*
= Good to know - click the ingredient

= See the recipe - click the ingredient
Grilled cuvette is a proper weekend classic! This one is served with potatoes, gravy and a summery twist of grilled courgette and asparagus. Enjoy!
Directions
1. Fire up the grill, or preheat your oven to 200 degrees fan assisted.
2. Score the fat on the roast into small diamonds. Season with oil, salt and pepper, and sear the roast over direct heat on the grill – or in some oil on a pan for a few minutes, until nice and brown on all sides. This will make the roast more crispy and juicy when cooked.
3. Place the roast in an oven dish or a tin foil tray with a bit of water in the bottom. If grilling, cook the roast over indirect heat. Cook for about 45-60 minutes per kilo, then let it rest uncovered for 10-15 minutes on a cutting board.
4. The best thing to do is use a meat thermometer. When the roast is 56-58 degrees at the centre, it's cooked medium – but remove to remove it from the heat a bit before then, as it will keep cooking while it rests. So if you remove it when the centre is 52-54 degrees, it will end up being 56-58 degrees. Clever, innit?
5. Scrub or peel the potatoes and cook in salted water.
6. Rinse the courgette and cut into slices about 1 cm thick. Brush with olive oil and season with salt and pepper. Rinse the asparagus and snap off the stringy bottom bits. The handy thing about asparagus is that they're happy to snap right where they're supposed to!
7. Cook the courgette and asparagus either on the grill or on a pan. You want them to have a nice sear, but not cooked soft.
8. Once the roast is cooked, drain the juices from the tray into a small pot. Bring to the boil and add crumbled stock cube and thyme. Add single cream and season with salt and pepper. If the gravy is on the runny side, thicken with some corn flour (or plain flour) mixed with a bit of water.
9. Serve the yummy roast with baby potatoes, gravy, grilled asparagus and courgette. Enjoy!
Tip
Tasks for kids in the kitchen: Let your kids help snap off the asparagus ends. They can also help slice the courgette and taste the gravy.
Share your tips and comments