High five!
The recipe has been added to your shopping list.
Grilled chicken with compote and roast potatoes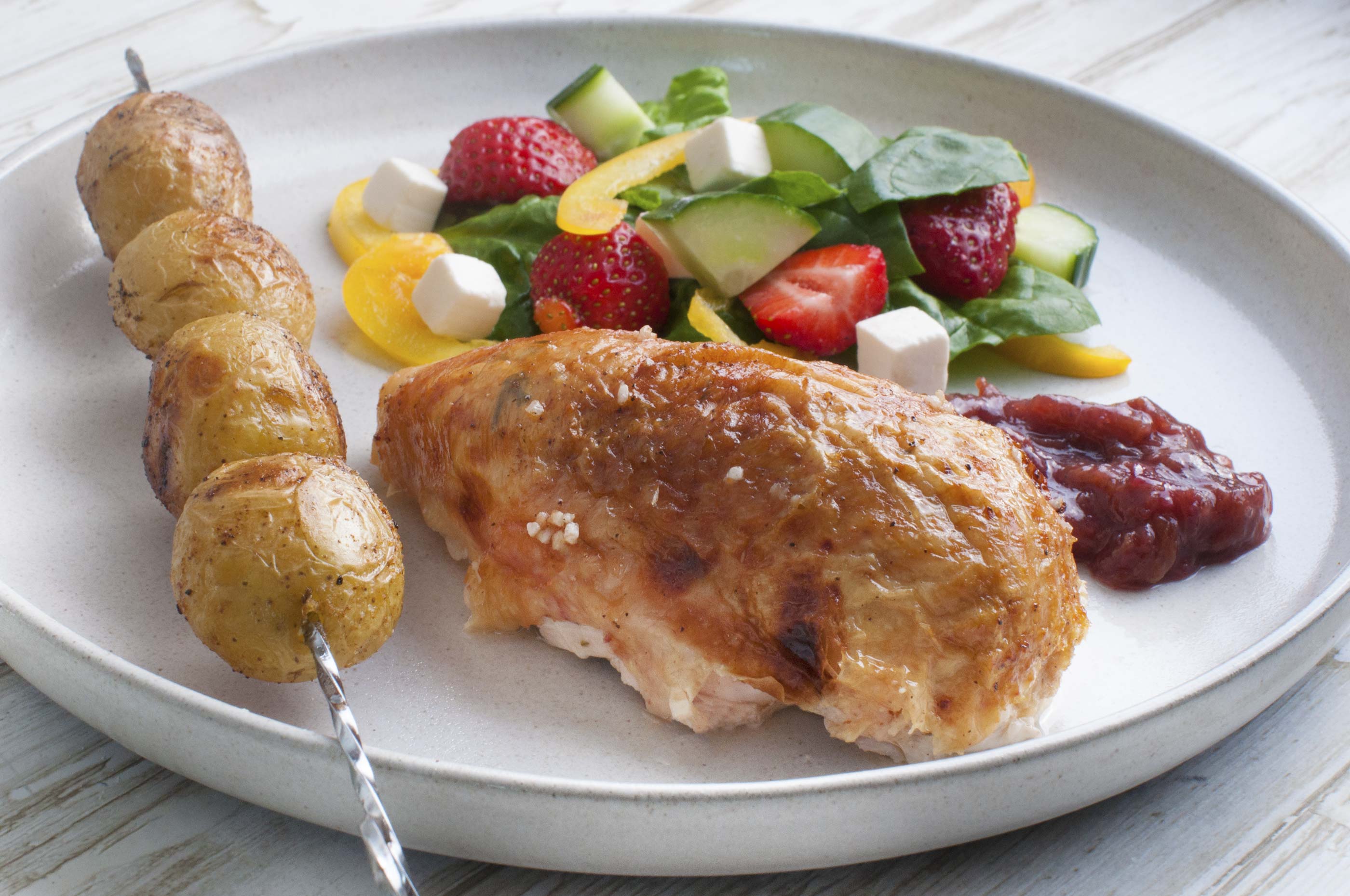 Ingredients
( 2 adults and 2 kids )
600 grams

baby potatoes

1

large chicken

lettuce of your choice

200 grams

strawberries

0.5

cucumber

1

yellow bell pepper

100 grams

feta cubes

500 grams

rhubarb

1

vanilla pod or vanilla sugar

75 grams

sugar

pepper

olive oil

grill spear
ADD TO SHOPPING LIST
ADD TO MEAL PLAN
*
= Good to know - click the ingredient

= See the recipe - click the ingredient
Cooking chicken on the grill is just absolutely delicious. The chicken is served with a yummy rhubarb compote, grilled potatoes and salad. The recipe is for two days. The leftovers can be used in our fantastic chicken soup.
Directions
1. Boil the potatoes in a pot of salted water. Drain and leave the potatoes to cool a bit. Clean the chicken. Mix salt and a bit of pepper in a cup and rub the chicken well both inside and out, first with olive oil, next with the salt and pepper mix. You might not need all of it.
2. Pop the chicken on the grill in a casserole tin or foil tray with a bit of water at the bottom.
3. Grill the chicken with indirect heat for approx. an hour, or until it's beautifully golden brown and crisp on the outside, and cooked all the way through. The juices should run clear with no trace of red. You can just as easily cook the chicken in the oven, if the weather isn't in the mood for grilling. In this case, it needs about an hour at 200 degrees convection. Meanwhile, make a quick salad of washed spinach, washed and halved strawberries, rinsed cucumber cut into bite-sized chunks, cleaned, rinsed and sliced bell pepper and feta cubes.
4. Clean the rhubard and cut into chunks. Split the vanilla pod down the middle and scrape out the seeds. Boil the rhubard in a pot with the lid on, along with sugar, vanilla seeds, and the vanilla pod itself, until it has a compote-consistency. This should take about 10 minutes. If the compote gets too thick, just add a dash of water. Taste and let cool.
5. Put the cooked potatoes on a spear, brush with olive oil, season with salt and pepper, and chuck on the grill, until they've gotten a nice bit of colour. If you're in a hurry, you can just as easily pan fry them or just serve them boiled.
6. Let the chicken rest for five-ten minutes. Part the chicken and serve with grilled potatoes, salad and compote. Enjoy!
Tip
Remember to save the leftovers to use in our easy chicken soup. Save the leftover compote and use it as a side for spare ribs or topping on yoghurt.
Share your tips and comments