High five!
The recipe has been added to your shopping list.
Grill skewers with tenderloin, pineapple and potatoes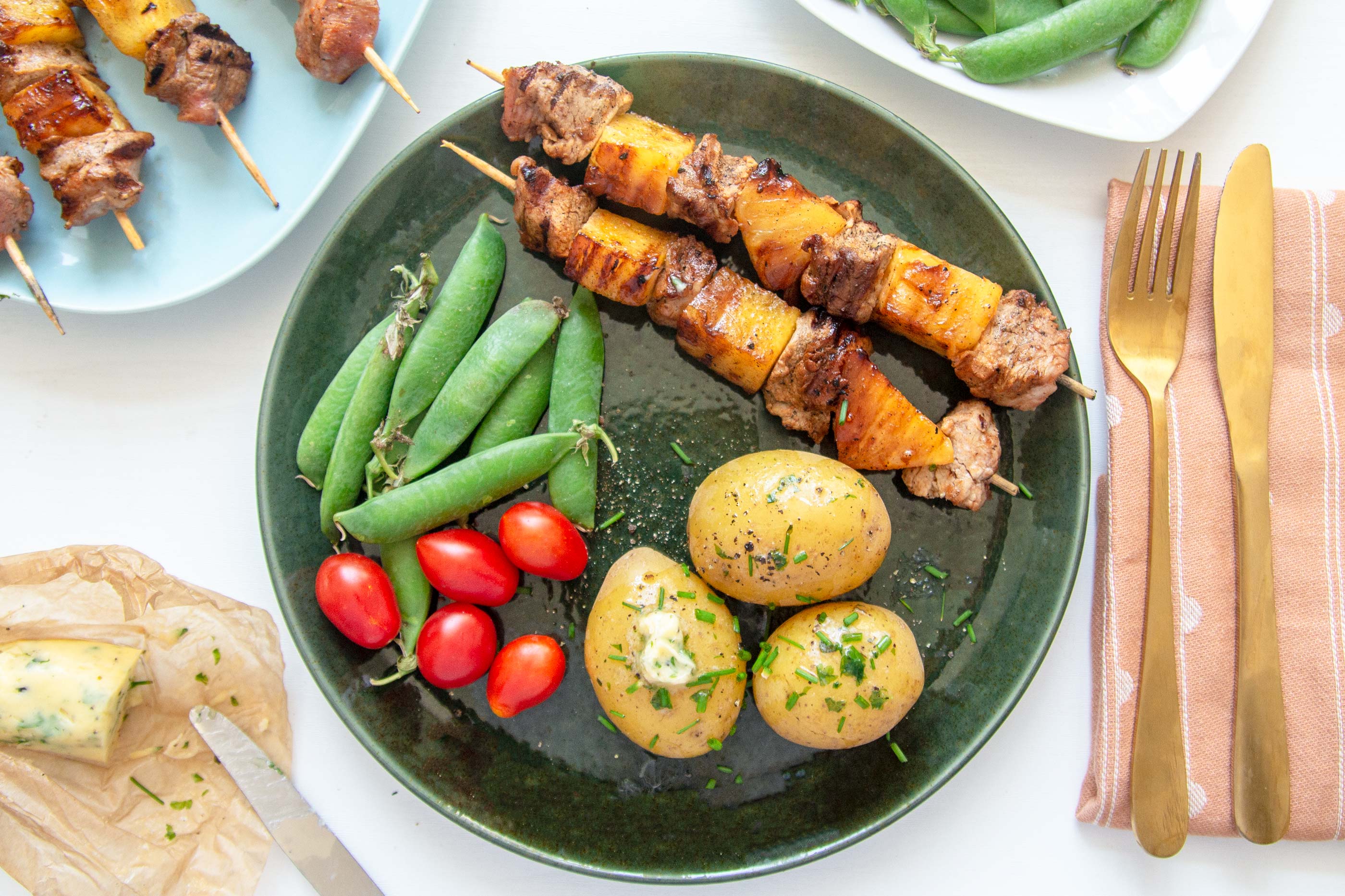 Ingredients
( 2 adults and 2 kids )
600 grams

baby potatoes

2 tbsp

olive oil

1 tbsp

paprika

1 tbsp

ketchup

1

fresh pineapple

1

pork tenderloin

500 grams

fresh peas

15

cherry tomatoes

grill skewers

salt

pepper

herb butter
ADD TO SHOPPING LIST
ADD TO MEAL PLAN
*
= Good to know - click the ingredient

= See the recipe - click the ingredient
Pineapple and pork tenderloin on skewers is a great combo! We've coated both in a tasty marinade and barbecued the skewers, but you can happily cook them in the oven. We're serving the skewers with baby potatoes, herb butter, fresh peas and cherry tomatoes. Enjoy!
Directions
1. If the weather is putting its grill friendly foot forward, fire up the grill - otherwise, preheat your oven to 220 degrees fan assisted. Peel or scrub the potatoes, and cook in salted water until tender.
2. Mix oil, paprika or all purpose seasoning, and ketchup in a bowl. Season to taste with salt and pepper.
3. Peel the pineapple and cut it into bite sized chunks that will fit on a skewer. Now cut the tenderloin into chunks of the same size, and coat both in the marinade. Alternate tenderloin and pineapple as you skewer, and always remember to wash hands and utensils after handling raw meat.
4. Grill the skewers, or bake in the oven with the potatoes for 15-20 minutes. Remember to turn the skewers as they cook, and be mindful not to let the marinade burn.
5. Serve the grill skewers with baby potatoes, herb butter, fresh peas and rinsed cherry tomatoes.
6. Enjoy!
Tip
Tasks for younger kids in the kitchen: Let your kids help cut the pineapple. They can also scrub the potatoes, and help build the skewers.
If using wooden skewers, you can soak them in a bit of water before you add the meat and pineapple - or wrap some tin foil around the ends. That'll keep them from catching fire on the grill.
Share your tips and comments