High five!
The recipe has been added to your shopping list.
Grill skewers with sausage and potato salad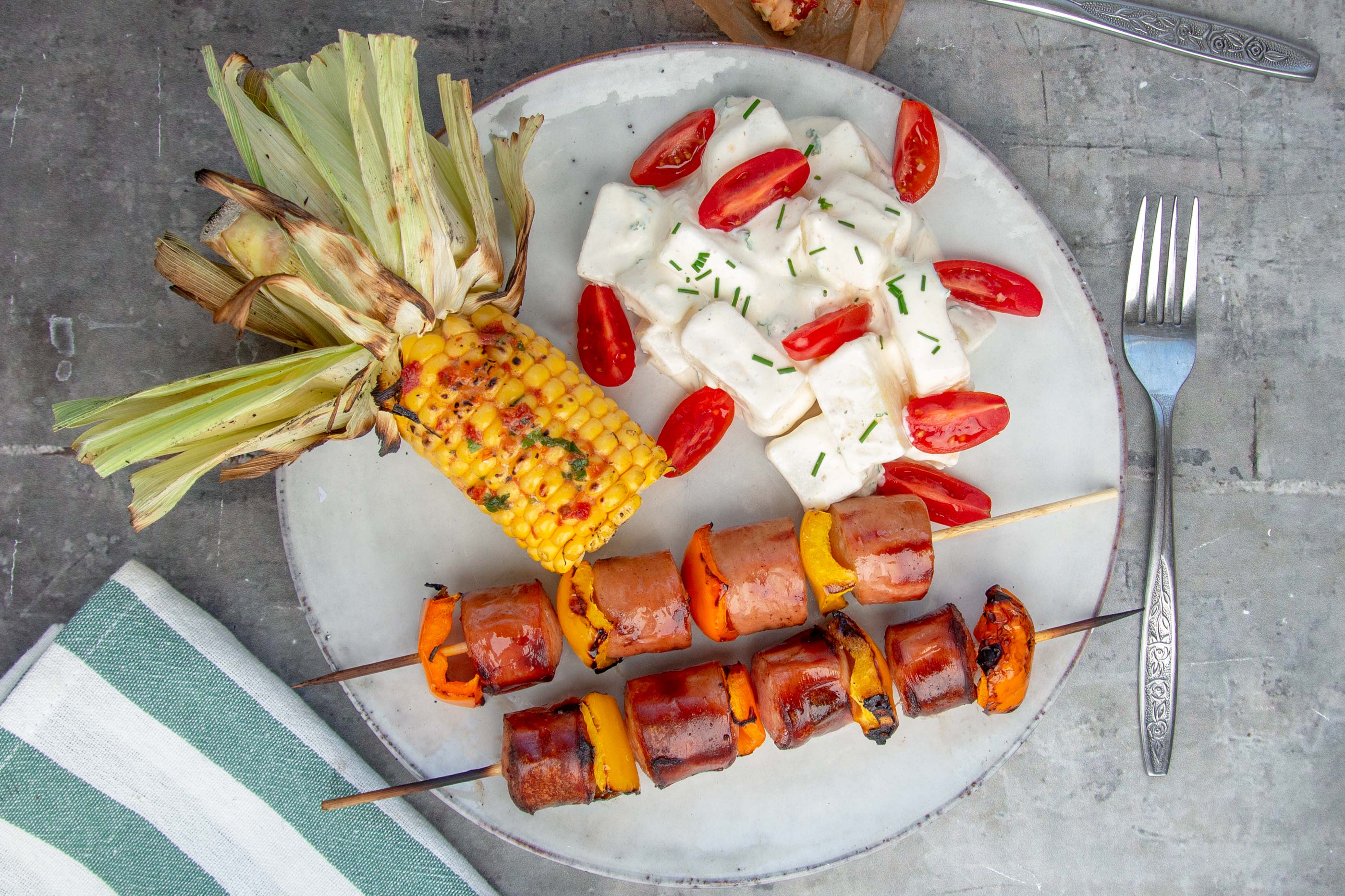 Ingredients
( 2 adults and 2 kids )
700 grams

potatoes

2

corn cob

1

yellow bell pepper

1

orange bell pepper

440 grams

frankfurter

200 ml

creme fraiche

- or skyr

3 tbsp

mayonnaise

0.5 tbsp

curry

1 tbsp

sweet mustard

1 bunch

chives

15

cherry tomatoes

herb butter

grill skewers

salt

pepper
ADD TO SHOPPING LIST
ADD TO MEAL PLAN
*
= Good to know - click the ingredient

= See the recipe - click the ingredient
The easiest and yummiest round of grilled dinner with potato salad, corn on the cob with herb butter and grill skewers with sausage and bell pepper. You can of course make this recipe in the kitchen, too - on a pan or in the oven. Enjoy!
Directions
1. Fire up the grill - or preheat your oven to 225 degrees fan assisted.
2. Peel and cut up the potatoes. Cook in plenty of salted water, until they're just exactly tender when poked with a fork. Be mindful not to overcook them, or they'll break apart when mixed with the other ingredients. Drain the potatoes, then blanch with cold water to cool.
3. Remove leaves and those super irritating hairs from the corn cobs. Cut or snap each in half. Rinse the cobs and pop them on the grill. They need 15-20 minutes, until beautifully golden. Remember to flip them about halfway through. If you're skipping the grilling, just halve and boil the cobs in lightly salted water for 8-10 minutes.
4. Rinse and clean the bell peppers and roughly dice. Slice the sausage and add to the skewer, each sausage slice separate by a chunk of bell pepper. Season the skewers with salt and pepper and grill or bake for 10-15 minutes, until browned. Remember to flip them roughly halfway through.
5. Mix creme fraiche (or skyr), mayonnaise, curry and mustard, along with chopped chives to your liking. Season with salt and pepper and taste. Mix the dressing with cooked potatoes and halved tomatoes.
6. Serve the yummy skewers with potato salad and corn cobs with herb butter. Enjoy!
Tip
Opgaver til mindre børn i køkkenet: Lad dine børn være med til skære kartoflerne i mindre stykker. De kan også halvere tomaterne og sætte pølser og peberfrugt på spyd.
Share your tips and comments