High five!
The recipe has been added to your shopping list.
Grill skewers with pineapple and Greek salad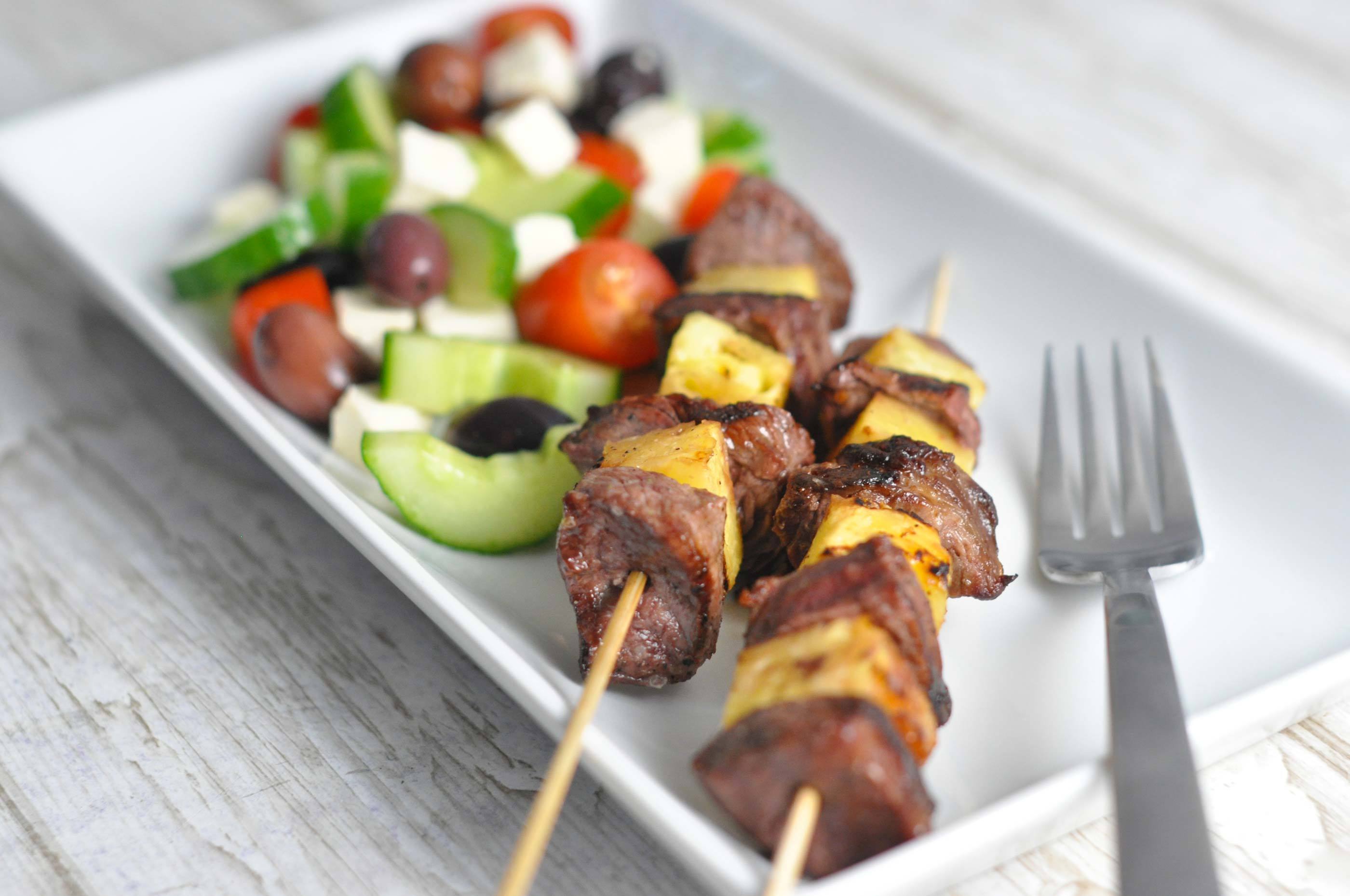 Ingredients
( 2 adults and 2 kids )
0.5

cucumber

4

tomato

75 grams

feta cubes

75 grams

black olives

1 tsp

dried oregano

0.5

pineapple

4

steaks

wooden skewers

olive oil

salt

pepper
ADD TO SHOPPING LIST
ADD TO MEAL PLAN
*
= Good to know - click the ingredient

= See the recipe - click the ingredient
At Mambeno we love skewers! It just makes dinner that bit more fun - especially for the kids. Here we've filled them with beef and pineapple and served them with a tasty Greek salad.
Directions
1. Fire up the grill - or preheat the oven to 200 degrees convection.
2. Halve the cucumber and remove the seeds in the centre. Slice the cucumber and roughly chop the tomatoes. Mix with the dripped off feta and olives. Drizzle with olive oil and oregano if you have some handy.
3. Remove the peel and stem of the pineapple. Dice the pineapple flesh. Dice the steaks to the same size and skewer along with the pineapple. If you like, you can soak the skewers in water before adding the meat and pineapple, to make them less likely to catch fire on the grill.
4. Season the skewers with salt and pepper and grill over direct heat or roast in the oven for approx. 15 minutes, or until the meat is how you like it.
5. Serve the skewers with your greek salad - ideally on the patio in the sunshine, if the met office is in a good mood!
6. Enjoy!
Tip
If you want the recipe to last you two days, use a bit more meat and pineapple and save the leftovers for tomorrow, where you can use them in our yummy flatbreads!
Share your tips and comments