High five!
The recipe has been added to your shopping list.
Grill skewers with barbecue pork and salad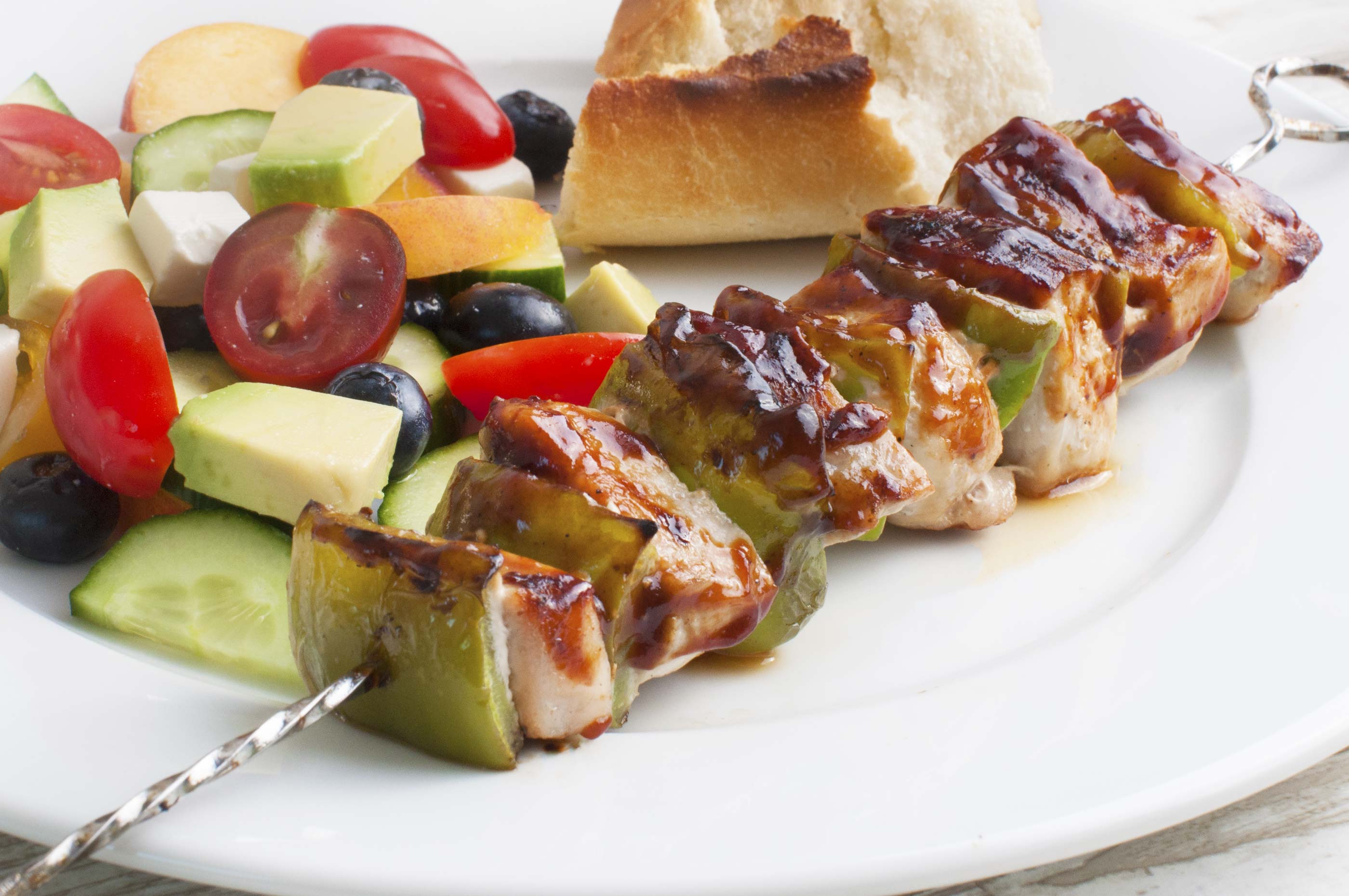 Ingredients
( 2 adults and 2 kids )
1

green bell pepper

10

cherry tomatoes

0.5

cucumber

1

avocado

2

peaches or nectarines

100 grams

blueberries

75 grams

feta cubes

500 grams

pork chops

25 ml

olive oil

0.5 tbsp

acacia honey

*

0.5

lemon

1 tbsp

sweet mustard

0.5

wholewheat baguette

barbecue marinade

wooden skewers

salt

pepper
ADD TO SHOPPING LIST
ADD TO MEAL PLAN
*
= Good to know - click the ingredient

= See the recipe - click the ingredient
Grill skewers are gorgeous, the kids have fun eating them, and you can use all manner of meat and veg. Here we've used chunks of pork chops brushed with barbecue marinade, and served the skewers with a tasty kid-friendly salad. Enjoy!
Directions
1. Fire up the grill - or preheat your oven to 200 degrees convection, if the weather isn't putting its most grill friendly foot forward.
2. Rinse, clean and roughly dice the bell pepper.
3. Rinse and clean the other fruit and veg. Halve the cherry tomatoes, cut the cucumber into bite-sized chunks, dice the avocado and cut the peach into wedges. Toss with blueberries and feta and spread the avocado on top. You can mix the avocado in with everything else, but if it's a soft avocado it can make the salad a bit mushy.
4. Dice the pork chops and skewer them with a piece of bell pepper between each piece of meat. Season the skewers with salt and pepper and chuck them on the grill or in the oven for 10-20 minutes, until cooked through. This will depend on the thickness of the meat. Remember to turn the skewers once while they cook.
5. A few minutes before the skewers are done, brush them with barbecue sauce on all sides. Let them finish on the grill or in the oven with the baguette.
6. Drizzle the salad with a quick dressing of olive oil, honey, lemon, sweet mustard, and salt and pepper to taste. Serve along with the warm baguette as sides for the skewers.
7. Enjoy!
Tip
If you're using wooden skewers, soak them in a bit of water before you put on the meat and peppers - or wrap a bit of tin foil around the ends. This will keep them from catching fire on the grill.
Share your tips and comments