High five!
The recipe has been added to your shopping list.
Green chicken curry with peanut butter and pineapple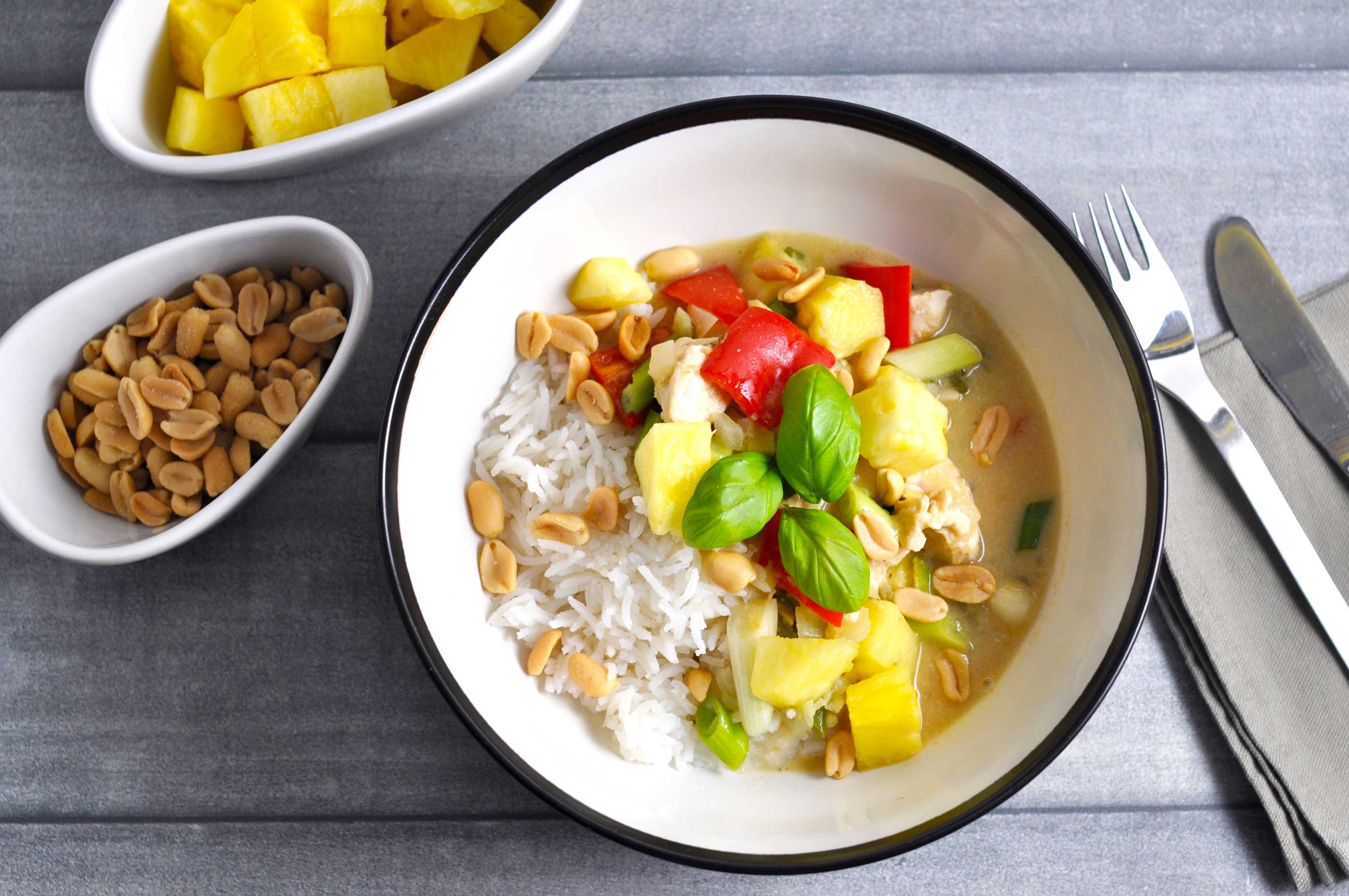 Ingredients
( 2 adults and 2 kids )
wholegrain rice

1

onion

1 clove

garlic

2 cm

fresh ginger

1 bunch

spring onion

1

red bell pepper

0.5

fresh pineapple

1

lime

350 grams

chicken mini fillets

1 tbsp

green curry paste

1 tbsp

corn flour

500 ml

water

1 cube

chicken stock

100 ml

peanutbutter

50 grams

peanuts

olive oil
ADD TO SHOPPING LIST
ADD TO MEAL PLAN
*
= Good to know - click the ingredient

= See the recipe - click the ingredient
A brilliant dish to help introduce the kids to Asian cuisines. This one boasts peanut butter, pineapple, chicken and rice, all of which are big hits with most younger members of the family. Get excited - it's delicious! Enjoy!
Directions
1. Cook the rice according to the packet.
2. Begin with prepping the veggies. Peel and finely chop onion, garlic and ginger. Wash and roughly slice the spring onion. We suggest saving some of the green tops for garnish. Wash the bell pepper, remove the seeds and roughly dice. Remove the stem in the centre of the pineapple and dice the rest. Halve the lime.
3. Then cut the chicken into bite-sized chunks on a separate cutting board. Remember to wash hands and utensils when you're done. And now you're ready to turn up the heat!
4. Heat the oil in a wok or deep pan. Sautée onion, garlic, ginger and curry paste for about a minute, while stirring well. Add the chicken and sprinkle over corn flour. Let everything cook for a couple of minutes, while still stirring well, until the chicken is almost fully cooked. Remove the lot from the pan and pop it on a plate.
5. Pour water, stock cube, the juice from the lime, and peanut butter into the pan. Bring to the boil while stirring - we suggest using a whisk, so the peanut butter doesn't cause lumps.
6. Add back the chicken and let it boil while stirring until the chicken is cooked - but only just. Be careful not to overcook it, as it'll dry out.
7. Finally add the chopped spring onion, the red bell pepper and half of the pineapple. Season to taste with salt, pepper and optionally another dash of lime juice. Serve with rice, and garnish with the remaining pineapple, peanuts and/or basil, if you have some to hand, and the tops of the spring onions, if you saved those.
8. Enjoy!
Share your tips and comments