High five!
The recipe has been added to your shopping list.
Greek peinirli with potatoes, sausages and pesto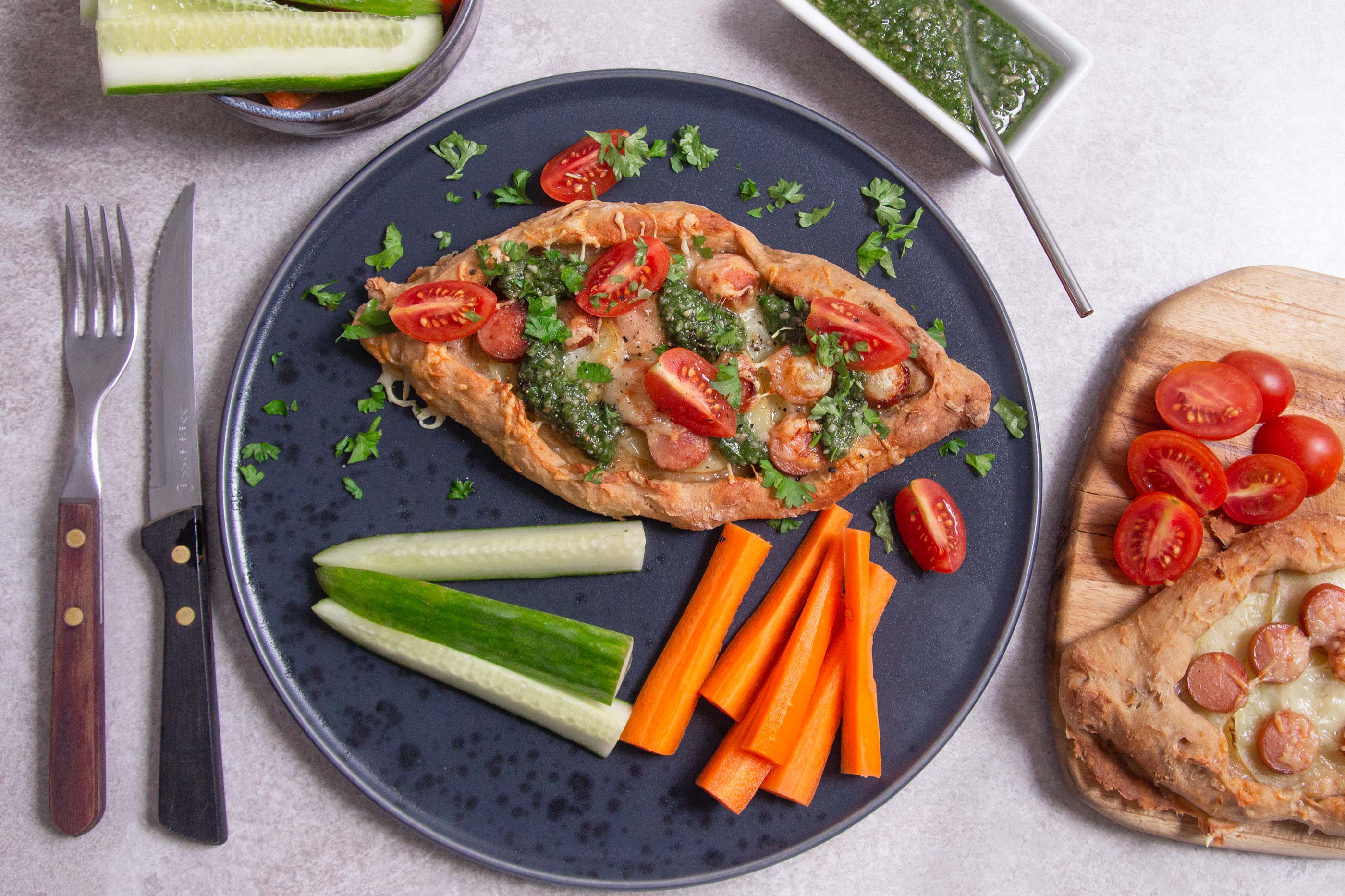 Ingredients
( 2 adults and 2 kids )
400 ml

cold water

100 ml

boiling water

25 grams

yeast

2 tbsp

olive oil

200 grams

rye flour

500 grams

plain flour

1 tsp

salt

300 grams

potatoes

4

grill sausage

200 grams

grated cheese

300 grams

carrots

*

0.5

cucumber

15

cherry tomatoes

100 grams

green pesto

pepper

baking parchment
ADD TO SHOPPING LIST
ADD TO MEAL PLAN
*
= Good to know - click the ingredient

= See the recipe - click the ingredient
Greek peinirli is akin to Turkish pide, where the sides are folded up - or like an open-faced Italian calzone. This one is made with plenty of cheese, potatoes, sausages and pesto. It's a true family favourite, so your clan can start getting excited. Enjoy!
Directions
1. Mix cold and boiling water in a bowl, and stir yeast and oil into the water. Add rye flour, plain flour and salt, and knead until supple. Add a bit more flour, if the dough is sticky, and leave it while you sort the fillings. Preheat your oven to 230 degrees convection.
2. Scrub or peel the potatoes and very thinly slice them - if you have a mandolin, use that - but mind your fingers..! Slice the sausages in roughly 1 cm slices.
3. Now split up the dough, to make two portions for each family member. You can also opt to make smaller portions, and thus more peinirli. Flour the tabletop and roll out the dough with a rolling pin, into small ovals.
4. Pop the pieces of dough on a baking tray with baking parchment. Spread half of the cheese around the centres, but keep the outermost 2 cm bare. Place a thin layer of potato slices over the cheese. Spread the rest of the cheese, and finally the sausages on top.
5. Fold the dough over the filling lengthways and carefully tuck the layers together at the ends, but leave an opening in the centre. Bake the Greek peinirli (say that 10 times quick...!) in the oven for approx. 15 minutes.
6. Meanwhile, wash cucumber and peel carrots for snack veggies. Rinse the tomatoes, and halve or quarter them.
7. Top the Greek peinirli with pesto and cherry tomatoes, and serve with snack veggies on the side. Enjoy!
Tip
Tasks for kids in the family: Let your kids help make the dough. They can also slice the sausages and help place the filling onto the dough.
Share your tips and comments