High five!
The recipe has been added to your shopping list.
Greek grill skewers with tzatziki and Greek salad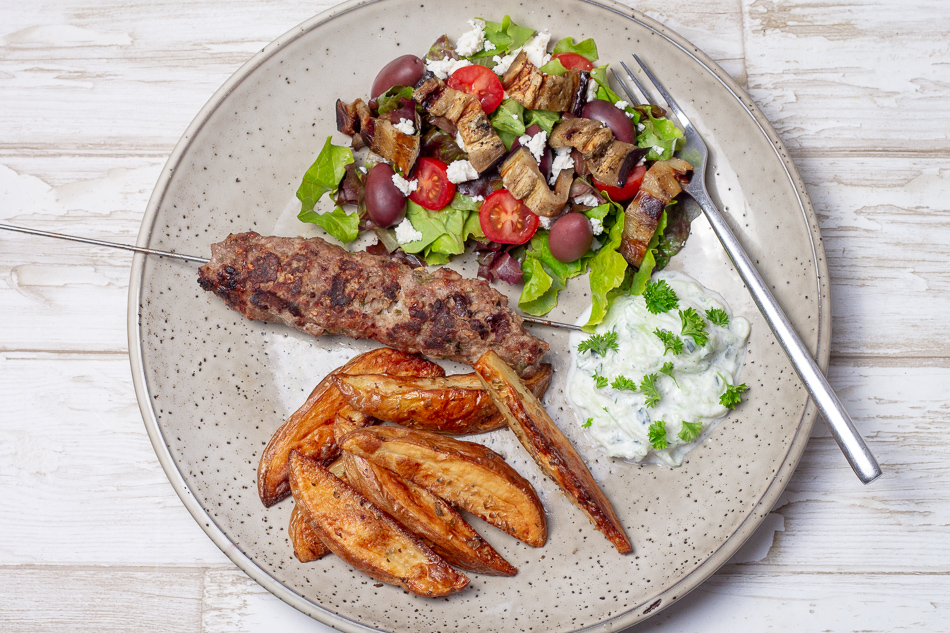 Ingredients
( 2 adults and 2 kids )
800 grams

potatoes

0.5 tbsp

dried oregano

2 clove

garlic

100 grams

feta cubes

1 bunch

parsley

800 grams

beef mince

2

egg

2 tsp

salt

2 tbsp

plain flour

1

aubergine

0.5

cucumber

200 ml

greek yoghurt

1 clove

garlic

3

tomato

lettuce of your choice

100 grams

black olives

olive oil

pepper

dressing of your choice

grill skewers

baking parchment
ADD TO SHOPPING LIST
ADD TO MEAL PLAN
*
= Good to know - click the ingredient

= See the recipe - click the ingredient
Greek grill skewers with crispy potatoes, tzatziki and salad with grilled aubergine! Look forward to it - Greek food is super tasty! Save half of the skewers to use as filling in warm wraps the following day. Enjoy!
Directions
1. Preheat your oven to 220 degrees convection. Rinse the potatoes, cut into wedges and place on a baking tray with baking parchment. Coat with olive oil and oregano and bake for approx. 35 minutes.
2. Chop garlic, half of the feta and parsley in a mini chopper and mix well with the mince in a bowl. Add egg, salt, flour and a bit of pepper and mix well. Let the farce rest while you sort the aubergine.
3. Slice the aubergine into 1 cm thick slices. Place on a baking tray covered with baking parchment, brush with oil, and sprinkle with a bit of salt. Bake along with the potatoes, until softened. This takes about 15 minutes. Cut into smaller pieces, and it's ready for the salad.
4. Shape an oblong meatball of sorts and place on a skewer. Make sure you give the meat a good squeeze so it doesn't fall off, and brush with some olive oil. Pop the skewers on the grill - be careful when you turn them. Or cook in the oven for 10-15 minutes, until cooked through but still juicy.
5. Meanwhile, grate rinsed cucumber on the rough side of a grater. Place the grated cucumber on a completely clean dishtowel and roll it up. Wring out the dishtowel like you would a wet rag, so most of the liquid from the cucumber is squeezed out.
6. Mix the cucumber with Greek yoghurt and pressed or grated garlic and season to taste with salt and pepper. Chop rinsed tomatoes and mix with the aubergine chunks, rinsed lettuce and olives. Crumble the rest of the feta over the salad and top with dressing. Serve the tasty skewers with salad, tzatziki and crispy potatoes. Enjoy!
Tip
Remember to save the leftover grill skewers, to use it as filling in warm wraps the following day. Enjoy!
Share your tips and comments