High five!
The recipe has been added to your shopping list.
Glazed pork chops with melon salad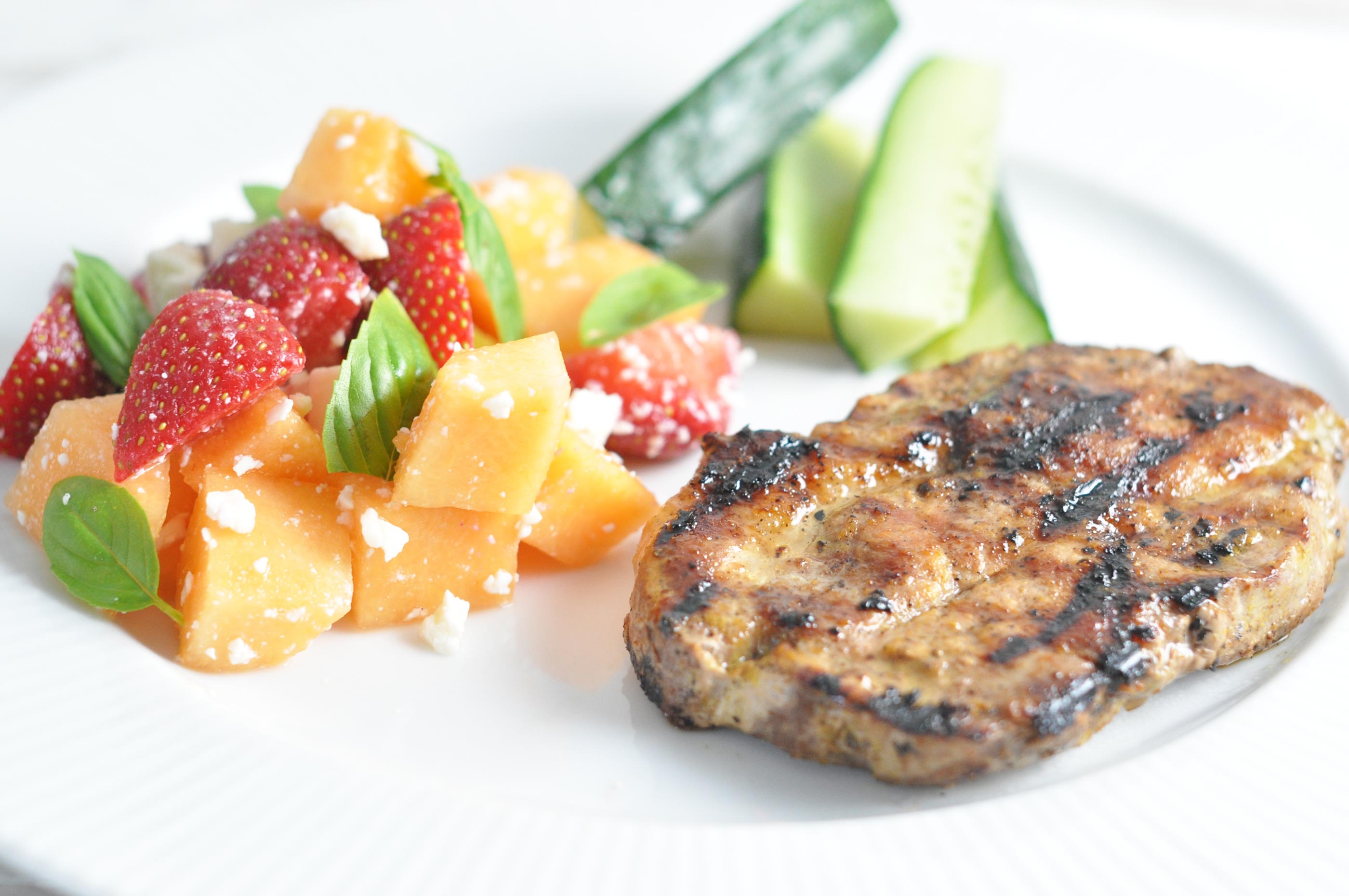 Ingredients
( 2 adults and 2 kids )
50 ml

sweet mustard

1 tbsp

acacia honey

*

25 ml

olive oil

6

pork chops

strawberries

0.5

melon

75 grams

feta cubes

0.5

cucumber

salt

pepper
ADD TO SHOPPING LIST
ADD TO MEAL PLAN
*
= Good to know - click the ingredient

= See the recipe - click the ingredient
A super quick dish of pork chops, glazed with a tasty marinade that both kids and adults love! If you can find neck cuts, they usually grill better than regular chops. But both will do just fine! Enjoy!
Directions
1. Mix sweet mustard with acacia honey and olive oil. Season with salt and pepper.
2. Season the chops with salt and pepper and grill on both sides - or cook in a dash of olive oil on a pan in the kitchen. Just before they're ready, brush with the marinade first on one side and cook for one minute, then on the other side and cook for another minute.
3. Wash the strawberries, remove the top and quarter them. Remove the seeds of the melon, remove the peel and dice the flesh. Mix with crumbled feta and an optional bit of fresh basil or other herbs, if you have some to hand.
4. Serve the chops with melon and strawberry salad and cucumber cut into sticks for snack veggies.
5. Enjoy!
Tip
This recipe figures a chop and a half per person, but if your lot is hungrier than that, just cook a few more. You can cook up some wholegrain rice or wholewheat pasta as well, if the kids are short on carbs. And if you have leftover strawberries, you can always use them to make strawberry jam - that is, if the kids haven't eaten them all before then!
Share your tips and comments