High five!
The recipe has been added to your shopping list.
Fun frog buns for birthdays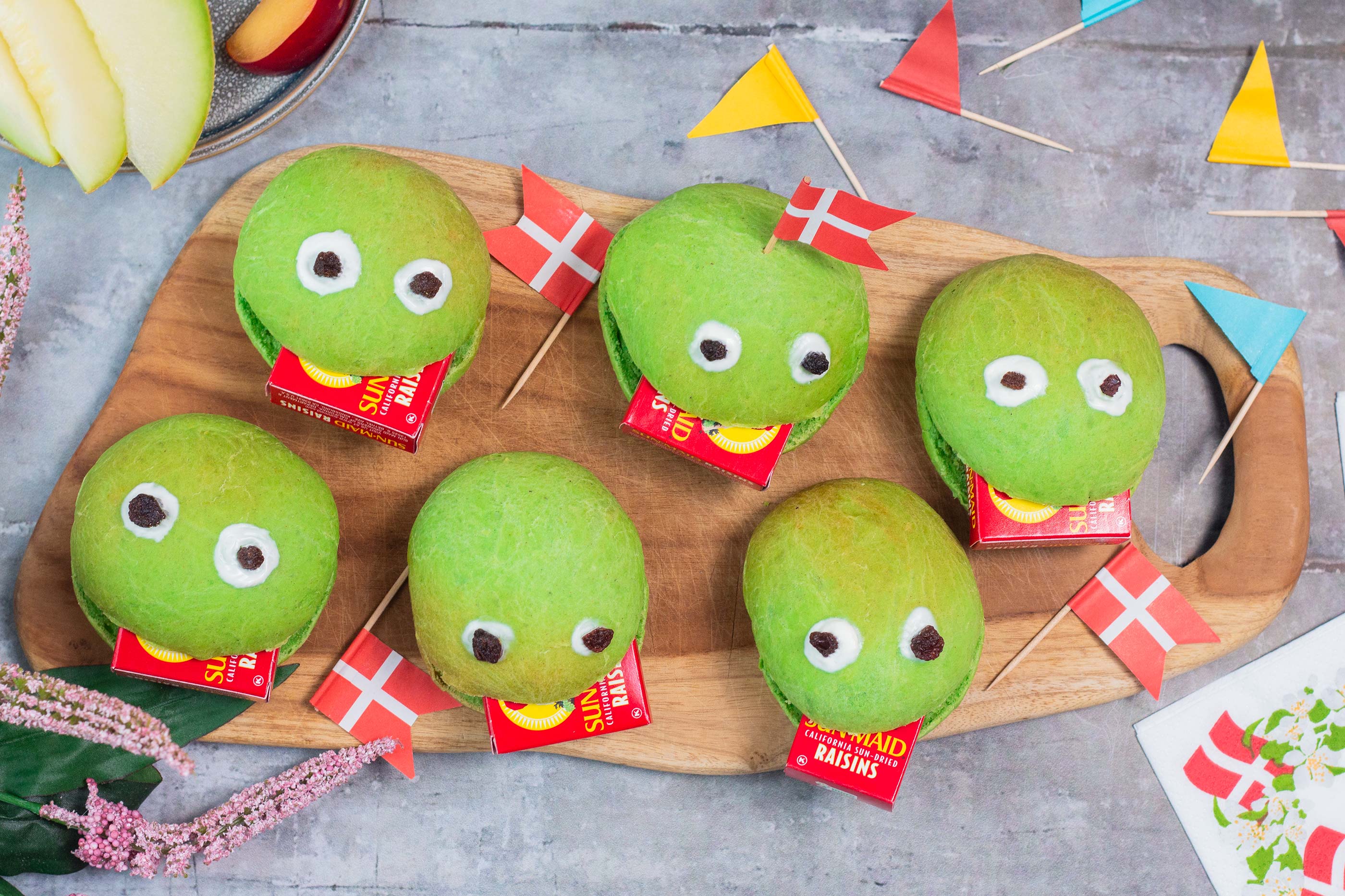 Ingredients
( 16 )
50 grams

butter

200 ml

water

100 ml

boiled water

100 ml

yoghurt

2 tbsp

acacia honey

*

25 grams

yeast

0.5 tsp

salt

1 tbsp

green food colouring

1 tsp

vanilla sugar

0.5 tbsp

ground cinnamon

750 grams

plain flour

powdered sugar

baking parchment
ADD TO SHOPPING LIST
*
= Good to know - click the ingredient

= See the recipe - click the ingredient
These frog-buns are so fun, and perfect for a kids' birthday party! They're lovely and moist, and both cinnamon and vanilla flavours. Enjoy!
Directions
1. Cut the butter into small pieces, and melt it in a pot or the microwave. Mix cold and warm water in a bowl and add melted butter, yoghurt and acacia honey. Crumble the yeast and stir well until dissolved, then add salt.
2. Now add the food colouring. And if you want to be greener, simply add a few more drops.
3. Mix vanilla sugar, cinnamon and flour, and stir into the butter-base.
4. At this point the dough should be soft and a bit oily - but not sticking to your fingers. In that case, add a tiny bit of flour little by little - but be careful not add too much, or they'll go dry.
5. Shape the dough into round buns and pop them on a baking tray with baking parchment. Cover the buns with a clean dishtowel, and let them prove for 30-45 minutes.
6. Preheat your oven to 185 degrees convection, and bake the buns for about 20 minutes, until they sound hollow when you knock on the bottoms - that means they're done!
7. Let the buns cool, and meanwhile mix some icing from powdered sugar and a few drops of boiling water. Make two eyes on each bun, and add raisins for pupils.
8. The buns can be muched with butter, cheese, or other toppings. And, oh yeah - something we believe is known as "Nutella"...!
9. Enjoy!
Tip
Tasks for kids in the kitchen: Let your kids help add the ingredients to the mixing bowl. They'll definitely also think it's fun to add the food colouring, and making the eyes on the buns.
Share your tips and comments