High five!
The recipe has been added to your shopping list.
Frittata with smoked salmon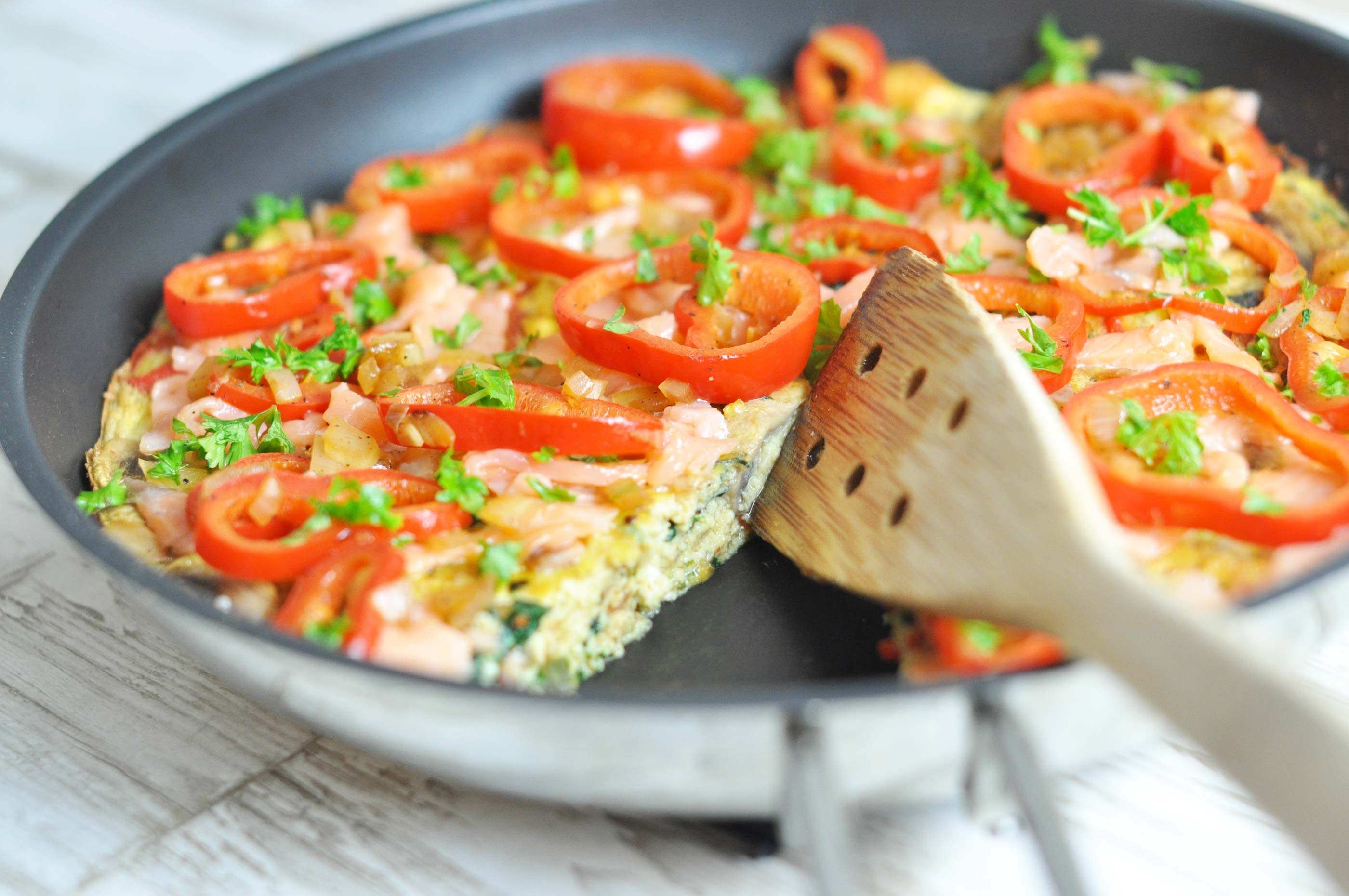 Ingredients
( 2 adults and 2 kids )
1

onion

2

red bell pepper

125 grams

fresh spinach

*

0.5 tbsp

dried oregano

125 grams

mushrooms

9

egg

200 ml

cottage cheese

1 tsp

baking soda

1

wholewheat baguette

100 grams

smoked salmon

olive oil

salt

pepper
ADD TO SHOPPING LIST
ADD TO MEAL PLAN
*
= Good to know - click the ingredient

= See the recipe - click the ingredient
The frittata is the Italian version of a classic omelette. Here the filling is mixed in with the egg itself and then baked in the oven. This frittata is made with cottage cheese, smoked salmon and plenty of veg. Enjoy!
Directions
1. Preheat your oven to 185 degrees convection.
2. Finely chop the onion. Wash and de-seed your bell peppers and cut into slices or strips. Thoroughly rinse the spinach. Clean and slice the mushrooms.
3. Cook onion and bell pepper with some olive oil on an oven-safe pan, and season with salt and pepper. Cook for a few minutes, until the bell pepper starts to soften. Separate one half of the mix and set aside on a plate.
4. Add spinach, oregano and mushrooms to the onion and bell pepper on the pan. Season again with salt and pepper and cook until the spinach has wilted. Meanwhile, beat eggs, cottage cheese and baking powder with a bit of salt and pepper. Pour the egg mix onto the pan over the veggies, once the spinach is wilted and everything has gotten a slight sear.
5. Pop the pan in the oven along with the baguette and bake the frittata for 10-15 minutes, or until it's solidified the whole way through. Be careful when you take the pan out of the oven - it's suuuuper hot!
6. Cut the salmon into strips and spread on top of the frittata along with the rest of the bell pepper and onion, and some chopped herbs if you have some to hand. Serve with warm baguette.
7. Enjoy!
Share your tips and comments