High five!
The recipe has been added to your shopping list.
Frittata with potatoes, bacon and mushrooms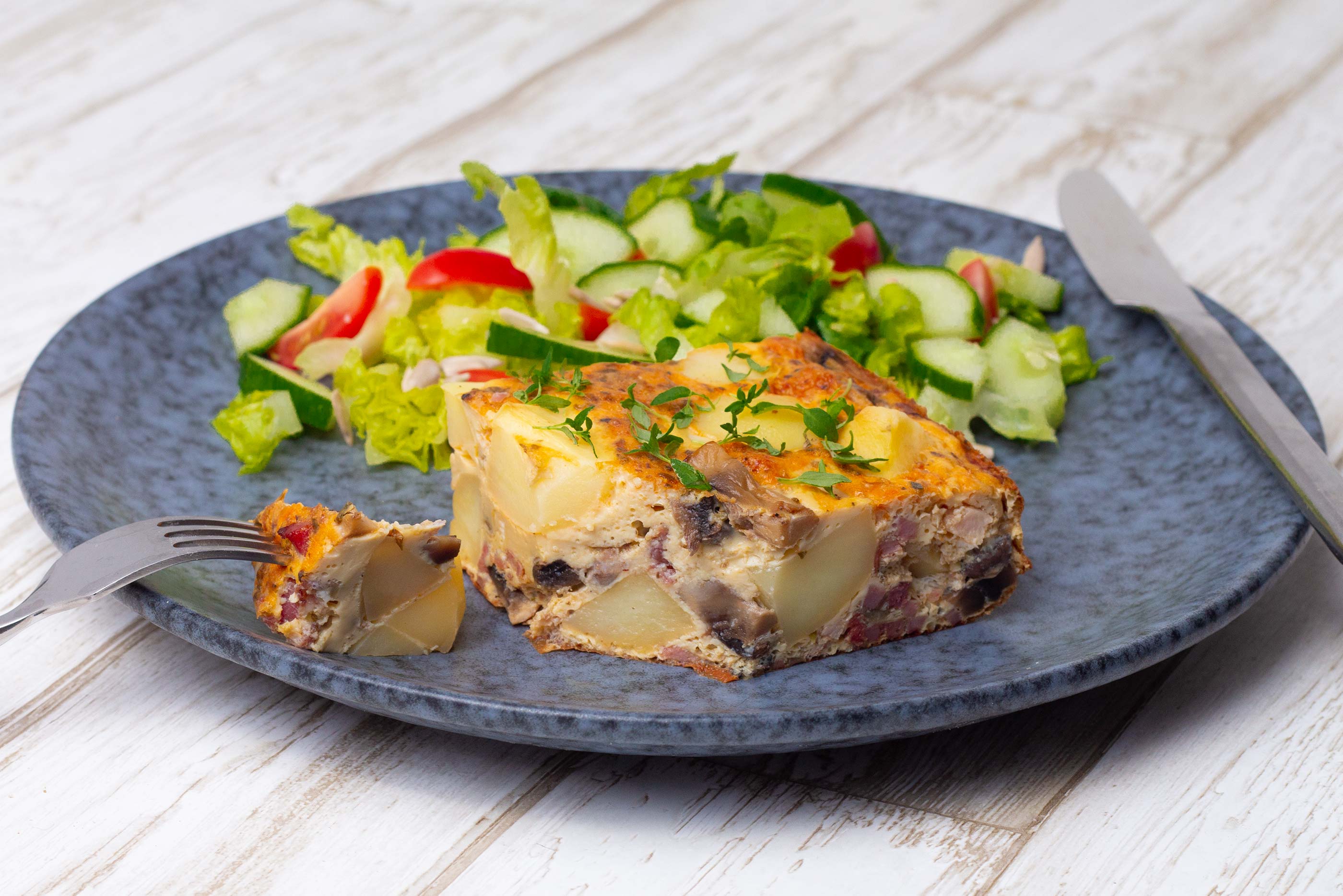 Ingredients
( 2 adults and 2 kids )
300 grams

potatoes

1

onion

200 grams

mushrooms

200 grams

diced bacon

8

egg

1 tsp

baking powder

150 ml

milk

2 tsp

dried oregano

lettuce of your choice

2

tomato

0.5

cucumber

salt

pepper

olive oil

dressing of your choice
ADD TO SHOPPING LIST
ADD TO MEAL PLAN
*
= Good to know - click the ingredient

= See the recipe - click the ingredient
Frittata, omelette, spanish omelette or tortilla - whatever you might call it! Here we're calling it a frittata, and we're making it with potatoes, bacon and mushrooms - and with an easy salad on the side. It's super tasty and is super easy to make. Enjoy!
Directions
1. Preheat your oven to 185 degrees convection.
2. Peel the potatoes and cut into smaller pieces. Cook in a pot of salted water for about 10 minutes.
3. Finely dice the onion, clean the mushrooms and slice them.
4. Cook onion, mushroom and bacon on a pan with some olive oil, until everything is browned a bit and smells lovely!
5. Mix the lovely seared bits with the potatoes and place in an ovensafe tray.
6. Beat eggs, baking powder, milk, oregano, salt and some pepper in a bowl. Pour the egg mix over the fillings.
7. Bake the frittata for 15-20 minutes, until it's solidified all the way through.
8. Rinse lettuce, tomato and cucumber and chop the lot into bite sized chunks.
9. Serve the frittata with the green salad and some dressing on top.
10. Enjoy!
Tip
If you have sunflower or pumpkin seeds lying about, you can roast them on a dry pan and sprinkle over the salad.
Share your tips and comments