High five!
The recipe has been added to your shopping list.
Frittata with feta, broccoli and parma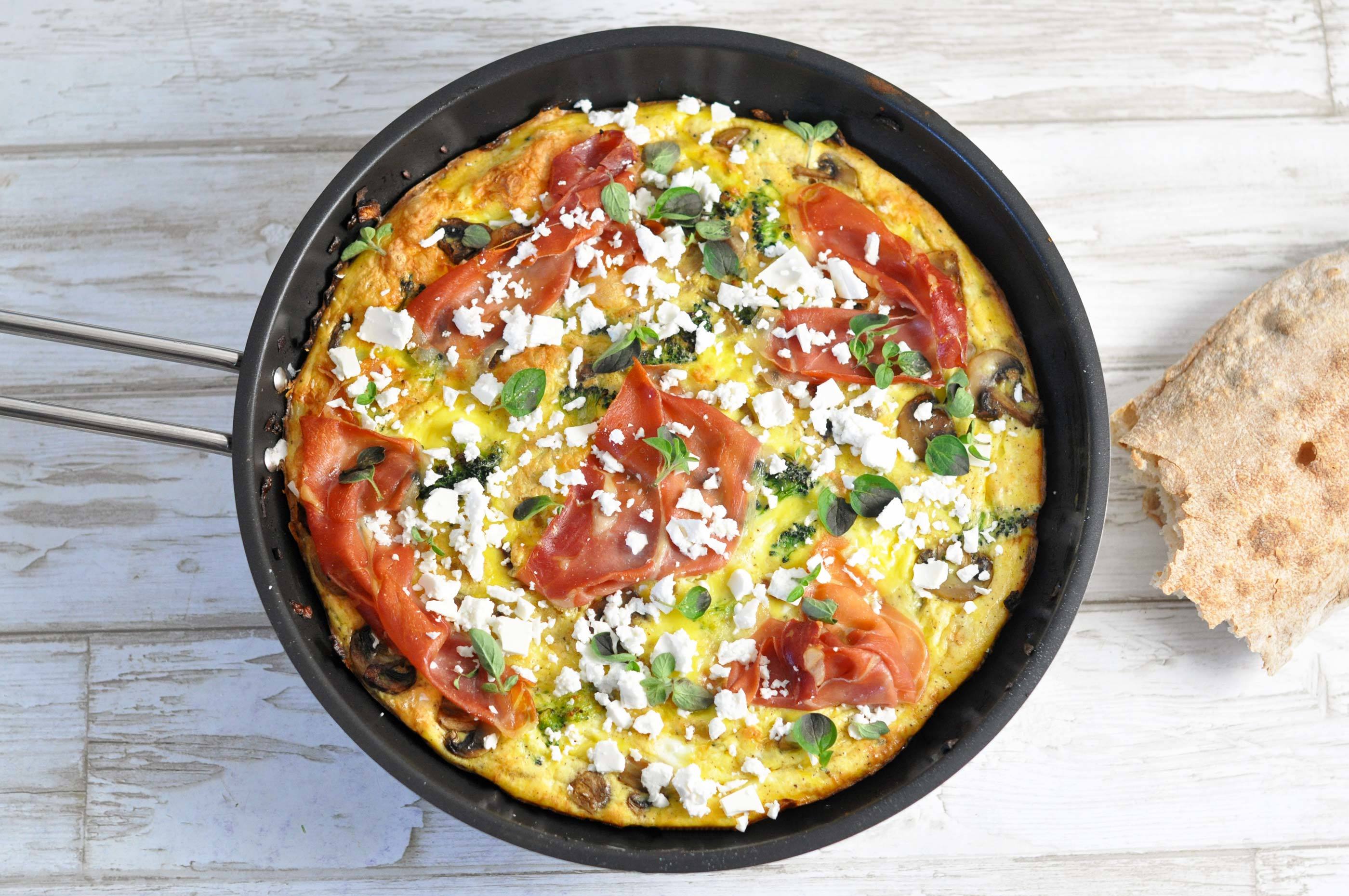 Ingredients
( 2 adults and 2 kids )
0.5

broccoli

1

onion

250 grams

mushrooms

8

egg

100 ml

milk

100 grams

feta cubes

1 tsp

baking powder

1

wholewheat baguette

70 grams

parma ham

- or serrano

olive oil

salt

pepper
ADD TO SHOPPING LIST
ADD TO MEAL PLAN
*
= Good to know - click the ingredient

= See the recipe - click the ingredient
The frittata is the Italian version of a classic omelette. Here the filling is mixed in with the egg itself. This version is made with feta cheese, mushrooms, broccoli and parma ham. If you leave out the parma, this dish is 100% vegetarian. Enjoy!
Directions
1. Preheat your oven to 185 degrees convection. Split the broccoli into little florets and blanch in rolling boiling water for approx. 30 seconds. Drain the water and set aside.
2. Finely chop the onion. Wash and clean the mushrooms and slice them.
3. Cook onions and mushrooms in a bit of olive oil on an oven-safe pan, and season with salt and pepper. Cook for a few minutes, until the mushrooms start softening and browning. Add the broccoli florets and cook for another few minutes.
4. Beat egg, milk, crumbled feta (save a bit for garnish, if you like) and baking soda, along with some salt and pepper. Pour the egg mix onto the pan over the veggies, once everything has browned a bit.
5. Now pop the pan in the oven along with the baguette, and bake the frittata for 10-15 minutes, or until it's solidified all the way through. Spread the parma ham over the frittata when almost cooked through, and has about 5 minutes to go. Be careful when taking the pan out of the oven - it's suuuuper hot!
6. Crumble some feta on top, and finish off with a sprinkle of herbs (if you fancy). Serve with wholewheat baguette.
7. Enjoy!
Share your tips and comments