High five!
The recipe has been added to your shopping list.
Flash fried coconut prawns with noodles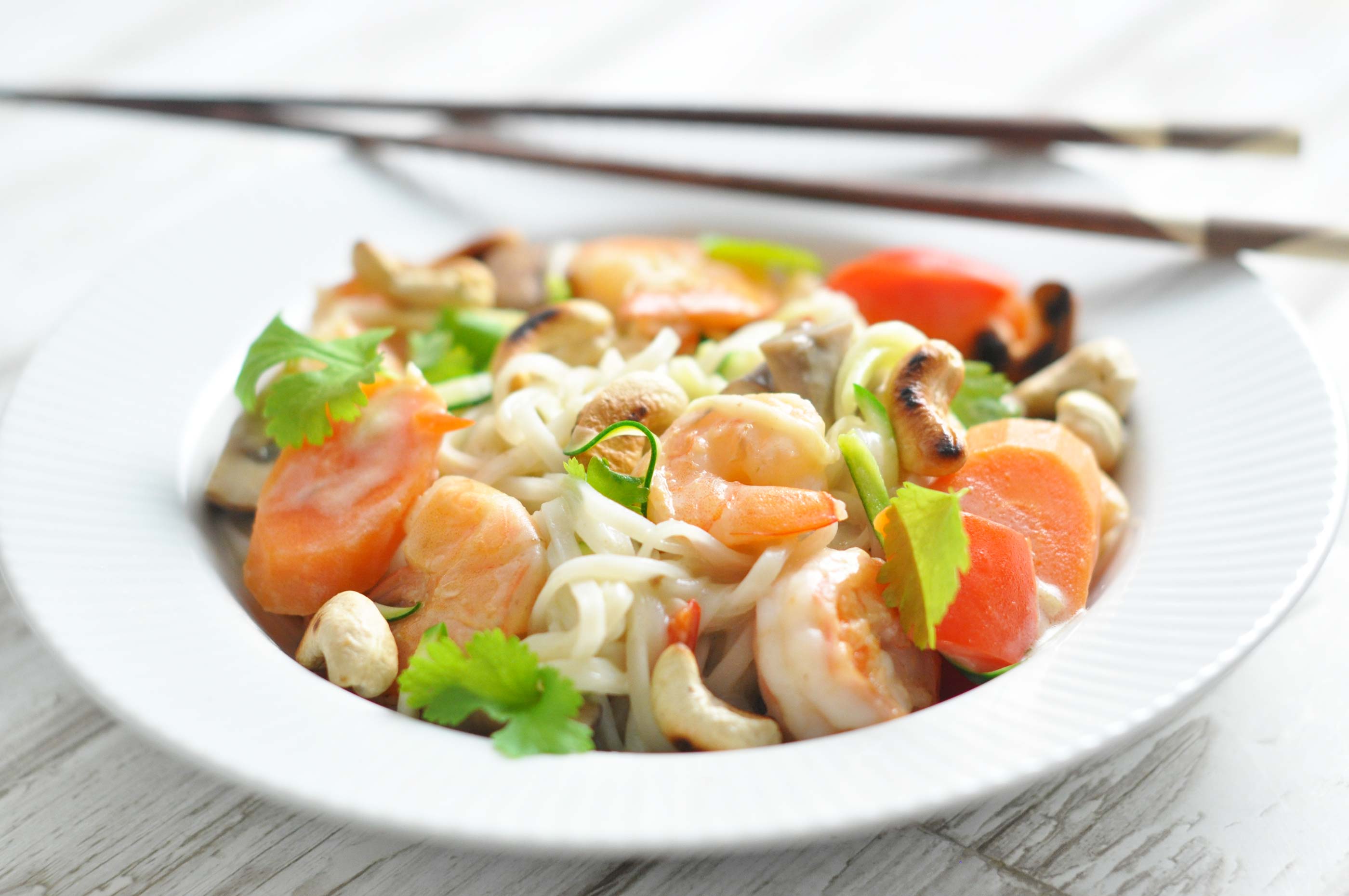 Ingredients
( 2 adults and 2 kids )
250 grams

tiger prawn

50 grams

cashews

125 grams

mushrooms

1

red bell pepper

150 grams

carrots

*

1

courgette

1 clove

garlic

2 tbsp

fish sauce

400 ml

coconut milk

200 ml

water

1 cube

chicken stock

1

lime

125 grams

rice noodles

olive oil
ADD TO SHOPPING LIST
ADD TO MEAL PLAN
*
= Good to know - click the ingredient

= See the recipe - click the ingredient
A super tasty and quick dish with shrimp, plenty of veg and a tasty sauce of coconut milk and fish sauce - and don't worry, it's not too fishy at all, and goes down a treat with both grownups and little ones.
Directions
1. Defrost the prawns. If they've shells, peel them and remove the small black bowels by making an incision down the back and pulling it out. Or you can cook them whole and let the family peel them as you eat - which is actually quite nice! But a piece of advice - don't wear the newest Barca jersey or your Sunday best!
2. Roast the cashews on a dry pan and set aside. Wash and quarter the mushrooms. Wash the bell pepper, remove the seeds and roughly dice. Peel the carrot and cut into bite-sized chunks. Wash the courgette and cut into spaghetti-thin strips - either on a "noodler" for veggies (can be found in most hardware shops), or just with your best and biggest knife. Thinly slice the garlic.
3. Heat some olive oil in a wok or deep pan. Cook prawns and garlic for a few minutes, until the prawns are pink and cooked through. Remove from the pan and set aside on a plate. Now flash fry all the veggies except the courgette with the fish sauce for a few minutes on the same pan you used for the prawns. Add coconut milk, water and stock cube and bring to the boil. Add lime juice and more fish sauce if needed, to taste. Add the dried noodles and let them cook along for 5-8 minutes until almost ready. Finally add courgette and prawns and let everything get warm throughout. Serve with some roast cashews on top and a sprinkle of herbs, if you have any. Enjoy!
Tip
Coriander is a perfect topping for Asian dishes. But! Although a lot of adults (the ones at Mambeno included) think coriander is delicious, far from all little ones agree (the ones at Mambeno included...). So let the kids garnish with what they like themselves.
Share your tips and comments