High five!
The recipe has been added to your shopping list.
Fishcakes with pasta and tomato sauce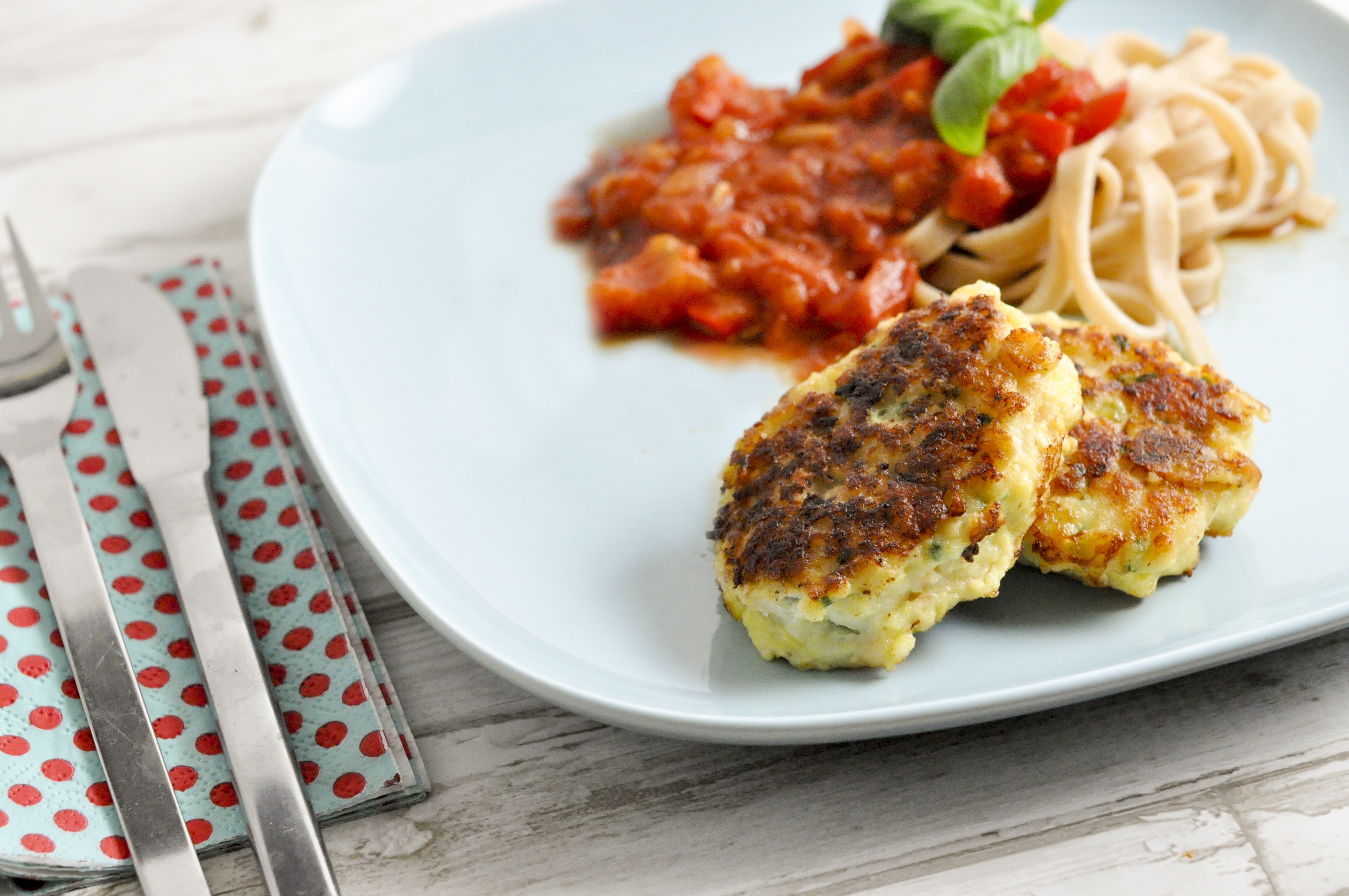 Ingredients
Freezer friendly
( 2 adults and 2 kids )
Fishcakes with smoked salmon

225 grams

cod fillet

50 grams

smoked salmon

1 tsp

salt

0.5

onion

1

egg

2 tbsp

plain flour

pepper

butter

olive oil

Tomato sauce

0.5

onion

1 clove

garlic

70 grams

tomato purée

1 can

chopped tomatoes

1 cube

vegetable stock

100 ml

water

0.5

red bell pepper

1 packet

fresh pasta

- preferably wholewheat
ADD TO SHOPPING LIST
ADD TO MEAL PLAN
*
= Good to know - click the ingredient

= See the recipe - click the ingredient
Fishcakes are super easy to make and a great way of getting some fish into the whole family. You can make the farce yourself, it only takes a few minutes, or you can buy it ready-made.
Directions
Fishcakes with smoked salmon
1. Run cod fillet, salmon and salt through a food processor, until you have a coarse farce. If you don't have a food processor, you can simply chop up the fish with a knife.
2. Chop onion and mix with the fish, egg, plain flour and some cracked pepper in a bowl. Optionally, add a sprinkle of chives or other herbs if you have any handy. Cook a little test-ball on the pan to start, to check if the seasoning is how you like it.
3. Dip a spoon in a cup of water and shape nice fishcakes with the spoon and the palm of your hand. Let them cook in a mix of olive oil and butter on a pan, until they have a nice, golden and crispy surface. Remember to flip them frequently, so they don't blacken.
Tomato sauce
4. Chop onion and garlic and sautée in some oil in a pot. You don't want it to brown. Add the additional ingredients and let the sauce simmer as long as you have time for. Season to taste with salt and pepper.
5. Cook the pasta according to the packet. When the pasta is done and you've drained the water, you can optionally mix in a bit of olive oil. Then it doesn't stick together as much. Serve the fishcakes with the pasta, some tomato sauce, and we suggest garnishing with a bit of basil.
6. Enjoy!
Share your tips and comments