High five!
The recipe has been added to your shopping list.
Fish cakes with cabbage and rösti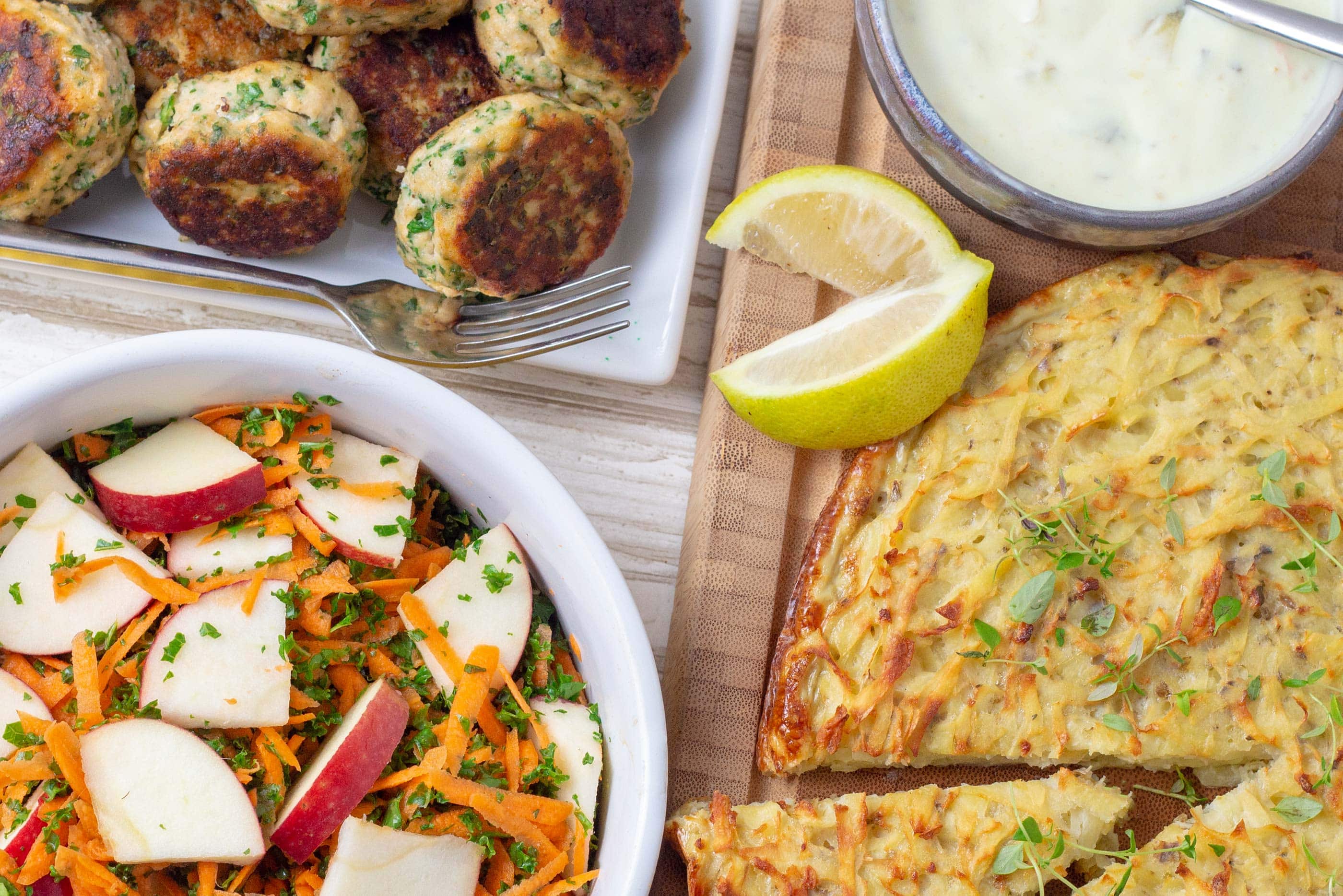 Ingredients
( 2 adults and 2 kids )
Rösti

600 grams

potatoes

2

onion

2

egg

0.5 tsp

salt

pepper

olive oil

Fishcakes

225 grams

white fish

0.5 tsp

salt

0.5

onion

1

egg

2 tbsp

plain flour

50 grams

kale

butter

Salad

300 grams

carrots

*

200 grams

kale

1

apple

dressing of your choice

Dip

tartar sauce
ADD TO SHOPPING LIST
ADD TO MEAL PLAN
*
= Good to know - click the ingredient

= See the recipe - click the ingredient
Here's a super tasty recipe for Danish fishcakes with kale - served with salad and a yummy ovenbaked rösti. You can look forward to this one - it's good stuff. Enjoy!
Directions
1. Preheat your oven to 200 degrees convection.
2. Peel and roughly grate the potatoes - either on a grater, or even better (and faster), in a food processor. Squeeze as much liquid out of the potatoes as you can. Finely chop the onion and mix with potatoes and egg - and a bit of salt and pepper.
3. Oil a casserole tin with olive oil, place the potato filling in, and bake the rösti in the oven for approx. 30 minutes.
4. Give fish, salt, chopped onion, egg, flour and rinsed kale a whirl in a food processor, until you have a fine farce. If you don't have a food processor, you can just chop the fish with your best and biggest knife and mix everything in a bowl, just like Nan would've done. Cook a little test-cake on the pan to make sure the seasoning is how you want it.
5. Dip a spoon into a cup of water and shape nice fishcakes with the spoon and your palm. Fry in a mix of butter and olive oil on a pan, until they have a nice golden and crispy surface.
6. Peel carrots and grate on the rough side of a grater. Rinse the rest of the kale and give it a whirl in a mini chopper, or finely chop it with a knife. Rinse and cut the apple into smaller pieces. Mix the salad with a dressing of your choice.
7. Serve the warm fishcakes with potato rösti, salad and tartar sauce (or remoulade).
8. Enjoy!
Tip
Tasks for kids in the kitchen: Let your kids help with rinsing cabbage and peeling potatoes and carrots.
Share your tips and comments