High five!
The recipe has been added to your shopping list.
Fish and chips with remoulade and coleslaw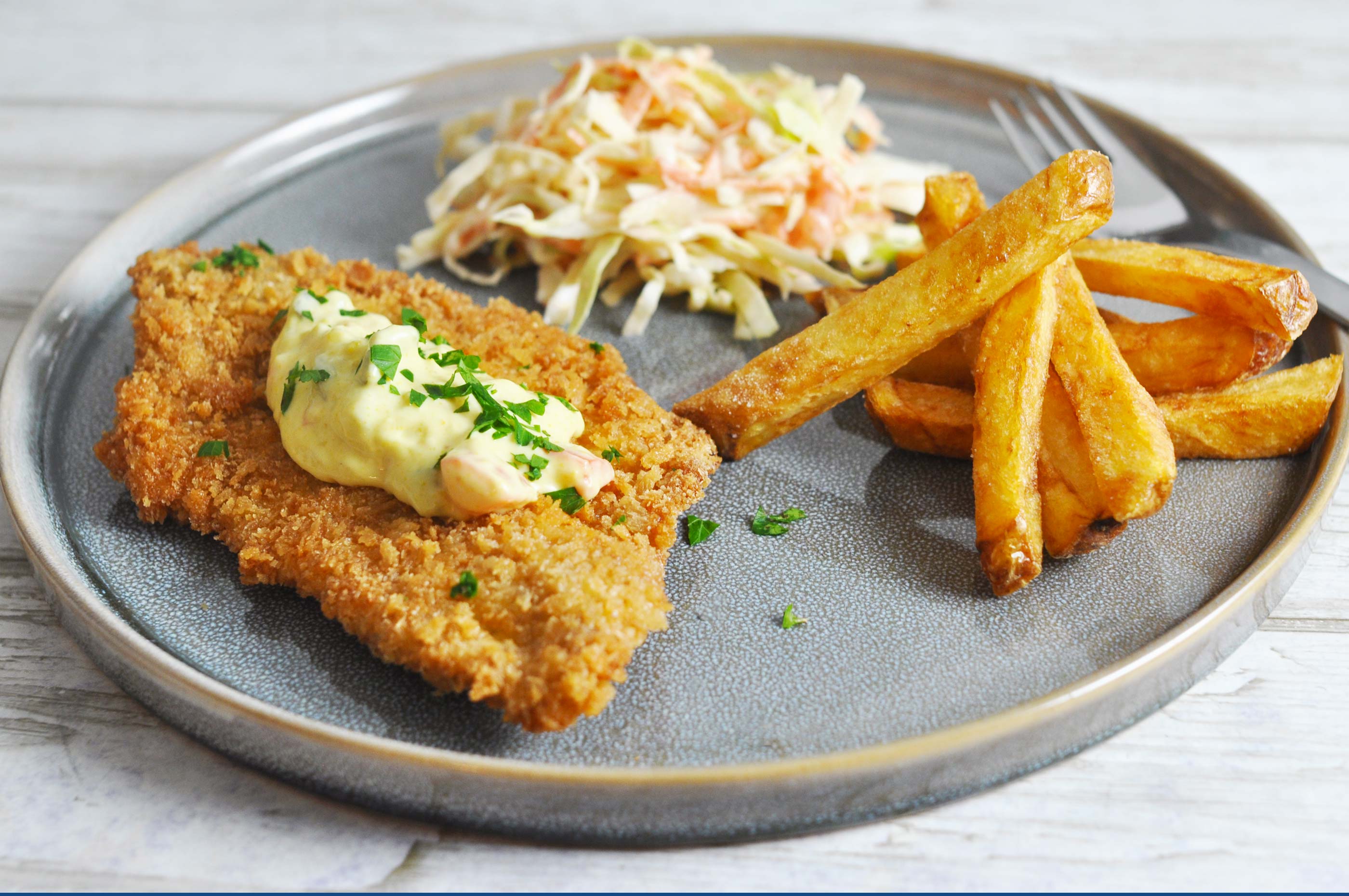 Ingredients
( 2 adults and 2 kids )
700 grams

baking potatoes

1 tbsp

all purpose seasoning

100 grams

breadcrumbs

100 grams

rye flour

2

egg

8

plaice fillets

butter

olive oil

baking parchment

salt

pepper

Coleslaw

0.5

cabbage

300 grams

carrots

*

200 ml

skyr

*

3 tbsp

mayonnaise

1 tbsp

acacia honey

*

1 tbsp

sweet mustard

Remoulade

175 grams

pickles

2 tbsp

skyr

*

0.5 tsp

curry
ADD TO SHOPPING LIST
ADD TO MEAL PLAN
*
= Good to know - click the ingredient

= See the recipe - click the ingredient
Okay, you might not win any awards from Slimming World with this recipe. But crispy fish and chips is just a beautifully tasty classic. Here served with our easy coleslaw and homemade remoulade - but you can just as well use tartar sauce or piccalilli, either homemade or store bought. You can use fresh or frozen fish, just remember to get skinless. Enjoy!
Directions
1. Preheat your oven to 225 degrees convection.
2. Thoroughly wash the baking potatoes and cut into thick chips - unless they're very dirty, you don't need to peel them. Pop the chips in a bowl and thoroughly rinse with water that you pour away after. If you have time to spare, fill the bowl with clean water again and leave the potatoes to soak for 30 minutes - this gets rid of some of the starch in the potatoes to make them soft and fluffy on the inside. But if you're in a hurry, just skip this step!
3. Thoroughly dry the potatoes with a clean dishtowel. Pop them in a baking tray with baking parchment and coat them in a good dash of olive oil and all purpose seasoning. Bake for 30-40 minutes until crispy and golden. Remember to flip them halfway through.
4. Cut cabbage and carrot into very fine strips - either with a knife or a mandolin. Mind your fingers! Mix skyr, mayonnaise, acacia honey and sweet mustard and add salt and pepper to taste. Mix with the carrot and cabbage strips.
5. Pour breadcrumbs and rye flour on separate plates. Crack a bit of salt and pepper over the rye flour and mix in. Crack the eggs into a bowl and beat with a fork.
6. Coat the fillets first in rye flour, then egg and finally breadcrumbs. Fry them in a good mix of olive oil and butter on a teflon pan. Carefully flip them halfway through, and take them off when nice and golden. If you don't feel like they're cooking evenly, add a bit more oil or butter.
7. Mix pickles with skyr or mayonnaise and curry and add salt and pepper to taste. Serve the crispy fish fillets topped with remoulade and crispy chips and coleslaw on the side. Enjoy!
Share your tips and comments