High five!
The recipe has been added to your shopping list.
Egg wraps with rice and salmon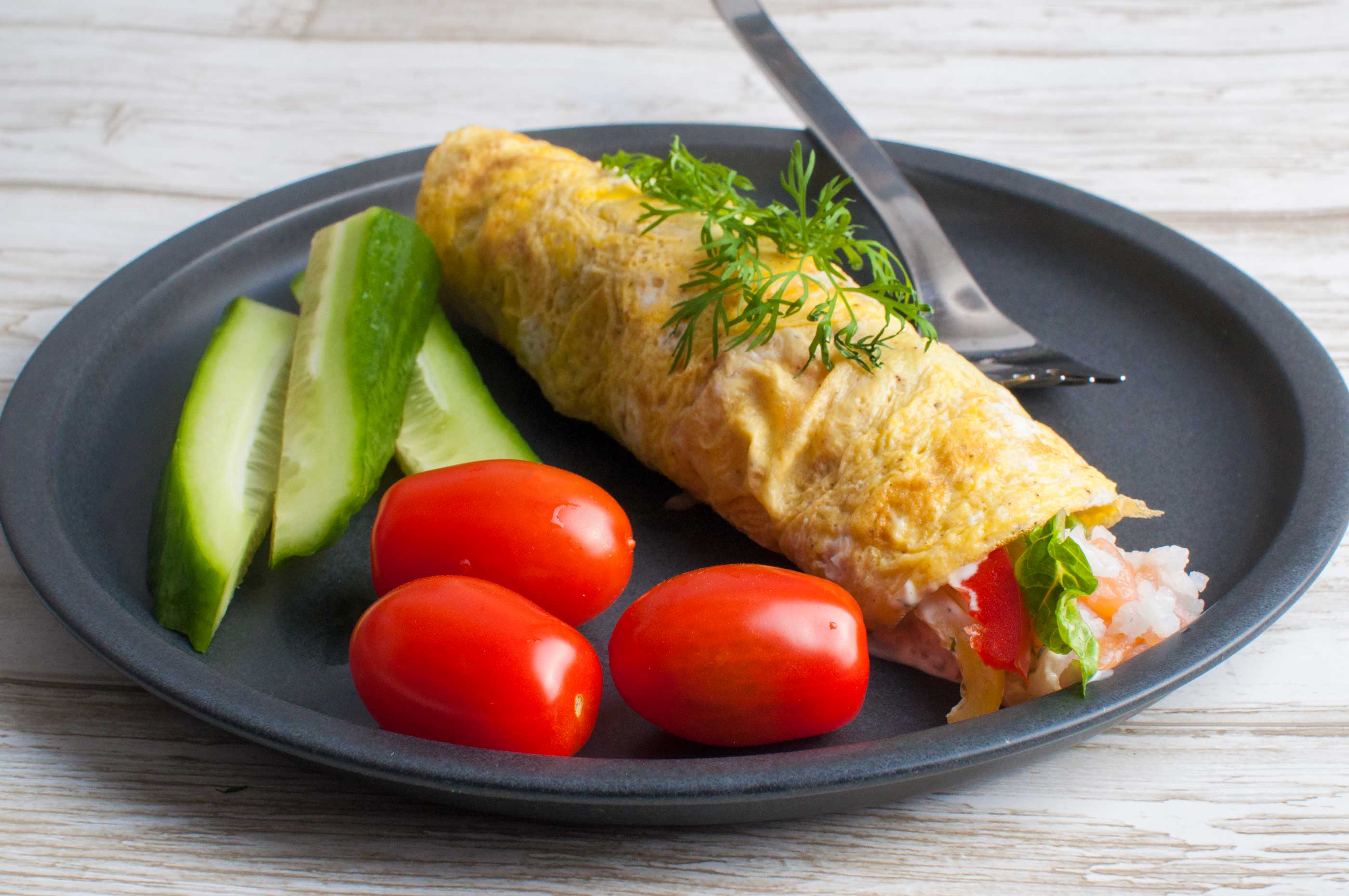 Ingredients
( 2 adults and 2 kids )
wholegrain rice

lettuce of your choice

1

yellow bell pepper

1

red bell pepper

1

avocado

100 ml

creme fraiche or skyr

*

1 tbsp

mayonnaise

1 tbsp

sweet mustard

1 bunch

dill

200 grams

smoked salmon

10

cherry tomatoes

0.5

cucumber

8

egg

olive oil

salt

pepper
ADD TO SHOPPING LIST
ADD TO MEAL PLAN
*
= Good to know - click the ingredient

= See the recipe - click the ingredient
These wraps are so yummy! With a filling of rice and smoked salmon - and lots of veg. And they're an absolute breeze to make. If you don't have all of our suggested fillings in the fridge, just use whatever veggies you have to hand. Enjoy!
Directions
1. Boil the rice following the instructions on the packet. Rinse with cold water in a sieve to cool them off a bit, and pop them into a bowl.
2. Rinse the salad and rip it up into nice chunks. Clean and rinse the bell peppers and slice them into strips. Split the avocado, remove the stone and slice the flesh into strips. If you have a bit of lemon handy, drizzle some over the avocado to keep it from going brown - although this isn't at all required! Otherwise, just leave cutting the avocado until last.
3. Whip up a quick dressing of creme fraiche or skyr, mayo, sweet mustard, washed and chopped dill, and add salt and pepper to taste.
4. Roughly chop the salmon and mix with the rice. Put all the veggies on the table along with the salmon and rice mixture, and some washed cherry tomatoes and cucumber sticks for snack veggies.
5. Beat the eggs with a bit of salt and pepper in a bowl. Pour a bit of oil onto a small pan and fry the egg mix into little pancakes. Don't flip them until they've cooked solid, and just give them five to ten seconds on the other side.
6. Let the family build their wrap with their favourite fillings, roll them up and eat with your hands or with knife and fork.
7. Enjoy!
Tip
Make your wraps any size you want - we've used a small, 20 cm pan, which makes nice small wraps which makes a couple for everyone.
Share your tips and comments