High five!
The recipe has been added to your shopping list.
Easy tomato soup with meatballs and potatoes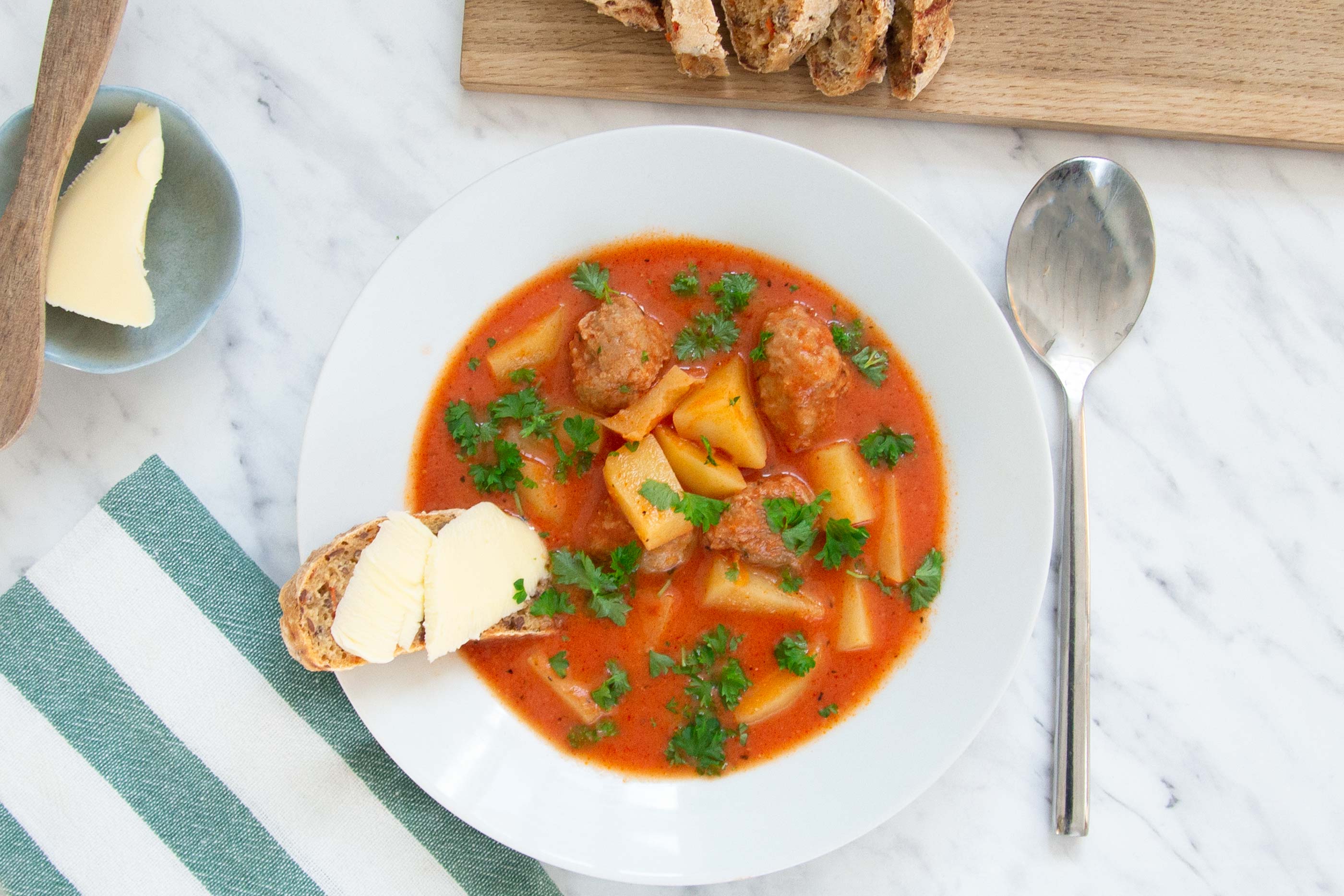 Ingredients
Freezer friendly
( 2 adults and 2 kids )
400 grams

potatoes

400 grams

dinner sausage

4 can

chopped tomatoes

400 ml

water

70 grams

tomato purée

2 cube

vegetable stock

0.5 tbsp

dried oregano

250 ml

single cream 8%

wholewheat baguette

butter

salt

pepper
ADD TO SHOPPING LIST
ADD TO MEAL PLAN
*
= Good to know - click the ingredient

= See the recipe - click the ingredient
We've made dinner extra easy, so the kids can get their own cooking day - or assist mum and dad in the kitchen. Here's the easiest tomato soup with potatoes - and meatballs made from the farce of a classic dinner sausage. Super easy and delicious. We're serving the soup with warm baguette and butter for those who want. Enjoy!
Directions
1. Peel the potatoes and cut into small pieces. Fill a pot halfway with water, add the potatoes and bring to the boil. Cut a hole in one end of the dinner sausage. Squeeze out lovely little meatballs and add to the pot of potatoes, and let both cook for 10-15 minutes. We recommend saving some of the cooking water to add to the soup as needed.
2. Bring chopped tomatoes, water, tomato purée, crumbled stock cube and oregano to the boil in a separate pot and let simmer for 5-10 minutes.
3. Blend the soup smooth with a hand blender, then add the cream. You can use a regular countertop blender, but be very careful and only pour in a bit of soup at a time - warm liquids can 'explode' in a blender.
4. Warm it back up and add potatoes and meatballs. Season to taste with salt and pepper, and a bit of the cooking water if needed.
5. Warm the baguette in the oven or toast it in a toaster.
6. Serve the tomato soup in small bowls or deep plates, along with warm baguettes and butter. Enjoy!
Tip
Tasks for kids in the kitchen: Let your kids help peel and cut up the potatoes. They can also squeeze the meatballs from the sausage, and help taste the soup.
Share your tips and comments